(Chicken & Andouille Sausage Gumbo)
By Jeff Maisey
In 1960, Norfolk-born singer Gary US Bonds had a hit single titled "New Orleans," on which he sang the lyrics: "Well come on ev'rybody/Take a trip with me/Well, down the Mississippi/Down to New Orleans."
It's fair to say a lot of us have made that trip down to the Big Easy.
For me, New Orleans is hands-down my favorite American city. It's unique sub-culture is something to behold, from the old, French-style architecture of the late 1800s and the jazz, Cajun and blues music heard on the streets and in clubs to the folk art, local accents, and spicy food. Especially the food, whether it's served in some small, no frills neighborhood joint in the Garden District like the Please-U-Restaurant or one of the famous dining establishments such as Broussard's, Napoleon House, Antoine's, Dooky Chase's or Brennan's.  
The Crescent City has character and characters if you're willing to venture just off the main tourist drag on Bourbon Street and let the voodoo inspire your mojo. 
Each year for the past three decades, Norfolk's Festevents has presented its annual 3-day outdoor festival celebrating the sights, sounds, and flavors of New Orleans and Bayou country. The other 362 days of the year, however, are a virtual draught if you have a hankering for authentic crawfish, jambalaya, gumbo and Po' Boys, or you miss Mike Hall's long-ago restaurant, Bienville Grill. But no longer. 
Lil' Bit NOLA, which just opened its second location in the 757 — on 21st Street in Ghent — will have you singing "When the Saints Come Marching In." 
Ghent has long been the most eclectic neighborhood with a business corridor in Hampton Roads. The food scene offers a great mix of international cuisine: Jamaican, Indian, Middle Eastern, Bolivian, Turkish, Thai, French-inspired, and Japanese. That's all in addition to the go-to gourmet burger places, old school American diner grub, seafood, street food, and pub fare. Walkable Ghent is a foodie destination; one not lost of Lil Bit NOLA general manager Mark Conway.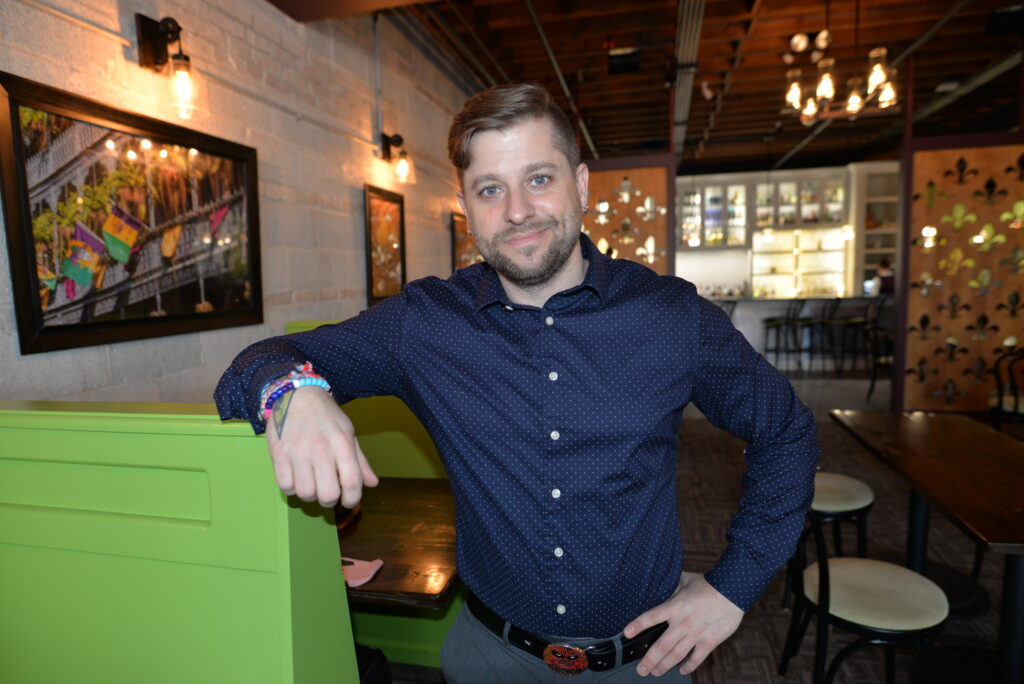 (WHO DAT? General Manager Mark Conway)
"I've been in the area for over a decade working in the food industry and I live in Ghent," said Conway. "It's probably one of the most forward food communities in the Hampton Roads area and it is also home to some of the most fantastic chefs and local eateries here. You have people traveling from all seven cities to come to Ghent for the food here."
When you walk into Lil Bit NOLA in Ghent — located next to Decorum Furniture on 21st Street — you are immediately greeted with the colors — green, gold and purple — of New Orleans. The first floor interior sports yellow walls, green booths, framed pictures of the Big Easy, and a pair of wooden dividing walls with fluer-de-lis emblems cut out with Mardi Gras beads hanging through them. Patrons are encouraged to take some beads — without showing off your ta-tas — to get in the spirit. A bright mural on the wall — perfect for selfies — was painted by Conway and his twin nine-year-old daughters. 
The food menu is categorized featuring The Classics, Bowls, Plates, Po' Boys, Fun New Twists, Greens, and Sides. 
On my visit the service was excellent. Waitresses were clad in white button-up collared shirts and silky, dark blue and purple vests with paisley patterns — classic turn of the 20th century. 
I was hungry so I ordered a bowl of Chicken & Andouille Sausage Gumbo (7.95/15.50). The mix of sausage, spice, pulled chicken and long grain rice was ideal for a winter's appetite. Other bowl options, which I'll try in near future visits, include Crawfish Etouffee ($7.45/14.50), Shrimp 'n' Crab Corn Bisque ($6.95/$13.50), and traditional Red Beans 'n' Rice simmered in Creole broth with sausage and rice ($7.95/$14.50).
For dinner, Plate options featured include Louisiana Jambalaya (classic recipe with crawfish, shrimp, Andouille sausage, and some surprisingly tasty okra, $24.95), Cajun Shrimp 'n' Grits ($22..95), Bayou Crab Cakes ($24.95), Chesapeake Bay Blue Catfish (fried and served with dirty rice, remoulade sauce and broccoli, $21.95), and a New Orleans Jazz Fest favorite dish, Pasta Monica (fettuccine with choice of crawfish or fried chicken thighs, $19.95). 
In New Orleans, sandwiches are called Po' Boys and these are authentic, right down to the bun.
"We actually fly-in the Leidenheimer bread from New Orleans which is the traditional Po' Boy bread," said Conway, in describing the details of each menu item.
Po' Boys range from $12.95 to $17.95 with fried meat choices of everything from gator, crawfish, oysters, catfish, shrimp and chicken. There's also a fried green tomato version.
In addition to the traditional fare, Lil Bit NOLA expands its menu horizons with a few delicious twists. 
"We're going to do things like a weekly empanada," said Mark Conway. "That all came from having the ginormous rooftop bar and dining room and the need for a lot of handheld items."
On the day of my visit, the Mac n Beef Empanada was offered and was exceptional. Originating from Portugal, these are common in multiple cultures such as the Philippines and Latin America. It's basically a fried or baked pastry dough with any variety of filling. 
Another "twist" item to try is the Cajun Spring Rolls (filled with pork belly and collard greens, $$8.95). Highlight recommended — by me — is the Crab Popper. It's the restaurant's play on a jalapeño popper where they take a crab cake and stuff it inside jalapeños and serve them in a cast iron skillet with a caramelized bacon/apple/jalapeño jam with a little goat cheese on top. 
"It's about marrying what's popular here with those roots of New Orleans," shared Conway. 
Signature New Orleans cocktails have a menu all of their own and include the Hurricane (served just like at Pat O'Brien's in a glass shaped like a hurricane lantern).
"I send as much time developing cocktails as we did the food menu," Conway stated. "We made a drink called the Fat Tuesday — it's kind of like a vodka drink with Sweet Tarts in it. We did the Purple People Eater, which is another big one down in New Orleans. We do a Nolarita, a spin on a margarita. We do a Sazerac (a cognac or rye whiskey cocktail originating from NOLA). Multiple types of Old Fashioneds."  
For beer drinkers, four Abita beers are on tap all the time: Turbo Dog, Purple Haze, Strawberry Lager, Mardi Gras Beer. Plus bottles. Wasserhund is creating two beers exclusively for Lil Bit NOLA.
Before heading home be sure to order your New Orleans classic dessert — beignets — just like they serve at Cafe du Mode.
As Mark Conway insists, "If you can't get down to New Orleans you can have a little bit of that right here."
True dat.