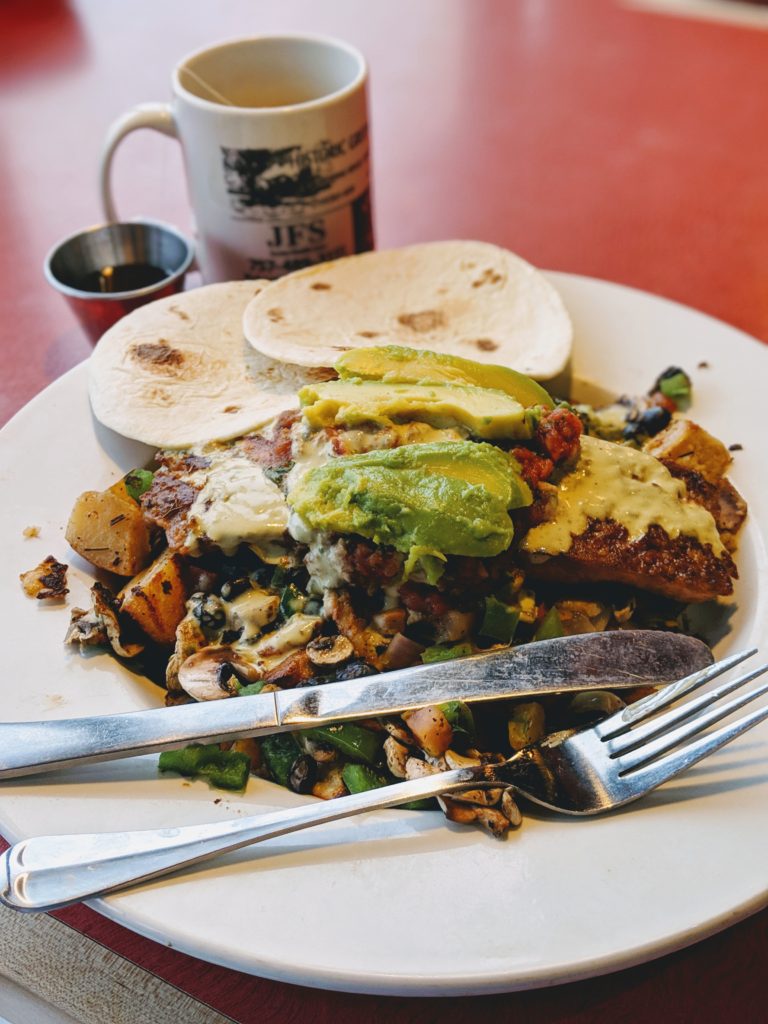 By Betsy DiJulio
Recent posts on the Vegans of Hampton Roads Facebook page had The Egg Bistro brightly lit-up on my personal "run don't walk" radar screen.  Though they have locations with vegan options in VA Beach and Suffolk, I chose the Chesapeake location from whence the original post came.  
Not a big weekend breakfast, brunch or lunch fan, but unable to visit the restaurant on weekdays, I went at around 2 :15 on a Sunday—they close at 3—and figured it would count as what my late mother called "brupper," somewhere between brunch and supper.  Boy, did it.  I wasn't hungry again until the next day.  And I only consumed one-third of my meal, enjoying it twice more for school lunches. 
There aren't a bounty of vegan choices, but what I selected was delicious and worth a return trip.  The Beyond Bowl is, indeed, above and beyond.  It features the bratwurst version of Beyond Sausage atop a mound of other flavorful and filling ingredients.  The sausage was perfectly griddled, with a slightly crusty exterior and an interior bursting with juicy, sausage-y goodness. 
Underneath were well-seasoned grilled peppers, onions, mushrooms, house-made red potato home fries, and black beans.  To the side were two small, but pleasantly plump flour tortillas.  On top was fresh salsa and avocado; drizzled over was Dave's Gourmet Creamy Roasted Jalapeno Hot Sauce.  Wow.  More tangy and complex than hot, it was so creamy in fact, that I was highly suspect about it being vegan.  The server kindly—without a hint of annoyance—offered to bring out the bottle so that I could read the ingredient list.  Yep, vegan.  And so delicious that I bought the bottle.
If I were to change one thing about the dish, I would want a little crispier potatoes, so perhaps just ask, as I will next time.  Also, in February, the salsa was more of a dull winter tomato red, than an eye-popping summer tomato red.  Still, it boasted wonderful flavor and was an important component of the bowl.   At $12.99, the price seems like a great value, especially when I made three meals out of the dish.  Non-vegan bowls come topped with an additional three eggs…I can scarcely imagine such a thing.
The vegan sausage also comes in the Vegan Bratwurst sandwich.  $10.99 will get you a hefty version topped with grilled onions and green peppers and roasted red peppers served on a sub roll with Dave's Creamy Roasted Garlic and Pepper Sauce.
To drink, I ordered delicious hot Earl Grey tea—though they serve a dozen craft beers on tap—which came with honey already poured into a little stainless steel vessel.  Knowing it would be discarded if I didn't eat it, I dipped one of my tortillas in it, as I love a little something sweet—like maple syrup—with breakfast food.  If you order tea, ask your server to hold the honey—unless you include it in your version of veganism—but do ask for a hint of maple syrup for dipping.  The savory-sweet combination hit all the right notes and fueled three-mile hike at Norfolk Botanical Gardens just after.
Other vegan options include a fairly ordinary sounding House Garden salad for $4.29/8.99 and a vegan burger WITH a vegan bun for $9.99.  Vegan sides include fries, garlic fries, and housemade chips; check to make sure the latter two have no non-vegan ingredients in their seasonings.  (Darn, I wish those buffalo cauliflower bites were vegan.) Currently, no vegan cheeses are offered, but there are plenty of other toppings suitable for non-meat and –dairy eaters.
I found the ambiance a pleasant play on an industrial-modern vibe with booth, table, and bar seating—offering a view into the open kitchen—reclaimed-looking wood floors, exposed black duct work, sleek retro-modern ceiling fans, tangerine colored walls, and wood and metal accents.  Service was warm, professional, and efficient.  
When you plan a visit, leave time for a walk on the trail at the nearby Chesapeake City Park.  You are likely to need it.