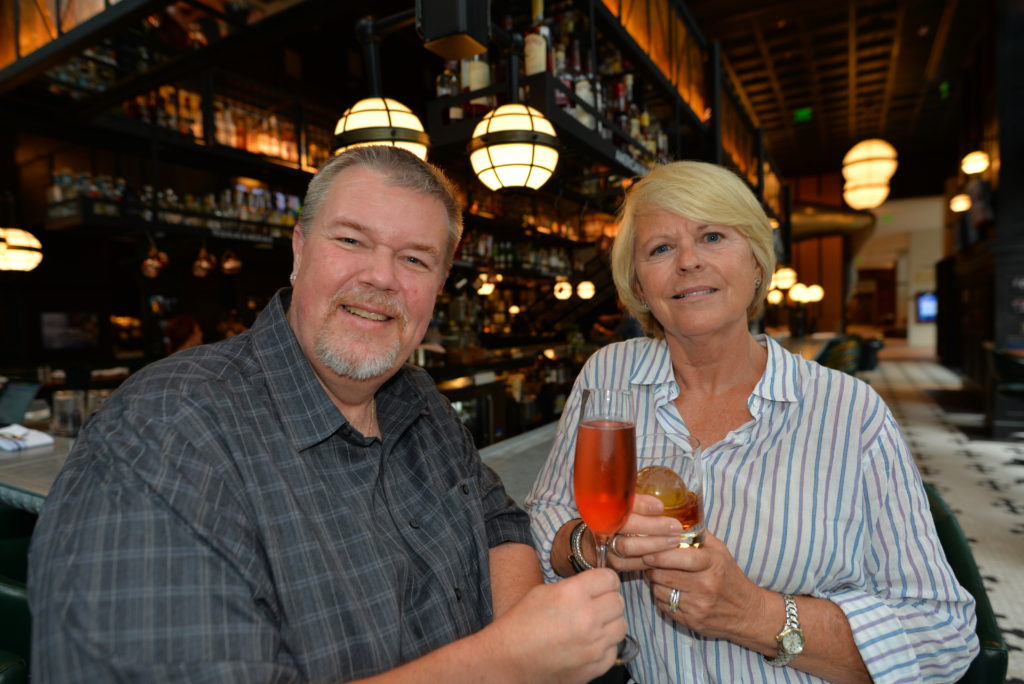 By Jeff Maisey
(IMPORTANT NOTE: This event has been rescheduled for October 20, Noon to 5 PM, in conjunction with Town Point Virginia Wine Festival.)
What do you get when you pair more than 35 chefs and oyster-harvesting watermen from across the Commonwealth with 50 Virginia-made fine wines, craft beers, spirits, and craft cocktails garnished with live bluegrass music from the Crooked Road, unique artisans and award-winning Southern cookbook authors Cynthia Graubart and Nancie McDermott? 
A full plate, to say the least, but in reality it is the debut of Commonwealth Coastal Classic, a collaboration of ideas and experiences shared by local celebrity chef Patrick Evans-Hylton (VA Eats + Drinks) and Norfolk Festevents executive director Karen Scherberger. 
Commonwealth Coastal Classic is scheduled rain or shine as a one-day event like no other in the region on Saturday, September 15.
Among the nearly 40 participating chefs are Kevin Sharkey (1608 Crafthouse, Virginia Beach), Angelo Vangelopoulus (The Ivy Inn, Charlottesville), Harper Bradshaw (Harper's Table, Suffolk), Aaron Deal (The River & Rail, Roanoke), Tim Brown (Hook U Up Gourmet, Cape Charles), Thomas Yager (Taste), Alvin Williams (Cobalt Grille, Virginia Beach), Dan Elinan (The Cavalier), Travis Brust (Williamsburg Inn), Chris Glover (Crackers, Norfolk) and fresh out of retirement, Sydney Meers. 
Unlike other outdoor food and drink festivals, the Commonwealth Coastal Classic will be capped at 3,000 guests and your $125 ticket gives you all-access to the bountiful feast. It's all about creating and maintaining an exclusive experience that'll be talked about for months to come. 
To get the skinny on this adventurous cornucopia of culinary delights, I invited Scherberger and Evans-Hylton to join me mid-afternoon at Saltine's attractive bar for a beer, bourbon and glass of vino to discuss the details. 
You both have a wealth of knowledge and experience in producing festivals and events where food and drink are the highlighted attraction. This is a new concept and it's ambitious in scope. Where did the idea for Commonwealth Coastal Classic come from?
Karen Scherberger: Maybe about five years ago, Festevents reached out to Patrick and asked him if he'd begin to work with us as a culinary adviser, knowing that food and beverage are key components to making any event successful.
We were interested in learning from Patrick some of the trends that are happening and who some of the chefs, restaurants are, and potential menu changes that we could share with some of our vendors. We first started in 2012 when we were doing OpSail. 
Then we started sharing a mutual vision to create the next level of a food and wine event. On my end it was our wine festivals and beer festivals had been very successful, but we wanted to take it to the next level for that individual that wanted something more than the normal beer and wine festival. 
Patrick had his vision to do events that bring in top chefs and make it very Virginia-centric. 
We started doing our research. We went to the Miami International Food and Wine Show four years ago, and realized while it was a great event it was way too over-the-top with bone-crunching crowds. It just wasn't a great experience.
We followed that up with visiting the Charleston Food and Wine Festival and discovered that's exactly the model that we want.
While both of those events have other components that involve restaurants and other destinations the most popular events are what they call their Culinary Villages. So, that's what we're starting out with this year; in essence, creating a culinary village that capitalizes on a Virginia theme that invites a very large collection of chefs from all over the state.  Patrick, through his connections, was able to recruit, invite and cultivate this collection of chefs, but also Virginia artisans, Virginia wineries, distilleries, and bringing it into an environment that's very different from other events.
For example,  on Saturdays of the Virginia Wine Festival we'll have anywhere from 9 to12,000 people. People who come to Town Point Park know what a 12,000-person crowd feels like.
We're capping tickets for this (Commonwealth Coastal Classic) at 3,000. It'll be a very manageable, very comfortable experience with plenty of time to enjoy all the tastings, meet and talk with the chefs, brewmasters, distillers, winemakers. 
It really touches on all the best of Virginia — the Oyster Trail, the Wine Trail, the Artisan Trail, the Crooked Road Music Trail. Everywhere you look you can pull-back a layer and see something else the state is working hard to capitalize on. 
So then, Patrick, this seems like a real showcase for the Commonwealth's culinary arts, right?
Patrick Evans-Hylton: Oh, absolutely.
You know I've been here for 30 years, though one of my great-great grandfathers actually came in 1608 on the second supply of Jamestown, so I call myself a Virginian by way of Georgia. 
When I was a student at Johnson & Wales, when I was 30 years old, I started really seeing all these different ingredients that we were using and realizing what an incredible wealth we have here, not only in ingredients but the history and use of ingredients.
This truly is the birthplace of American cuisine. We are truly the first in food in what would become English-speaking America. 
We know these chefs are working so hard every day — the independent chefs. They're up against so much. I can't understand why people stand in a line outside an Olive Garden or Cheesecake Factory when there are so much better local foods from local chefs.
I have really wanted to do nothing more than just showcase and elevate the food and foodways of our area. We've got something so special. I think in some ways everybody understands and recognizes it, but I think it's going to take one big event where there's so much together to have people have that ah-ha moment. I really do believe this is going to be that ah-ha moment where people understand just how special Virginia is and how special Coastal Virginia is as far as the food and foodways. 
Karen, if I purchase a ticket and attend the Commonwealth Coastal Classic, can you describe what my experience is going to be? How will it differ from other Festevents productions?
Karen Scherberger: Right from the moment you enter Town Point Park you're going to enter a beautiful setting. 
Mike Bell, who does amazing prop work and set design, is taking the park and creating it into this beautiful setting so that no matter where you go to experience food or drink or artists or our big fire-pit, oyster bar, you're going to feel like you've entered some place you've never been before. So, visually, it's going to be absolutely stunning. 
When you walk in the door you'll get a tasting glass and you'll receive a tray that you can carry it around with. 
Once you get onsite you'll have an opportunity to look at all the chefs. There are 18 chef's tables. Each table will have three different sessions; an hour each with a half hour in between. Each session will have a featured chef.
Let's say you want to go to the Off the Grill table. The first hour session will be one chef and a break, then second and third. It'll be variations on that theme of the table. 
There'll be plenty of places to sit down with your friends and family, have a drink, and scope-out how you're going to explore the day. 
It's not like a buffet. It's not a smorgasbord. It's not an all-you-can-eat experience, although you can eat your way from start to finish.
People will have an opportunity to move around, take a look at all these wonderful chefs. They'll get a chance to talk about and be educated more on locally sourced and Virginia sourced products. 
Between the wineries, breweries, distilleries and the chefs you'll get lots of information like, why don't you try this with this. 
The fire marshal, for the first time, is allowing open-fire cooking in a park. We bought these beautiful open-fire cauldrons that we found down in Charleston.  
We also have two celebrity chefs — Cynthia Graubart and Nancie McDermott, who'll be there all day to meet-and-greet and sign books. 
It'll be a different environment, different experience. It's hard to compare it to anything that we have here now. Whatever your best experience has been at Town Point Park, multiply it by 100. That's what we're hoping people will find.  
For those attendees who fancy themselves as foodies, what are going to be the highlights for them?
Patrick Evans-Hylton: I think one of the highlights is going to be actually going around and being able to visit with so many remarkable chefs from this area and across the state. You'll really have time to go up and sample food, and talk to them and engage with them and get a full menu of some of the most remarkable culinary calling cards of our entire region — all in one place. 
We'll have all the great distilled spirits; all the great beers and wines. It literally if going to be the ultimate culinary experience for anybody who truly appreciates and loves being a Virginian. 
One of my favorite bumper stickers I've seen is the quote, "We're all Virginians whether by birth or grace of God." 
Again, this is the birthplace of American cuisine. These are the people showcasing where the country's foodways were founded. And what better way to do it than to experience it one bite and one sip at a time. 
The menu items are as important in this type of event as the musical lineup programmed for an outdoor music festival. How have you worked with chefs and product suppliers to ensure quality and variety so that everyone's not serving the same dish at the various thematic chef tables?
Patrick Evans-Hylton: What we tried to do was by having a diverse number of chefs tables…there are some that are only concerned with the food from the fields and the far. There are some that are concerned with shellfish. There are some that are concerned only with barbecue, ham and peanuts. 
That in itself lends itself to the diversity, right there. 
We're letting the chefs have their own discretion with what to serve, but because they are all at different table and times it's going to be just a huge diversity for folks to enjoy.  
Will the chefs be discussing the seasonality of the foods they're serving?
Patrick Evans-Hylton: Oh, yes. Especially in regards to the seafood and the food from the land they're going to be using the freshest, whatever it is. 
Karen, why was this specific date — September 15 — selected on the calendar?
Karen Scherberger: We chose this date because the event that had been on that weekend was the Rib-tober Fest. The whole idea of open grill cooking and the bourbon tasting, craft beers, and oyster tastings — having it all together on that weekend on a nice fall day really seemed to work. We thought, how do we take that and roll this into what we had been talking about for the last couple of years? 
It was a nice time on the calendar that we know is already working. That's why we chose that date. 
When Festevents and Virginia Arts Festival launched the Virginia Beer Festival it was the first of its kind in the region. Now there seems to be a beer fest of some sort every weekend. In terms of programming festival events, what are the challenges in remaining above the fray? 
Karen Scherberger: I think the challenge for us is to now look beyond the fact that it is a beer and wine festival, and be much more strategic, much more selective on who we invite to be at our events. 
Patrick Evans-Hylton: This (Commonwealth Coastal Classic) is invitation-only. No one calls and says I want to participate. 
Karen Scherberger: What we're doing with the Commonwealth Coastal Classic is taking all these experiences to a brand new level. 
For the events that happen during the rest of the year, we are talking about how do we distinguish  our event from so many others that are going on. If people have a choice of eight wine festivals and 12 beer festivals why do we want them to chose ours? Nobody's going to go to all of them. It comes down to what's the best investment of your time. It's going to be about the experience and our location. It's not about having 20 wineries, but who are they? It's the quality of the experience, and I think that's the challenge we all have. 
WANT TO GO?
Commonwealth Coastal Classic
Saturday, OCTOBER 20
Noon to 5 PM, $125 ticket
Town Point Park