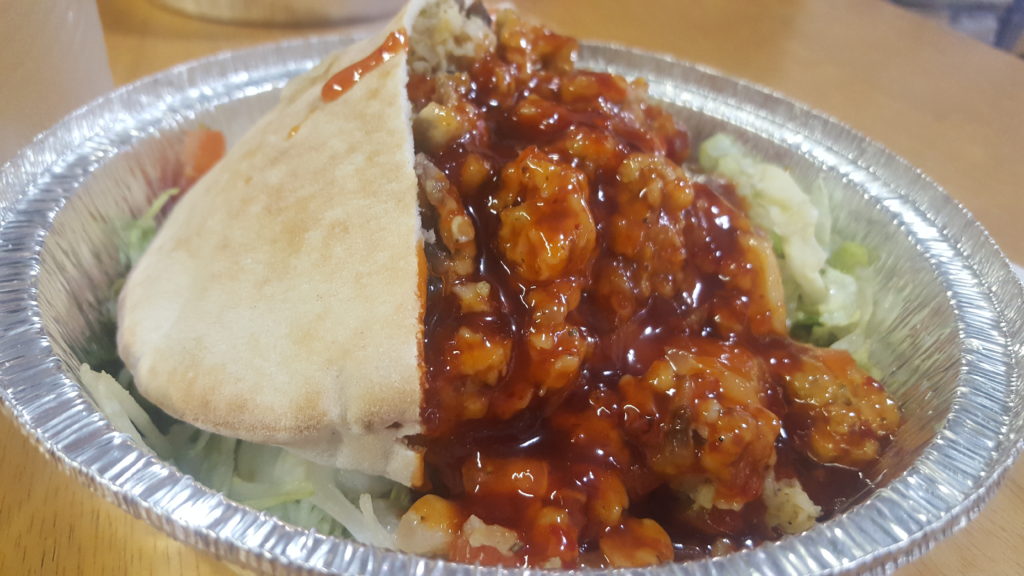 Words & Photo by Betsy DiJulio
Until the 1960s, Norfolk's West 35th street was a thriving commercial destination located within the solidly middle class neighborhood of Park Place.  But then the strip of storefronts fell victim to urban decay and small business gave way to the unholy trinity of blight: drugs, theft and violence.  
In more recent years, though, West 35th has been the target of revitalization efforts with hints of what the neighborhood was and could be again slowly emerging and changing perceptions.  The city has funded decorative lighting, park benches, and trash receptacles; repaired sidewalks, replaced water and sewage pipes, and resurfaced the street; and spruced up both the landscaping and storefronts.  Most recently, bike lanes have been added. 
Jikoni Café, ("jikoni" is Swahili for "kitchen), located inside the House of Consciousness, provides more than a suggestion of that potential.  This African-American owned bookstore and all-vegan café has a vibe all its own.  Situated within a strip of boldly painted brick facades—blue, red, black, and forest green—the welcoming bookstore has a community center-lounge feel.  
One of its two storefront spaces features the bookstore and café while, through a large opening, the adjacent space boasts a small stage, gallery space, sofas, and a communal table for workshops, classes, lectures and other gatherings.  For sale, besides books and art, is jewelry, skincare products, metaphysical items like crystals, grocery and health-related items, and more.
The café offers counter service for eat-in or take-out orders and I've experienced both.  On my first visit, my friend Trish and I enjoyed our delicious, nutritious, and satisfying lunch at a comfy counter-height four-top.  Virtually all of the savory dishes on Jikoni's menu of nachos, burritos, pasta bowls, pita pockets and salads is kush, which the website describes as a "non-hybrid grain hailing from the tropics of Africa."  The better known name for it is bulgur wheat, though Jikoni's delicious version tastes like none that I have prepared.
Of the seven varieties of kush pockets or salads served in unpretentious, practical, and recyclable foil pans, Trish chose—with the help of the friendly and knowledgeable assistance of the woman behind the counter—the Sweet African Pepper version whose sauce is a blend of sweet peppadew peppers and island fruits.  Fresh and crisp mixed greens came topped with a generous portion of seasoned kush and a patty of grated potatoes, not unlike a hash brown cake, under a cascade of the tasty sauce.  
I chose the Tamu Thai pocket—though I ended up not eating the pita bread as the portion was so ample—which layered the colorful, luscious, and spicy-sweet Thai-inspired sauce over a heaping mound of seasoned kush, the potato cake, and greens.  I fantasize about those flavors and would order that dish again…and again.  A half-pocket or salad costs $5.99; a whole $9.99.
The nachos, though, were a bit of a different story.  On a follow-up solo-visit, I called in an order to-go or I would have inquired about why the advertised tomatoes and green onions were omitted.  But that wasn't the turn-off for me.  Though the kush tasted fine if under-seasoned, it was the unmelted shreds of vegan cheese on top that was not to my liking.  Photos of the nachos indicate that Jikoni has opted for a style of nacho for which grated, unmelted cheese is a hallmark.  
Again, the portion for even a small order ($6.99) was abundant:  cheese, kush and fresh shredded lettuce was piled atop a generous portion of crispy tortilla chips (half of which I "composted") and garnished with a scoop of vegan sour cream and salsa.  Jalapenos are optional and avocado a popular add-on (for $1 small; $2 large).
On one of my return visits, I will save up my calories and order one of their smoothies or vegan shakes which are swirled high above the rim of the large plastic cup and, if a shake, topped with cookies, nuts, graham crackers, or peanut butter cups.  All seven shake varieties appear to be well worth their $8.99 price tag ($10.99 for the Museli), but I have my eye on the Bakoko: butter pecan ice cream, almond milk, cashews, pecans, and agave nectar, topped with plump pecan halves.
Jikoni Café inside House of Consciousness, jikonicafe.com, 757.3114.1943, 633 West 35th Street, Norfolk