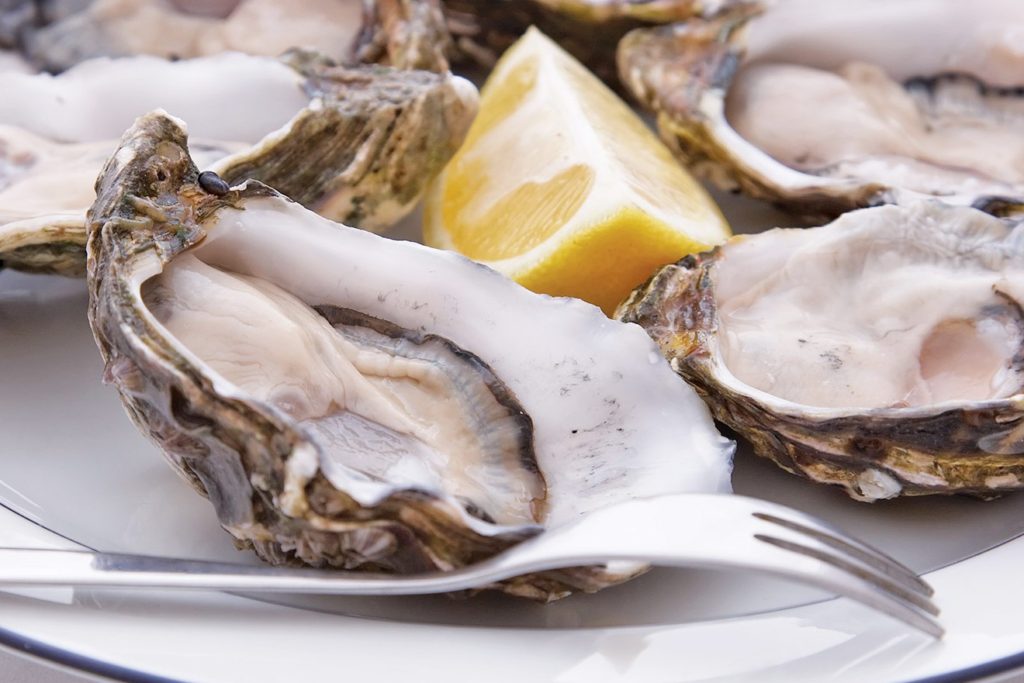 By Marisa Marsey
"American oysters differ as much as American people…" – M.F.K. Fisher, Consider The Oyster, 1941
Many a Manhattanite has never reached the top of the Empire State Building. Philadelphians rarely visit the Liberty Bell. Except with out-of-town company, most of us don't play tourist in our own backyard. So as I entered the Virginia Aquarium & Marine Science Center in Virginia Beach for the start of Taste Virginia's Local Oyster and Wine/Brew Tour on a misty Sunday afternoon last month, I expected my fellow tasters would hail from far afield.
That theory didn't hold water. The pair who would have captured the "traveled furthest" prize ventured all the way from Olde Towne Portsmouth. This sell-out crowd of a dozen were all local oyster lovers who had signed on for the $79 tour to delve deeper into the joys of living in the "East Coast Oyster Capital." That Portsmouth couple, Nichole and Patrick Siviglia, wed at an old Eastern Shore oyster house.
"Sometimes we have oyster virgins," says Lisa Hamaker, who began Taste Virginia with her husband Rex in 2013 to showcase the Commonwealth's culinary treasures, as we wend our way through the Aquarium from an exhibit on how oysters improve the environment by filtering 50 gallons of water a day to Owls Creek outside for a bird's eye view of oyster reefs where larvae latch on to shells and grow, assuming the flavors of their marine habitat (called merroir, like wine's terroir). Who wouldn't love these plucky comeback kids, I wonder, as Aquarium guide Leslie Clements traces the bivalves' heart-crushing depletion, triumphant replenishment and ongoing travails.
Bite-sized facts flow throughout the day – and a portion of the tour's proceeds benefit the Aquarium's eco-friendly Sensible Seafood Program – but the emphasis is on feasting. Guilt-free! "You're oyster champions," Clements cheerily sends us off as we board a sleek black executive coach. "By eating them, you're supporting them."
That's because all the spots we'll visit practice sustainability by sourcing responsibly and recycling shells. Motoring to the first, Bay Local's second location (on Laskin Road), Lisa confirms those oyster virgins usually convert by the end of the four-hour tour. "There's a lot of misconceptions, like that they're chewy," she says.
The Nandua Selects that the eatery's co-owner Billy Ennis serves expunge such thoughts. Expressed in two oyster Rockefeller riffs (one more traditional with spinach and parmesan, blinged with bacon, and the other boasting lump crabmeat), they're buttery and tender. And the judicious toppings don't mask their essence, a risk with inferior renditions. He also delivers family-style tater tots dusted with garlic and parmesan while all around a brunch crowd bustles into late afternoon. (Ennis opened this year-old location with Adrian Colaprete, a scion of the erstwhile Jewish Mother restaurants who founded the original Bay Local on Shore Drive in 2014.)
"Depends on your mood," Lisa replies when asked whether beer or wine pairs better with oysters. And indeed, we could opt for either. Choosing craft beer, I'm rewarded with a can of Wild Wolf Brewing Company's Blonde Hunny, a Belgian-style blonde ale from Nellysford, Virginia that cuddles up cozily with the shellfish, its citrus notes like a squirt of lemon.
Back on the bus, Lisa displays a map showing Virginia's eight oyster regions from Tidewater to Tangier/Middle Chesapeake Bay, delineating their sweet and salty characteristics (stuff that could be on the quiz if there were one). Soon we're at Rockafeller's which, like Bay Local, is rich in Beach pedigree. Owner BJ Baumann started the seafood mainstay in 1989 with her late husband Frank, originator of dearly departed Frankie's Place for Ribs.
"And we do have ribs," affirms Ben Stone, a Rockafeller's manager who is also the oyster buyer, and thus a knowledgeable interpreter of the Big Island beauties placed before us, raw on the half shell. "These were raised where currents from the York River meet those of the Chesapeake's lower channels," he states.
"So the taste is defined not just by the region but also the water flow," Lisa adds, elevating us to AP students. "And aquaculture is not a bad word," she says, noting that sometimes people conflate it with livestock factory farming. "These oysters are raised in healthy waters, it's just that they're protected from predators."
She then demonstrates the finer points of oyster eating (yes, there's more than just slurping) including sniffing the bouquet (scent), savoring the liquor (the liquid in the shell) and turning the shell upside down when done.
Stone pairs the slippery gems – as well as shrimp-and-crabmeat-studded hushpuppies and another round of oysters Rockefeller – with 2016 Barboursville Pinot Grigio. "My favorite," whispers the woman next to me; barely audible as the other conversations crescendo at our long table overlooking Rudee Inlet.
En route to our last stop, Lisa gushes about bivalve mollusks' bennies: calcium and zinc-packed, they trigger increased levels of sex hormones, they're heart healthy with omega-3 fatty acids, and since devoid of nervous systems, they're technically a vegetarian food.
Cox High School sweethearts, the Hamakers come by their Old Dominion pride organically. They're both tenth generation Virginians (hence Taste Virginia's tagline: "locals since 1654"). Some of their excursions focus on wineries, others breweries. There's an Eastern Shore tour and a walking tour of the ViBe. You can even customize private ones, but all celebrate what's local (tastevirginia.com).
"Don't be a purist but be cognizant," Lisa says. "If Virginians spent just $10 a week of their food budget on locally-grown, it would mean $1.65 billion for the state's economy."
"Ooh, write that down," an impressed guest nudges me.
We're all chummy by the time we're devouring plump, juicy Cape Charles oysters, briny with a lick of sweetness, and beer-battered Virginia blue catfish tacos, at Catch 31, swapping emails, planning to reunite. "We used to go to the same Beach places," says Nichole from Portsmouth. "But this experience has opened a whole new world for us."
More tourists soon may taste Virginia: the Hamakers' tours are getting national media attention as they launch "Birthplace of American Cuisine" with Gold Key/PHR and Patrick Evans-Hylton. But they're delighted that for now 90 percent of their patrons are from the region. After all, Taste Virginia is all about local.
Got dining or drinking news? Contact Marisa at marseydining@aol.com