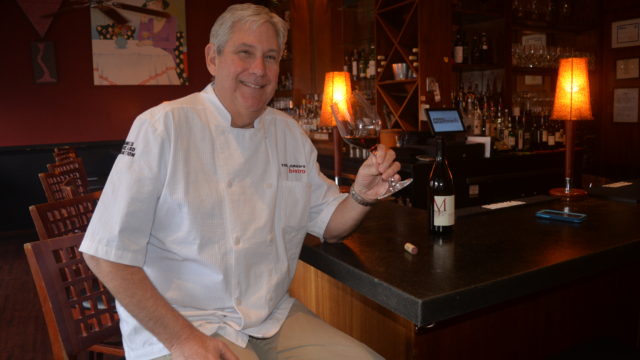 By Marisa Marsey
"What's the best restaurant in Hampton Roads?" I've been asked that question countless times over the decades. Invariably, before I can hone my inquisitors' focus (special occasion, seafood, Italian, French, Indian, etc.) to reply most meaningfully, they'll supply: "Todd Jurich's Bistro, right?" That's what happens when you get a reputation. And as a fixture on local top 10 food and wine lists and recipient of laurels from AAA, Wine Spectator, Southern Living and The New York Times where the formidable R.W. Apple, Jr. called it a "standout," Bistro's isn't unfounded. But perhaps the greatest testament to chef-owner Todd Jurich's success is that in an industry where even laymen can spout the daunting failure statistics, his eponymous Bistro turns 25 this year.
Not bad for a long-haired, latchkey kid growing up in Plum Borough, Pennsylvania, earning part-time money at McDonald's, but prompted to cook duck à l'orange watching "The Galloping Gourmet." In 1976, at 19, he moved to this area when his mom settled here with her new husband. They took him to Monroe Duncan's Suddenly Last Summer. "It was an inspiration," he recalls. "I had my first soft shell crab, and I was like 'whaaa…!'" He enrolled in a hospitality management program at TCC and joined the kitchen crew at one of Virginia Beach's hot spots of the time, Victoria Station, part of a chain of railway-themed steakhouses.
It wouldn't be long before Todd followed in the late Monroe's footsteps and, along with other envelope pushing culinarians including Sydney Meers (TheDumbwaiter, Stove) and Sam McGann (Blue Point), ushered in a new wave of fine dining hereabouts – topnotch, imaginative, thoughtfully-sourced food, jackets and ties not required. He became a lifelong learner by traveling and eating at famed restaurants, ultimately modeling big city trendsetters and embracing international influences engendered by geo-political events. To this day, his cuisine is glocal – global meets local. Herewith, a look back on his last four decades and the culinary zeitgeist that shaped them… 
The 1980s
While nouvelle cuisine, which rocked the classical French world, spreads to the U.S., the rise of American Regional cooking has even greater impact – and visibility thanks to open kitchens.
Wesley's, a Virginia Beach favorite, opened at Pinewood Square in 1981 with Todd on the waitstaff, igniting bananas Foster tableside. He soon went "back of the house" at the Iron Gate House, the apex of prix fixe Continental fine dining in a brick, English country-style home near the Oceanfront on 36th Street, eventually becoming sous chef. Each entrée had a distinct accompaniment – steak with asparagus, rockfish with spaghetti squash, rack of lamb and roasted potatoes. "Everyone was just doing mashed potatoes with everything," he says. "This was more expensive and difficult, but it was fun." When the proprietors decided to sell, Todd, co-chef Meg Williams, and two servers bought the restaurant. It made for an impressive first date when he took Dana Becker there and she didn't discover that he was an owner until mid-meal. The two wed, but later divorced.
Meredith Nicolls (Meredith's, The Kitchen at Powhatan Plantation, Café Rosso) came on board and he and Todd traveled to Europe. They took cooking classes in Lausanne and drove across the Alps, stopping to splurge at Michelin stars. Todd was transfixed by Restaurant Girardet and still cites it as a major influence.
After selling Iron Gate, Todd and the late Rick Maggard capitalized on Paul Prudhomme's Cajun-Creole craze by opening Crawdad Café on 22nd Street at the Beach (now LunaSea) with a 100-day lease. "We planned to just make as much money as we could for the season," he says. "But it blew up." People arrived in limos from the North End to wait in line for jambalaya, gumbo, and red beans and rice with andouille. For most, it was their first bite of now-ubiquitous fish tacos. "One of our best customers was Tom Colicchio who was working on a Portsmouth project," remembers Todd. From four tables and a miniscule bar, the partners expanded to accommodate 40 and then moved Crawdad's to an oceanfront hotel, installing the Mark Miller-mimicking, Southwestern-centric Coyote Café in its place.
The 1990s
TV Food Network spawns celebrity chef obsession and more discerning, knowledgeable diners. Long-established Alice Waters-influenced California cuisine and the Slow Food Movement gain traction on the East Coast. Fusion isn't yet the "F" word, comfort kicks in.
Following stints at Virginia Beach Resort Hotel & Conference Center and the Virginia Beach Tennis Club, Todd opened Menus as its chef-manager in 1991 at the former Wesley's site, showcasing contemporary regional cuisine. A year later, at 210 West York Street in downtown Norfolk (formerly Stripes), he unveiled Bistro 210, the restaurant he'd envisioned while supping on cassoulet abroad to offer soul-satisfying fare in a relaxed setting. Servers wore shorts in summer, jeans in winter. "Everyone asked, 'what's a bistro?'" he says smiling. "Now everyone's a bistro."
His then-wife Barbara became manager and, long before hipster, Brooklyn-esque newbies' did so, their ingredient-driven menu proclaimed: "We strive to obtain only the best and freshest foods available that are gown or raised in a wholesome and organic way." They served heirloom vegetables they grew themselves on a friend's Eastern Shore farm and became the first account for Dave & Dee's (the local leader in connecting farmers and chefs) while flying in the freshest from afar to offer Ipswich clam chowder with sugar grilled casaba melon; yellowfin tuna "filet mignon" wrapped with Texas wild boar bacon on a warm lentil salad with spicy yellow tomato and mango salsa; and potato encrusted Northern Neck all lump crab and corn cakes on native corn pudding with sweet tomato jam.
When Chicago's Lettuce Entertain You group complained that the restaurant's name was too similar to one of theirs, Todd changed it to Bistro! Later, deciding that was too generic, he added his name to it.
Thailand had a profound effect on Todd, and he traveled there a couple times, including for classes at The Oriental in Bangkok. More globetrotting – to France, California – deepened relationships with the wine world. In 1998, sporting a ballcap, Todd was the featured chef at the James Beard House in New York. "Broadway for chefs," he reflects.
The 2000s
Cupcakes yes, carbs no (go figure). Molecular gastronomy explodes. Small plates are big, but bigger still is "local, organic, sustainable." The Great Recession descends: bye-bye expense account, begin belt-tightening.
Todd Jurich's Bistro became a gastro-emblem of downtown Norfolk's "Renaissance." Forced to move due to road realignments, in 2003 it reopened in swankier digs (seating doubled to 150 – and a revolving door!) on the ground floor of a new high-rise at 150 West Main Street. As part of a $1.4 million buildout, Todd designed the spacious kitchen to his specs (open, center console, French-style). Bistro resumed being the place for visiting dignitaries, but simply dining there – perhaps on Beluga 000 caviar, day-boat scallops or free-range chicken – made anyone feel like a VIP.
Influenced by the sensory experiences at Alinea in Chicago, Todd dabbled in molecular gastronomy with modernist emulsions and smoking under glass (later he would inject liquid nitrogen into milkshakes at short-lived Todd Jurich's 21st Century Burger Bar on Rudee Inlet). In 2006, he cooked again at the James Beard House. A year later, he had a hand, briefly, in Zinc Brasserie at Virginia Beach's Marketplace at Hilltop (Burtons Grill, soon Le Yaca), but mainly he continued balancing the accessibly daring (chirashi; orange lacquered duck with foie gras pot stickers) with the tried and true (the "really good meatloaf" from 210's menu). After he and Barbara split, he wed a third time but that marriage was nonstick, too. In 2008, Bobby Flay feasted at Bistro on local oysters four-ways and finfish and deemed it, "The perfect Virginia dinner."
The 2010s
Food trucks, multipurpose restaurants, and pop-ups pop up. Vegetables move toward the center of the plate as nutrition gets scrutinized and the pursuit of authenticity delivers increased ethnic options. Allergies, gluten intolerance, and other dietetic concerns push chefs to rethink menus. Craft breweries make a splash and the Internet buzzes with Instagram-worthy food.
Now 60, Todd's hair matches the gray-silver of the USS Wisconsin docked across the street from his namesake, and he thinks his height has dipped an inch to 6'4", but he retains his boyish good looks and emits the energy of a kid tackling a new toy as he discusses national trends like African and Filipino fare, the Middle Eastern spice blend baharat, and – where legal – cannabis cuisine (ex-wife Barbara manages a marijuana farm in Colorado). His work still mirrors his insatiable reading and travels, cosmopolitanism with a local watermark, but he believes in reinvention and credits his staff for teaching him new things. Together they're sous vide-ing local pork loin and experimenting with fermentation. He continues to offer perennial favorites like a pumpkin soup sparked by the late Chuck Mamoudis (Yorgy's, Shadowlawn Grill) which he enhanced with crab meat. But now he adds the pumpkin seeds for crunch and garnishes it with crab à la minute so it's "popping fresh." "I tell my chefs it's a good soup, but I want it to be great," he says. "The best they've ever had." Dishes start with the finest product, meals end with little things that count: "Customers want the extra yard; the valet with the car ready and the doggie bag in it waiting."
Still, he's heard the rap "I don't see Todd at Bistro as much" and owns up to it. "I was in a slump for a while," he shares candidly. "I had lost interest, wasn't coming in as much." But he recently moved downtown, practically around the corner, and is countering that perception with longer hours. "I'm more excited than I've been in 10 years," he says. "I love the community here, and really have a pulse on things."
Sensing a retro vibe, he recently started a touch of tableside service. "How much closer can you get to your guests than cooking in front of them?" he asks. "And our setting for it here is ideal with high ceilings and tables that aren't that close. So let's break out the Caesar salad bowl." He prides his standard menu version but speculates that guests would enjoy even more calling the shots – extra garlic, more or less anchovy. And, as if back to the future, this intimate interaction connects to the unfolding trend of dining DNA. Sounding Bouley-ish, Todd discusses food as medicine as guests learn about their own biochemistry and want more of a certain ingredient or none of another: "We've come a long way from chefs throwing knives from requests for no salt or sauce on the side."
His father followed holistic practices, "so in a way it's like returning to my roots, which they say we always do." Some he's always kept close – seemingly forever serving his signature oyster stew (essentially his grandmother's recipe) and gracing the walls with artwork by Roberta Whisner, his mother. Others he's rekindling. He's working again with purveyors like Dave & Dee's. And he's reunited with his first wife Dana.
He recently rounded up colleagues from back in the day like chef-pal Carl Warren and veteran server Gordon MacArthur (an easy do since Gordon's still at Bistro) for a pop-up 40th anniversary Victoria Station dinner at his restaurant –  complete with unlimited salad bar and prime rib au jus.
"I feel rejuvenated," he says. "We had the best last quarter in six to eight years. Whether that's the economy or maybe that I'm here more, but I think it's that when you're happy, it filters through to the staff and customers."
Everything really comes full circle. As New York magazine just announced, the top trend for the new year: Back to bistros.
150 W. Main St., Suite 100, Norfolk. 757-622-3210. Open for lunch and happy hour Mon.-Fri., dinner Mon.-Sat. toddjurichsbistro.com/
Got restaurant, food or beverage news? Contact Marisa Marsey at marseydining@aol.com
In a side bar:
Some Bistro Alums
Graham Elliot (Chicago restaurateur, Bravo's "Top Chef" judge)
The late Meredith Adams (Eurasia)
Larry Conte (Steinhilber's)
Pete Evans (Orzo in Charlottesville)
Adrienne Hinson (Vintage Tavern)
Eric Nelson (Chops)
Daniel Page and Gail Hobbs-Page (Caromont Farm cheeses)
Ross Riddle (Hashi Food Truck)
Marc Sauter (Zoës)
Phillip Craig Thomason (Vintage Kitchen)
Connie Weis (Brownies, Cookies & S'mores; Extreme Brownies cookbook author)