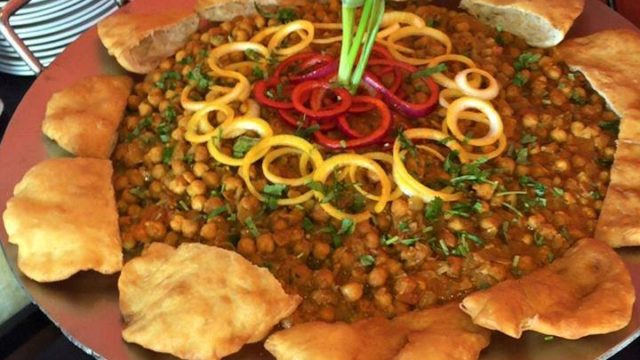 By Betsy DiJulio
My 1990 arrival in Virginia Beach found me Jonesin' for Indian food in the worst way.  My late husband and I had moved here from Nashville where, for at least a year or two, every Sunday found me religiously slipping into the dark, exotic, and intoxicatingly aromatic dining room of a downtown Indian restaurant near the Episcopal church I then attended.  Afterwards, I slept off my indulgence in my roommate's hammock in front of our little duplex.  There were no Indian restaurants in Hampton Roads at the time and every trip out of town found me scanning the horizon and sniffing the air for my most beloved cuisine.
Fast forward some 25 years, and our region boasts any number of Indian restaurants, each with its own twist on perennial favorites, regional specialties, and ambiance.  While vegetarians and vegans have always been able to eat reasonably well, with a number of options, at Indian establishments—as we can at Chinese, Thai, Middle Eastern and other ethnic restaurants—many of the recipes are often prepared with ghee (similar to clarified butter), milk, cream, and yogurt, even dishes you wouldn't expect, such as mint chutney and naan, the addicting bread for sopping up the creamy sauces.
So, when PETA opened its headquarters in Norfolk, Rajput, located on 21st Street since 1999, responded to the staff members' request for more vegan and vegetarian offerings with a "First Thursdays" dinner buffet.  Introduced in about 2004, the buffet attracts many regulars, including die-hard meat-eaters who have found that they not only don't miss the meat, but have come to relish the chickpeas, tofu, and vegetables in their colorful tangy-sweet-spicy sauces.
Diners will find a different and virtually entirely vegan menu for each bountiful First Thursdays buffet, often boasting dishes not found on the regular menu.  The aromatic and colorful groaning board stretches along two walls and, on October 6, was a feast for the senses including only three vegetarian items: a vegetable dish (mixed rogan), a bread (naan), and a dessert (rice pudding).  All of the remaining 10 main dishes, the rice, another bread, and a second dessert were entirely vegan and entirely scrumptious.
Those married to their meat may order from the full menu, but it's hard to imagine why anyone would want to when the options include the likes of:
Chickpeas Masala ( Vegan)
Vegetable Shashlik Tawa ( Vegan)
Veg Mixed Rogan
Mushroom Spinach Curry (Vegan)
Tofu Patia (Vegan)
Potato Eggplant ( Vegan)
Baby Corn Chili (Indo Chinese; Vegan)
Vegetable Fried Rice (Indo Chinese; Vegan)
Potato Skin Fritters (Vegan)
Vada: Lentil pancakes ( South Indian Specialty; Vegan)
Sambar: Lentil & Veggie Soup ( South Indian Specialty; Vegan)
Basmati Rice ( Vegan)
Naan Bread
Pratha Bread ( Vegan )
Kheer: Rice Pudding
Carrot Pudding (Vegan)
I tasted tiny bites of most all of the offerings, and found the compatible tang of the crispy-creamy potato fritters, which were served in a ring around a luscious mound of saucy chickpeas, to be particularly appealing, along with the get-your-attention heat of the firms chunks of tofu in their sweet-sour-spicy sauce, and the contrast of the slightly crunchy yellow baby corn with its red, chili-infused, lick-your-plate sauce.
Rajput in Norfolk is one of two family owned businesses of the same name, with the second located in Suffolk.  There, the vegetarian and vegan buffet is offered once a year, all day, to mark the Diwali Festival.  Paul Chhbra, who hails from Punjab near the Pakistan border, owns both restaurants known for their "home cooking" style food.  He claims to only cook if he has to.  But all of the chefs train under him, and, evidently, they have been paying attention in class.
Rajput Indian Cuisine
742 W. 21st Street, Norfolk
757-625-4634   www.rajputonline.com