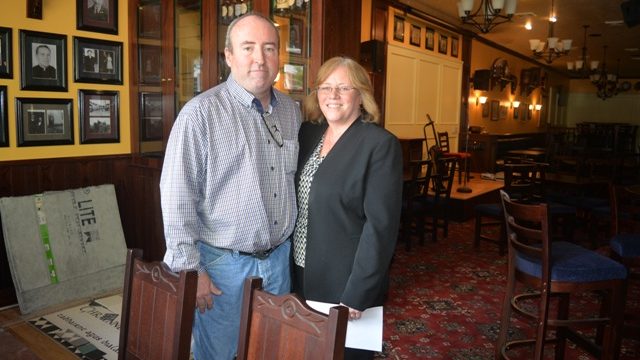 By Jim Roberts
Martin Marron is adamant that opening Grace O'Malley's Irish Pub & Restaurant in downtown Norfolk is not the culmination of a life-long dream. "It was—years ago," he said after giving a tour of the nearly finished surroundings (Official grand opening date is July 26). "Then you just get too old, because the bar business is for young people. It's not for me."
That changed when Mo & O'Malley's Irish Pub closed last summer after more than 20 years of business. Marron, a pub singer, had a long-standing rapport with the owner, who asked if he might be interested in buying. He was—but only after he and his wife, Christy, a finance expert, started crunching numbers.
"Every day, we were waiting for a red flag to pop up," Marron said. "It never happened. The numbers looked good. We thought, 'We don't want to do it, but we'd be stupid not to.'"
They did, however, run into a deal-breaker. Norfolk developer Buddy Gadams bought the building with the intent of converting the upper floors into apartments—a plan that ruled out the possibility of live entertainment in the pub, and Marron is committed to hosting musicians at least five nights a week. (The ground floor once occupied by Mo's has since been converted to Jack Brown's Beer & Burger Joint and Benny Damato's, a pizza place.)
So Marron went back to the drawing board and found an empty property at 211 Granby Street—in the storefronts that used to be Norfolk Florist and Paradise Donuts. The challenge was that the new location required them to build out a brand-new pub from scratch. But the numbers still looked good, and he had an ace in the hole: GGD Global, a company that designs and builds Guinness-certified pubs in Ireland and then ships them to customers all over the world.
Marron noted that the success rate for Irish pubs built by GGD is 87 percent—well above the 50/50 national average for bars. "Mama didn't raise no fool," he said. "Well, she did, but I wasn't one of them.
"It's just the simple fact of: If we don't do it, somebody else will," he continued. "There are a lot of cities in this country half the size of Norfolk that might have four Irish pubs, and Norfolk has none. It was just crazy to me."
When he talked to Veer Magazine, Marron and his staff—including Robert Wallace, who managed Lubo Wine Tasting Room in Virginia Beach—were putting the final touches on the pub and waiting on city inspections. "I just want to get the doors open and focus on service," he said. "You know in real estate, it's location, location, location? Restaurants, it's service, service, service. Our number 1, 2 and 3 is our service. After that, it's our food."
And music.
And craic—the Irish term for fun, entertainment and enjoyable conversation.
"Right now, it's all about what you drink when you go out," he said, referring to the brewery and taphouse trend. "Well, Irish pubs are never about what you drink. It's who you drink it with. It's the company you keep. It's the fun you have. I don't care what you drink—or if you drink at all. That's our focus: 'Great Food. Great Music. Great Craic.'"
That said, beer lovers will delight in Grace O'Malley's having 15 beers on 16 taps. That means two taps will be dedicated to Guinness Draught. "In a proper glass, poured the proper way," Marron boasted. "If you're in hurry, don't order it."
The pub will also offer a variety of Irish, Scottish and American whiskies, but it will specialize in at least two things that are not at all Irish. First: Chicago-style, thin-crust pizza made with Marron's own "proper" Italian sausage. A pizza oven procured from Joliet, Illinois, will turn out 45 pies per hour. "I hope one day we have to get another one," he said. Second: crushes. "We are the only bar on Granby Street that has a crushed ice machine," he said. "We're not going to serve you a Fuzzy Navel on the rocks and tell you it's an Orange Crush. Nobody on Granby Street does crushes. We will."
To counter the Sunday brunch trend, Marron also plans to host Sunday afternoon "roasts" with a different meat—roast beef, turkey, chicken, ham or pork—served until it runs out. "Mashed potatoes, gravy and vegetables," he said. "Knife and fork, baby. Stick to your ribs. Where can you get that? Where can you go out for something grandma would have cooked for you? It's something different—something no one else does."
Looking ahead to St. Patrick's Day, Marron said he is thinking about producing a show and selling seats for set performances throughout the day. One thing he won't do: remove all the tables and chairs and pack people in like sardines. "No drunks," he said. "No spilling and puking and carrying on. … I'm not going to open this place to the green beer yahoos. I'm just not. It's not what we do."
While Marron never specifically used the word "upscale," seeing GGD's craftwork and hearing him talk about his plans, it's clear that Grace O'Malley's will be more than a "new and improved" version of Mo & O'Malley's. "This is not that," he said. "I think you take one step in the door and you're going to know."
Even before that door officially opened, Marron seemed content in knowing that his business venture will fill a local void. "The Irish pub concept is not unique," he said. "It's been done before. But for Norfolk, even though this has been done and done and done and done, this is unique to this town. It's unique to Norfolk. It's Norfolk's Irish pub. It's important that we get it right."
For more information visit: www.irishpubnorfolk.com or search for Grace O'Malley's on Facebook.