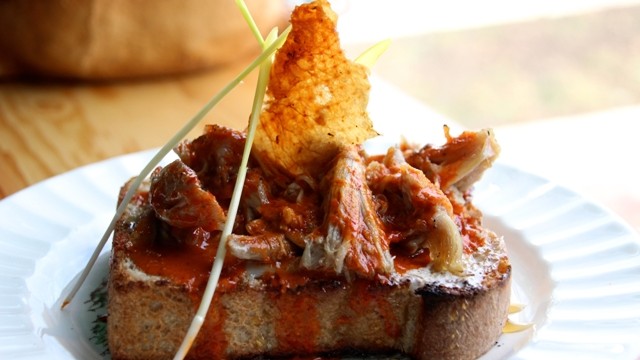 Words & Photos by Stef Wasko
From the two entrepreneurs who introduced Norfolk to The Handsome Biscuit and Field Guide, comes a third culinary phenomenon serving the best thing since sliced bread— Toast.
This newest member of the David Hausmann and John Porter family of Norfolk restaurants finds its home in the old Buddy Baker Concrete building on the corner of Colonial Avenue and 24th Street— only a block down from its predecessor, The Handsome Biscuit.
Fans of the first two Hausmann-Porter restaurants are eager to try the new bar.
"Simply, they do a great job at elevating classic items, like basing Handsome Biscuit all off jazzing up sweet potato biscuits. Genius! I'm sure Toast won't be any different and will be just as tasty and creative," local food journalist Anne Leonard says.
Toast was born from Hausmann's own memories of waiting for the school bus with a slice of his mom's cinnamon toast in hand. The breakfast treat evokes childhood memories for many others. While they venture beyond simple butter and sugar toppings, Hausmann and Porter hope Toast's menu will arouse a familiar childlike delight.
Even with Norfolk locals, college students and Yelp reviews singing the praises of his two current Norfolk restaurants, Hausmann remains cautious and realistic about the newest startup. But his acknowledgment of potential problems only fuels his motivation.
"I can look at Toast and imagine the top 10 negative things people could say about it," he said.  He admits people might not "get it." He has learned through experience customers tend to be leery of out-of-the-ordinary ingredient combinations.
"It's not a fear, I already know it's going to happen," Hausmann said, "Then we know the game is to challenge everyone's expectations with certain things that they are surprised by."
Hausmann has learned a few tricks to success. He and Porter leverage nostalgic twists to combat food skepticism in all of their restaurants.
"It's our only ace in the deck," Hausmann said.
The homey feelings sparked by warm cinnamon toast serves as a spring board for more inventive toast-centered meals by Hausmann and Porter. And the joint promises outlandish toast garnishes such as curry butter, a broiled egg and parmesan cheese.
"We create the idea around nostalgia so the idea doesn't seem so insane," Hausmann explains.
Even with his realist evaluations of their quirky menu, the culinary engineer has full confidence in his creations.
"I don't think you will even for a second argue with the fact that you liked what you had," he said. "You will eat it and say, 'This is the best cinnamon sugar toast I've ever had.'"
The Hausmann-Porter duo and their team have had to jump through many hoops over the past year to prepare the restaurant for business. After several openings postponed due to building inspection issues, the bar is now serving drinks and toast on weekend nights. The bar and restaurant will eventually extend its hours, but there is no grand opening event on the calendar.
"We'll open eventually," says a worker with a smile as he stacks stools by Toast's bar area.
Hausmann says he hopes to expand the restaurant's hours in April and to start a Wednesday through Sunday schedule by May.
Hausmann never had formal culinary training and, in fact, spent his first years out of college in cancer research. He earned his knack for tasty concoctions through work in the food industry. He has always had a natural mind for entrepreneurship and is never at a loss for new ideas.
As the ideas keep coming, the two brothers-in-law continue to plan for the future. The next Hausmann-Porter kitchen in Norfolk will steer away from old-time American food and will take on the Far East. Hausmann says the team plans to open a curry place as well as a sushi place next.
"We want to create places that didn't exist before and have a lot of fun doing it," Hausmann said.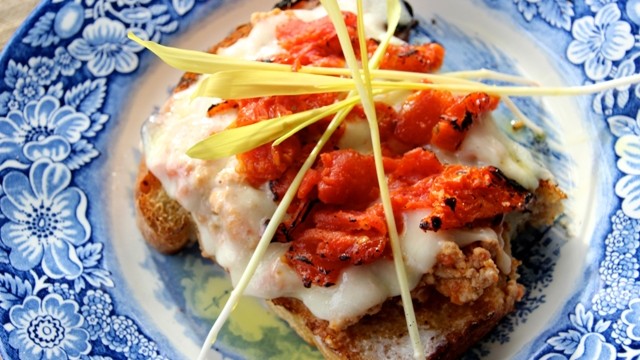 In creating these unique food experiences, the young, local owners invest a lot of effort into the restaurants' ambience in addition to the menu. Chalk-board menus, black-and-white photographs, bare wood furniture and antique knick knacks give The Handsome Biscuit its old Americana flavor. Meanwhile Field Guide bares more earthy decor. Both share a similar organic atmosphere and strong American undertones.
While the decor may be eclectic, Hausmann believes in "keeping it simple"— especially in the kitchen. Both restaurants feature easy-to-navigate, yet equally intriguing menus. Hausmann carefully balances classicality and novelty, simplicity and innovation.
"It's much easier to create something that's good and small and simple and then complicate it from there," he says.
The start-simple mentality helped make The Handsome Biscuit a hit. While Field Guide downtown was inspired by the great outdoors, Hausmann says the brunch and breakfast spot on Colonial Avenue found decor inspiration from America's "greatest generation."
"Nostalgia is a large component of all three of the concepts we have right now," Hausmann said. "And handsome biscuit being the nostalgia in sandwiches."
Whether it's the retro, raw vibe, the fat servings of fried chicken or the sweet-potato twist on a classic morning biscuit, The Handsome Biscuit has become a Norfolk staple. Yelp ranks the restaurant with it's southern-influenced menu No. 2 for food in Norfolk.
Surprisingly, Hausmann and Porter never intended to start that original biscuit shop. The Handsome Biscuit came about while the two entrepreneurial food-lovers were working on an entirely different idea.
Hausmann and Porter first made their mark on the Norfolk food scene with their restaurant, The Boot. While cooking up Italian cuisine and catering, the sweet potato biscuit was born. The thought of basing an entire sandwich shop on the biscuit never occurred to either chef.
The Boot closed in late 2011 due in part to landlord drama as well as an itch to create something new. The duo started work on a nature-themed restaurant. While busy with what would become Field Guide, Hausmann and Porter got hold of a small plot off 26th Street and Colonial Avenue.
Hausmann says they originally planned on using the place as a sort of food lab, then decided to try out a small food-shop. The sweet potato biscuits became their simple foundation. The Handsome Biscuit opened in February 2013 and the modest biscuits caught on.
"We were sort of surprised," Hausmann says, "but constantly invested into the experience, making sure that we were creating something that was worth being excited about and that people will still be excited about."
Although the small brunch stop far surpassed sales expectation, the Hella Fitzgerald and Bleu Blazer were met with some doubt.
"In the first two or three months people were saying, 'This trend will die out in a couple months and people won't remember it even existed,'" Hausmann says. "We were determined to make sure that didn't happen."
Almost two restaurants later, the place is still hopping.
Field Guide also remains a Norfolk hit taking on the downtown scene. Hausmann says the food joint is undergoing an "identity crisis" as their original plans for roof-top seating fell through. Regardless, Field Guide on Granby Street continues to draw regular customers and cheerful reviews.
Time will tell whether Toast will make Hausmann and Porter's double restaurant success a turkey.
Beyond Norfolk, Hausmann imagines opening up future restaurants overseas. They have no thought to branch into other areas in Hampton Roads.
"It would add to some place we want to travel," Hausmann said, "where we can build on that cultural identity in a way we think is exciting."