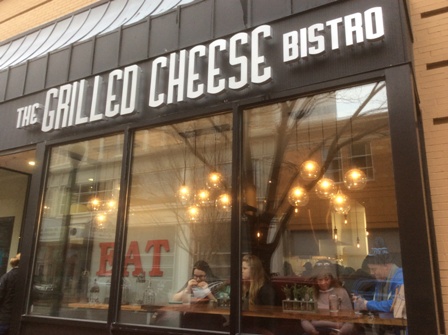 Words & Photos by Marisa Marsey
Say, "Cheese!" That's almost all you can say at hot-off-the-press Grilled Cheese Bistro in downtown Norfolk where, true to its name, the menu lists seven iterations of the feel-good, security blanket of a sandwich. If, like me, you're sometimes overwhelmed by eateries whose vast array of options induces an edible ADD, you'll applaud the lack of distractions here.
But it still might be hard to choose.
While the "Gooey" (Fontina, cheddar, and smoked Gouda) hews closest to the classic, edgier combinations such as "Woody Allen" (smoked salmon, dill, Brie, and capers) and "Violet" (blueberries and Brie on walnut-blue cheese sourdough) will make you see America's answer to the panini in a whole new light. One salad and one soup (tomato-y, naturally) make an appearance, as do a cheese board, French fries, and one dessert (also in the "sandwich" family, featuring a chocolate cookie with coffee ice cream and bacon marmalade) – but otherwise there's grilled cheese.
Why just grilled cheese? "Why not?" ricochets co-owner Chris Streebing, the big cheese along with partner Dina Taylor. Literally. They're both competitive body builders. Seebring gleefully admits it's been his favorite forever and despite the strict dietary regime weight training demands, he chooses grilled cheese when it's time to cut loose. Based on how slammed they've been since opening on January 16, others share that curd mentality.
Make no mistake, GCB is not a greasy spoon lunch counter; it lives up to the bistro billing. In a smart-looking space as narrow as its menu's scope – 38 seats scrunched together at a communal table, ledges against the wall and in the front window, and at the bar (a small, thoughtful list of libations offers adult beverages – wine and draft beers including local crafts – that pair with grown-up grilled cheese, but there's root beer, too), it's got vibe and energy (even more energized on weekend nights with live entertainment).
Taylor originally envisioned something along the lines of Fit Kitchen, but she did a 180 when she realized, "When people go out…" Her words trail off as she glances around at folks tucking into oozy, knife and fork-requiring creations, their gusto completing her sentence.
The current menu is only a slice of their selections. Taylor, Streebing, and their "grilled cheesehead" team plan to rotate sammies on and off. So don't get too attached to "Hang-Over" (black truffle mac & cheese grilled cheese), for next time you pop in "Don Quixote" (Gouda, caramelized onions, mustard, roasted red pepper, and olive tapenade) or "Orgasm" (Challah French toast, peanut butter, Nutella, banana, local honey, and mascarpone) may be in its place (most $8-$10). Gluten-free bread, vegan cheese, and vegan butter are always available upon request.
On a recent Saturday afternoon, after a brief wait in line, I savored "Sam I Am" (sunny side up egg with ham, Gruyère and, in a nod to Taylor's Latin heritage, chimichurri; a kind of croque madame, er, senora). Its satisfying richness and luminescent yellow, the same shade as a welcome-home light left on in a window, underscored how grilled cheese puts the mommy in umami.
A happy buzz envelops GCB as the cheesy-ness brings out the kid in customers, causing them to reminiscence about obnoxious – yet oddly appealing – childhood concoctions. They're welcome to list them on a chalkboard and GCB will serve the most ingenious as a weekend special. One thing, though, you won't find here from the wonder years: processed cheese.
Taylor takes pride in ingredients: the "Violet's" sourdough is made exclusively for GCB by Riverside Bakery in Cape Charles, and other artisan breads hail from The Bakehouse at Chelsea. Sauces are house-made as is the sangria, and the fries are hand-cut. No wonder the throngs here are smiling; that's what comes of saying, "Cheese!"
The Grilled Cheese Bistro, 345 Granby St., Norfolk, 233-2512. Open Mon. and Wed.-Sat. from 10 a.m. to 3 p.m. and 6 p.m. to 10 p.m., Sun. from noon-6 p.m. Closed Tues.  facebook.com/GrilledCheeseBistro