(Anne Iott's "Fallen Tree II," Watercolor, 1998)
By Betsy DiJulio
On October 8, this community lost someone who has been called a "lodestar of my better self," "a force of nature" and "a pit bull for her faculty."  As five people who worked with Anne Iott for decades recently shared with me, she was all that and more.
A consummate artist, Iott—or Annie, as she was known to her inner circle—began her 35-year career as a teacher and administrator at Tidewater Community College (TCC) in 1971. When she retired in 2007, she did so as Director Emeritus of the Visual Art Center (VAC) which had come to fruition under her leadership as its founding director.  There in the renovated Famous Department Store at the corner of High and Court Streets in Old Towne, Portsmouth, she led the consolidation of the art programs at four TCC campuses into a state-of-the-art facility with a gallery known for its museum quality shows.
Iott hired Shelley Brooks away from the Portsmouth Museums c. 1995 to serve as curator of exhibitions and collections.  Brooks stayed for 25 years until her own retirement.  Recalling that they were a "great team," she describes her employer as "brilliant in every way."  Reflecting on Iott's intelligence and thoughtfulness, she recalls, "Anne treated everyone individually, respectfully, and kindly…and she represented artists with dignity—She always took time for the students.  We all did under her leadership."
But Iott was not just her "boss."  The pair developed a mutual admiration that became a deep friendship.  Enjoying the "quiet moments" in Iott's garden sipping coffee are among Brooks' most cherished memories.  "We shared a love of animals, plants, flowers, beautiful things, and beautiful people."  And to hear Brooks—and others—tell it, Iott was one of those beautiful people: "She always had the right thing to say at the right time…she was a wonder." 
Iott and Deborah M. DiCroce, current president and CEO of the Hampton Roads Community Foundation, go all the way back to 1980 when Dr. DiCroce was a newly minted Dean of the humanities division and Iott was head of the art department.  They reconnected in 1998 when DiCroce became the college president.  "From Day 1, what struck me about Anne—of course she was a tremendous artist…—was   that she was a very effective administrator, a very rare and unusual combination."  With the "heart and head" of a "larger than life artist," she nonetheless mastered "administrivia."  Yet, from DiCroce's perspective, it is "the depth of humanity" in her art and in her interactions with students and colleagues that is her legacy.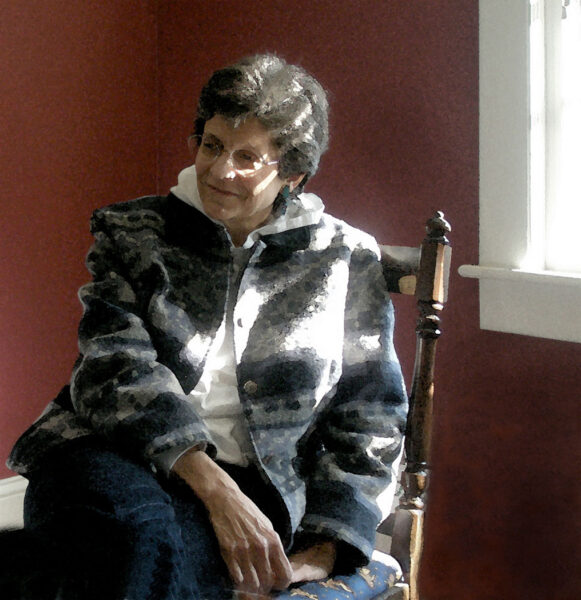 Artist and educator, Ed Gibbs, enjoyed a 28-year career at TCC, four of them as director of the VAC following Iott's tenure.  Iott left an indelible impression on him as an artist who "did everything," who "touched students deeply," and who was a very supportive colleague, once inviting all the full-time faculty to collaborate on a work of art she had been invited to create for the legendary Dream House exhibition at the former Peninsula Fine Arts Center.  As such, he suspects this "no-nonsense problem-solver" was more of a "softie" than she sometimes let on.
Rob Hawkes, whose tenure with TCC began in 1987, remembers Iott as someone who did all the nitty-gritty work with upper administration, "protecting" the faculty as she deemed necessary.  With deep respect for her as a teacher and an "astounding" artist, he admired her thoroughness, straightforwardness—"there was no vagueness"—and kindness.
Iott hired Craig Nilsen in 1978 to teach design.  One of "Anne's Boys," along with Gibbs, Hawkes, and the late George Tussing, he describes the inimitable Iott as "the best artist I have ever known" and as "having a way of making things happen for people…she was so generous."  Sensing that he was bored teaching design basics, she invited him to teach graphic design despite having no experience.  He spent the next 35 years teaching graphic design and completing hundreds of graphic design "side projects" for the college.  
"She looked after me, after people…She just wanted to help."