By Jim Raper
On a fall night sometime in the late 1980s I dined with a professional group of about 20 at Joe Hoggard's Ships Cabin restaurant in Norfolk's East Ocean View. Our main course this evening would be cioppino. "It'll be the best fish soup you've ever had," was Joe's promise.
As usual, for matters culinary, Joe was right. None of us had ever tasted cioppino, which as legend has it, was first concocted by immigrant Italian fishermen in Northern California. In fact, none of my group had ever heard of it or knew how to spell it. Joe had encountered it on a trip to San Francisco, and couldn't wait to import it to Norfolk.
The soup, as Joe recreated it, used local lump crab rather than Dungeness, and also included shrimp, clams, mussels, scallops, squid and chunks of sea bass. Its broth was a medley of shellfish liquors, fish stock, tomato puree and white wine. The simple, basil and oregano flavored broth was perfect, whereas the fennel and saffron laced soup of bouillabaisse can easily get out of whack without Mediterranean fishes. Too, the abundance of seafood, especially shellfish, in cioppino is a special treat, and I couldn't imagine a dish better suited for a restaurant hugging the waters of the Chesapeake Bay.
This is only one small memory of the gifts Joe and his Ships Cabin gave to southeastern Virginia. From 1967 to 2000, when he owned the restaurant, he was a prime mover in bringing fine dining to the region. 
On Sunday, Aug. 27, 2023, his life came to an end just a few weeks before his 80th birthday. He's gone but certainly not forgotten.
Joseph Leslie Hoggard was involved as owner and manager in other restaurant projects, but none provided him with the renown that he enjoyed from his Ships Cabin years, during which he earned a reputation as an innovator with food, wine and wait staff service. 
He lived for spells in France and Mexico after 2000, and it was in Mexico almost a decade ago that he suffered the stroke that led to paralysis and rehabilitative care back in Hampton Roads. Still, in recent years he was often seen out and about, especially at music concerts, in his motorized chair and he received many friends at his bedside. His daughter, Tanya Hoggard, a flight attendant who lives in Cincinnati, said, "Joe was upbeat in his last days, talking to friends. He was in a great space mentally, and he got his biggest wish, to die peacefully without pain." 
Ships Cabin, under Joe's ownership, specialized in seafood, but it became so much more than the fish camp type establishment that it might have been. Joe's father, Leslie Coleman Hoggard, had run a hot dog shack on the East Ocean View site and later owned a lounge/ nightclub there. Joe inherited the business when his father died and Ships Cabin was soon to follow.
In addition to cioppino, I remember my first experience with wild salmon grilled on cedar shakes at Ships Cabin, and Joe paired it with not one but two lovely Oregon pinot noirs. I can also remember an exquisite braised lamb's shank with a Shafer cabernet, and a starter plate of mussels au gratin with a Naked Mountain Virginia chardonnay. But the dish Joe's Ships Cabin kitchen was best known for was Oysters Bingo, which he created for Norfolk lawyer and politician Frederick "Bingo" Stant. There are many different recipes for oysters bingo on the Internet, most crediting Ships Cabin as originating the dish. When Joe himself supervised me making the dish in the Lake Taylor Transitional Care Hospital kitchen a few years ago, fresh shucked oysters were dredged in seasoned flour, fried in neutral oil, put back in the half-shell and drizzled with a simmering sauce of sautéed shallots, oyster liqueur, white wine and minced parsley.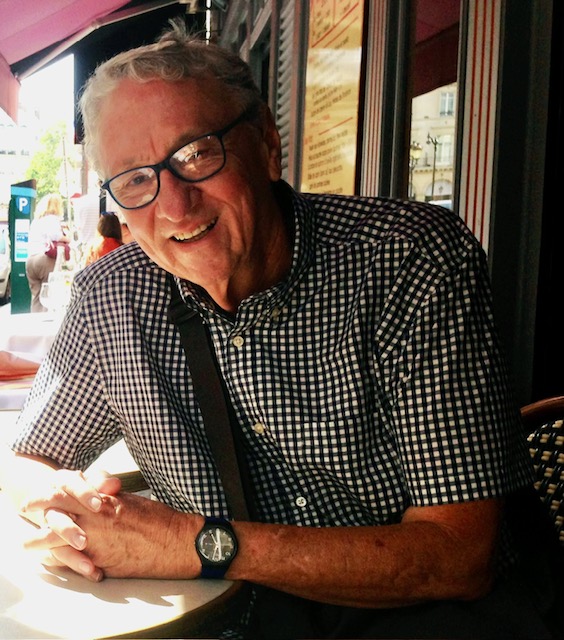 Joe acknowledged in media interviews over the years that the food and drink and ambiance at the restaurant could be credited to his travels in the United States and Europe. "I brought the culinary world to Norfolk," he once said.
 In the late 1960s the legendary wine importer Peter Sichel visited Ships Cabin and encouraged Joe to visit his negotiant facility in Bordeaux, which Joe soon did. "We were treated well and tasted a number of wines and then taken to a seafood restaurant. I thought this was a cool thing to do and decided I liked being treated well by wine folks," he wrote to me in an email a year or so ago.
He took a restaurant association sponsored trip to Napa in the early 1970s and began a two-decade habit of socializing there several times a year with wine people with names such as Mondavi, Cakebread, Duckhorn and Shafer. He frequented Napa dining establishments such as Mustards Grill and The French Laundry.
 He liked to tell the story about a food and wine festival he attended out West, toting about 10 pounds of Chesapeake Bay lump crab for a chef who wanted to use it in a demonstration dinner. As it turned out, the chef couldn't show and famed France-based cookbook author Patricia Wells stepped in to use the crab in dishes she prepared at the festival. The next time Joe saw Wells in Paris, she greeted him as "the crab man." 
Joe cherished an old photo taken in California of himself flanked by Wells and Julia Child.
A Paris businessman, Maurice Bensoussan, and his wife Juliette, dined at Ships Cabin in the late 1980s during a trip down the Atlantic Coast. They loved the wine talk with Joe about the differences between Virginia and California wine, and later invited Joe to visit them in Paris. He did, starting a regular transatlantic life for him that lasted for many years. Bensoussan went on to write four books on culinary topics, including one seeking to explain United States wine to the French.  Joe went on to learn enough French to manage dinner table conversation.
Bensoussan also introduced Joe to Mark Williamson and Tim Johnston of Willi's Wine Bar and Juveniles restaurant and wine bar in Paris. They became Joe's close friends. At other times in France, Joe would tag along with United States wine importer Robert Kacher during Kacher's frequent visits to French wineries. Kacher also visited Ships Cabin for special wine dinners.
My wife and I remember Joe mostly because he figures in so many of our adventures in France. He introduced us to the Bensoussans in Nice in 1997. So we became friends with them also, and all of us managed before Joe's stroke to meet up regularly in the United States or France. Joe and the Bensoussans came several times to see us in our adopted village of Port Vendres, France, a fishing village on the Mediterranean near the Spanish border. Joe liked venturing across the border to explore parts of Spain near Barcelona and discover new dishes and wines.
As much as Joe appreciated and promoted fine dining, he had an everyman streak in his culinary tastes. When he visited Port Vendres, he always wanted me to roast a chicken. "Baste it often till the skin is crispy and golden," he would say. And he didn't need fancy sides, just a fresh baguette and a glass of Cotes du Rhone red. Many of us took treats to him when he was in the hospital in Norfolk in recent years. What he asked me for was usually a Doumar's drive-in Taylor Pork Roll sandwich, or a Norfolk-style natural casing hot dog "all the way" from one of the several popular stands hereabouts. He also loved tomatoes, home grown, sliced, and served in a Wonder Bread sandwich with a slather of mayo and salt and pepper. 
In 2012, Joe decided to move to Mexico and begin another chapter in his life. He lived first in Ajijic and later in San Miguel de Allende. He earned a certificate that allowed him to teach English. He told The Virginian-Pilot a few years ago that teaching English wasn't too different from running the Ships Cabin. "This is what I've been doing all my life. I just had this passion for making people happy and training staff to do the same." 
The last time I saw him before his stroke he had come from Mexico to Norfolk for a memorial service for Chef Bobby Huber, who worked at Ships Cabin once upon a time before he set out on his own with Bobbywood and other restaurants. After the service Joe said he wanted to take my wife and me out to dinner. The restaurant he picked was Chinese, extraordinarily good but not very fancy.
Joe is survived by his daughter, sister Janet Blocker, and many loving cousins. 
(Jim Raper was a reporter and editor for The Virginian-Pilot from 1970-1991, and later wrote a wine column and articles about food and travel for The Pilot and other newspapers and magazines. He and his wife, Deborah, owned a home in Port Vendres, France, for 20 years and still visit the village once a year.)