Jae Sinnett Trio (L-R) is bassist Terry Burrell, pianist Allen Farnham, and drummer Jae Sinnett.
By Jeff Maisey
In late summer, jazz group Jae Sinnett Trio released "Altered Egos," a 10-song album that absolutely cooks. 
Throughout, Sinnett (drums), Terry Burrell (bass), and Allen Farnham (piano) are on top of their game as the production of this recording is a true spotlight on each shining instrumentalist. The sound is upfront, on the attack, and with all the energy of a live performance. 
The Jae Sinnett Trio opens its recorded set with a swingin' arrangement of "The In Crowd," a pop single penned by Billy Page that became a hit for Dobie Gray in 1964.  
Sinnett took somewhat of a backseat on the composition side, choosing instead to focus on arranging and putting on a drum clinic as you can't help but notice on "The In Crowd." 
That said, Sinnett's two compositions — "Reiterate" and "Mr. Ree" — are  full of melody and engaging chord structures. 
Pianist Allen Farnham composed three tracks. On "Verity," the finest, Farnham literally burns up the keyboard while providing amble space for Burrell to show his stuff.
On Cedar Walton's "Something In Common," Sinnett and company went for a more uptempo approach to the original as recorded by Sam Jones and Ray Brown, and improved upon it — like its on steroids. 
The Jae Sinnett Trio was keen to include its take on a few standard composers as well: John Coltrane's often overlooked "Mr. Syms," Irving Berlin's "Remember" (previously recorded by many from Ella Fitzgerald to Thelonious Monk) and "Summertime" by George Gershwin. 
Self-released on J-Nett Music, the Trio's album debuted at #124 on the Jazz Week album chart, which measures "spins" from jazz radio stations nationwide. The record peaked at #5 on September 27, receiving 232 plays from 40 stations. 
The trio will have an official CD release concert Saturday, October 16 at the Williamsburg Library Theater starting at 7:30pm.
I recently caught up with Jae Sinnett to dig deeper into the album's success on radio. And, yes, interestingly, Sinnett himself hosts a jazz program, "Sinnett in Session," weeknights on local NPR affiliate WHRV-FM.  
VEER: "Altered Egos" hit #5 on JazzWeek's Jazz Album Chart for September 27. Is this your highest charting album of your career?
Jae Sinnett: No, I've had three number one records over the years. "Listen," "The Sinnett Hearings" and "Zero to 60."  Two for the national JazzWeek Album Chart and one for when it was known as Gavin back in the mid '90s.
VEER: How significant is this chart position for you, Allen and Terry?
Sinnett: What separates Altered Egos from my previous number one's is the record wasn't played or recorded conceptually for radio airplay like the others. Programmers are highly sensitive to drum and bass solos and the record is loaded with drum solos. This is what's so surprising about Altered Ego's airplay success. It also reveals the musicality of the solos in HOW they were recorded. The significance of this chart position is it gives us a talking point in promotion and marketing. Hey, we have a top 10 record!!! It's also an impressive musical accomplishment. Jazz programmers are musically informed. They know quality jazz when they hear it so Altered Egos is definitely an artistic success. Which was my objective.
VEER: Can you share with us your method and process for getting national airplay?  Specifically, I'd like you to focus on the CD mailings, connection with program directors and DJs, and any other contributing factors. Did you pitch individuals on the album?
Sinnett: I had no communication with other programmers about the project. None. The assumption could be that because I'm also a 32 year jazz broadcasting veteran I must have some sort of in with other programmers. To the contrary. I actually think that works against me because most programmers aren't serious musicians or musicians at all like me. That can breed defensiveness or jealousy. I've had records programmers wouldn't touch. Ha! The advantage I have in being a programmer is that I know what everyone is playing and more likely to play. I said out of the gate Altered Egos would be a hard sell in radio because of the drum solos. Clearly I was wrong. I test the waters so to speak with my friend Neal Sapper from New, World & Jazz Marketing. He gives me his opinion on if he thinks it's worth me investing to hire his firm to work the record. I've known Neal for 30 years and trust him. If he didn't think it's a workable record he would tell me. He said it's an "outstanding project and we should move forward with it" in radio. He was right. What we did was shave down the mailings. Smaller  "non-reporting" stations didn't receive the CD or to shows with very minimal airtime…unless they are in major markets. So we had specific targeting with who we decided to ship to.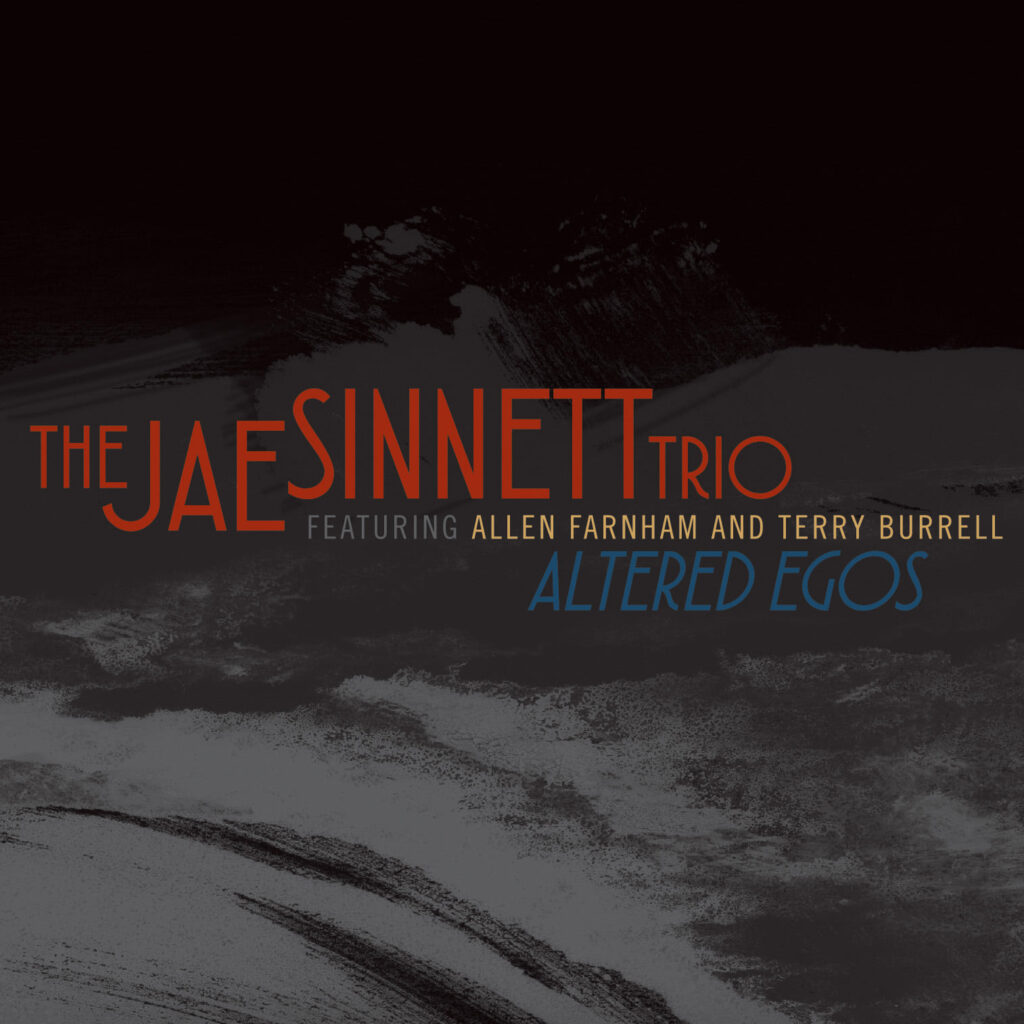 VEER: In the eyes or ears of jazz radio station professionals, is the Jae Sinnett Trio — or you personally — an established name? Does this help in gaining radio play?
Sinnett: Yes. It definitely helps. My name is well known in jazz broadcasting circles. The longevity. Heck, my broadcasting contemporaries voted for me with specific awards. The Duke Dubois Humanitarian Award as one example. I've had radio success before and these programmers know me. They know the quality will be there. At times the record may not fit stylistically for a particular format but they know I produce musically deep, well-played releases with on point audio and packaging.
VEER: What specific tracks are getting played from the album? Are there trends?
Sinnett: The opening track is the arrangement I did on the '60s classic "The In Crowd." That's getting much play which is very surprising because there is an extended drum solo in the track. Cedar Walton's "Something in Common" is getting great play because it swings like crazy. Allen's composition "Bright Thoughts" is getting great play. It's a jazz waltz and he's playing his boom-boom off. My arrangement of "Summertime" is getting a lot of play. Again, surprising to me because of the drum solos. Several tracks are being played but those would probably be the most played.
VEER: In addition to airplay, what feedback, either about the album in its entirety or specific tracks, have you received feedback on from radio pros?
Sinnett: They've been strangely quiet but the few I've received have been very favorable. A couple of them saying it's "his best to date." Their opinion of course but thank you. The airplay speaks louder than anything they can say anyway.
VEER: Of the radio station reports, how many are commercial radio verses public radio? Does internet radio or even college play a role?
Sinnett: Well most public stations are owned by universities. I think there are less than 3% that are commercial. Commercial formats don't usually play straight up jazz. They will play smooth jazz but rarely jazz. The record is also being played on Pandora and Spotify and other internet outlets but they aren't JazzWeek reporters. Their play has no roll in chart placement. I do hope though they'll give me some of the money they make off my music. Weak humor there.
VEER: How has national radio play impacted album sales for "Altered Egos"?
Sinnett: Little. Gigs sell records. If you're gigging you can sell records. If not, you don't. That's it pretty much in a nutshell. The airplay basically is a promotional plus in trying to find gig opportunities. People don't buy music as much now. I personally think outlets like Spotify and such help to kill that process. Plus attention spans seem to be shorter now. One song is it. Thanks to iTunes. The 30 second sound bite now determines the quality of a track. I can have two gigs and sell more CDs than radio play did in a month.
VEER: Obviously there are challenges (time, expense) of mounting a national tour in support of an album. What prevents Jae Sinnett Trio from at least playing 4 or 5 night residences in major market cities like Chicago, St Louis, New Orleans, Miami, Atlanta, DC, New York, and Boston?
Sinnett: Marquee value. If you weren't established by 1990 on the national scene you'll have a tough go. I've had some decent success in touring over the years but the market has dried up considerably for lesser known talent. Festivals book what I call repeat offenders. Year after year. Few take chances on artists like me. Those that can play…have a great presentation…but not strong national or international marquee value across the board. It's about who will put butts in the seats more than ever now. Grant funding used to stipulate that presenters hire up-and-coming artists too. Not as much now with less funding available and underwriters usually want stars booked. Not necessarily who can play. It's a struggle for sure to find performance opportunities. We have periods when we can get decent paying jobs but it's not consistent. Thankfully I have a great plan B.
VEER: On to the music. I felt the Trio really attacked the material on this studio recording. It was high-energy, intense. How did the three of you go into this project in terms of objectives in musicianship?
Sinnett: Over the past year and a half we haven't performed much as you might have guessed. Few have because of the pandemic situation. The arts were hit particularly hard. Just devastated the industry. What I decided to do with my guys was to produce virtual performances but because of the latency issue we had to record our parts separately and then edit them together. At least we were doing something. Playing in some capacity. It was fun and challenging but out of those many sessions I heard extraordinary development. Our playing had grown by leaps and bounds. Particularly Allen Farnham's piano playing. He was playing at such a high level that I said we need to document now. We need to get into a studio and record where we're playing right now. It's in a very special place in my view. The results are what you hear on "Altered Egos." We used the down time to better our craft immensely. We went deep into the woodshed so to speak so we made the best of the time we had not gigging out live.
VEER: "Altered Egos" is a nice mix of new originals, standards, and rearranged songs. How did you guys decide on song selection and the approach you'd apply to each?
Sinnett: Usually I would write most of the material. For this one I was more focused on showcasing my drumming. I also wanted to really stretch out utilizing brushes too. Definitely a drummer-friendly record. I arranged a few tracks and wrote two. Allen composed three. I asked him to contribute more in terms of writing because in addition to being an amazing pianist he's also a great writer and arranger. The rest are standards. Drumming friendly standards. Swinging standards. The title of the CD reflects the two different concepts of jazz we're playing. On one side, the straight up swinging jazz and the other side, groove and funky pocket playing. I wanted to showcase the versatility of the trio. Composing wasn't as front and center with "Altered Egos."
VEER: Which track or two were you most pleasantly surprised by when you go back and listen?
"The In Crowd." The original track was written in 4/4 time. I changed the time signature to 7/4 to make it more rhythmically interesting. The feel of the groove and the way the song develops and my solo. Very happy with how it turned out. Its deceptively simple too. You hear it one way but trying to play it is an entirely different thing. I like my composition Reiterate because the pocket…the groove…is so thick. It's incredibly soulful and feels great. I also like the standard Remember because of how hard the tune swings. Terry Burrell, my bassist, is killing that swing beat. Whew! It was so locked in and swinging. Same with "Something In Common." Swinging, and Allen's solo is incredible. I just love playing with these guys. Extraordinary musicians.
VEER: As a composer, pianist Allen Farnham takes a larger role on this album. You noted, previously, that you wanted to focus more on "playing drums" on the record. Can you share the thought process leading up to recording?
Sinnett: I wanted more contributions from Allen in terms of writing. He's written some amazing pieces for the group in the past but it's been a while. For the past several years Allen and Terry, my bassist, just waited on me to write. Terry is also a great writer. I wish he would write more. He writes fantastic compositions. I just wanted more contributions from them but with all of us the majority of the focus was on our instrumental development. Not so much the writing this time out. I've written so much in the past that I kind of got tired of it and zeroed in on the drumming. That's where I put the majority of my focus.
VEER: I recall a few years back hearing you say you'll likely retire from recording and writing jazz music. What has rekindled your flame?
Sinnett: Ha! People keep reminding me I said that. Funny. Well, I'm really not as interested in recording now even though it doesn't seem that way. I think what keeps motivating me are my guys. I keep hearing this beautiful growth. We LOVE to play our instruments and playing with each other. That's why the virtual performances were so much fun. We were really playing for us. It was an amazing thing really. That bond, friendship, trust and enthusiasm kept inspiring me. We just want to play and if we can get some gigs great. I don't really care if I record another Jae Sinnett record again or not. For "Altered Egos," I felt we were in a very special place artistically and felt it was necessary for us to document this period. If I feel like that again down the road, we'll see if something else ends up on tape. I do want to do something else again non-jazz. I love groovin' and pocket playing. I would like to do some more work with Brittany Burrell, Terry's daughter. She's such an amazingly soulful singer. So who knows.