(Head Coach Ricky Rahne stands ready to reestablish ODU's football program as a winner. Photo by Jeff Maisey) 
By Jeff Maisey
Faster, stronger, now. 
When the Old Dominion University Monarchs return to the football playing field in September, they'll do so with a new head coach — Ricky Rahne.
Coach Rahne is focused on the future and rebuilding, but he also intends to win games this season. Win now. 
Rahne is just the second head coach in modern era ODU football history.
College football came to Old Dominion University in 2007. Bobby Wilder was selected as the Monarch's first coach. Wilder built a program from the ground up and remained head coach until 2019.
During Coach Wilder's tenure, ODU played as an independent team (non-league affiliated), joined the Colonial Athletic Association (CAA) for the 2011-12 seasons, and then moved to Conference USA.
Among its highlights under Coach Wilder was a 49-35 home victory over Virginia Tech (ranked #13 in the nation at that time) on September 22, 2018. 
Wilder's final year at ODU was in 2019 following a disappointing 1-11 season.  
Ricky Rahne, age 41, played three years (1999-2001) as starting quarterback at Cornell University. 
Rahne (pronounced Ronnie) began his coaching career at Holy Cross in 2004 followed by offensive coaching positions at Kansas State, Vanderbilt, and Penn State. In 2019, Rahne served as offensive coordinator for the Nitty Lions who scored an impressive 34 points and rushed for 204.9 yards per game. 
I met with Coach Rahne the day before training camp in early August to get his advance view of the team, expectations, and the season ahead.  The Monarch's first game is a big one: September 3 at Wake Forest. 
Here's our interview. 
VEER: During your tenure at Penn State you helped reestablish that program as a national contender. Do you view your task at Old Dominion University also as a challenge in rebuilding confidence in the program and reestablishing a winning tradition?
Coach Rahne: Yeah, so I've been through a couple of these rebuild type things. We did that at Vanderbilt as well. They finished 2-10 two years in a row. By the time we left we reached three bowl games and finished in the Top 25 the last two years, which I thought was a pretty big accomplishment. 
It was a little bit different going into Penn State. Just because of the sanctions and things like that there was some rebuild. But we weren't where the fans wanted us to be. We weren't where the fans were used to being.
In our third year getting back to a Big 10 championship and then winning double-digit games in three of the last four years I was there was a special thing, and I think we reestablished Penn State as a national power. 
VEER: In 2019, Old Dominion University's football team went 1-11. Did you go back and watch any of the film and analyze the team from that season? What were the key areas of concern where players weren't executing at certain positions, if you did watch film? 
Coach Rahne: I didn't watch any of that tape because I wanted to make sure everybody got a fresh start. I didn't want to have any preconceived notions, either good or bad. I wanted everybody to earn whatever playing time that have from how they respond to our coaching staff and culture.
I'd be a liar if I sat here and said my coaches didn't watch it (film). But I didn't watch one snap. 
For us it's about getting our guys to play fast all the time. Speed at this place can always be an advantage for us based on where we're located. There are fast kids in this region. 
If they're a 4.4 guy they've got to play 4.4. We may not be the biggest team but we can be one of the faster teams, especially in our league. 
So that's one thing we're doing, and a lot of that is coaching and making sure players understand their assignments and understand their fundamentals and techniques so they can play fast.
VEER: The 2020 season was cancelled by ODU for what would have been your first year as head coach. How did you and your coaching staff use that time to motivate current players as well as recruit during that period? And doing so during the pandemic?
Coach Rahne: It was obviously a different time for all of us, you know? We'd all gotten involved in playing football or coaching football since we were six years old. It was different having practice but not play games.  And the games are what make it so special. 
So having those taken away was different for all of us, but we were able to focus on our fundamentals, focus on our techniques, and those sort of things.
Dwight Galt, our strength coach, did an unbelievable job getting our guys bigger, faster, stronger. We looked at numbers from the end of the 2019 season to where we are right now in terms of our speed numbers, our jumping numbers, our strength numbers — I mean it's not even close. We are so much improved.
I thought our kids did a great job staying motivated in trying circumstances. They're ready to go now.
VEER: Who are some of the new recruits — freshmen — you feel can have an immediate impact on the team?
Coach Rahne:  It's always tough because you don't know how these guys are going to respond once the games start happening. They may be great in camp but we're going to wait and see.
I think there are some guys on the team right now who are going to make bigger impacts than people thought. A guy like Marcus Haynes (defensive end) who last time people saw him was 215 pounds, now he's 260. 
A guy like Isaac Weaver (offensive line) — one of our captains — whose already established himself as a very good football player; he's built his body in a way that he has a chance to play at the next level. 
One of our other captains, Jordan Young (linebacker), has a great opportunity to end as the all-time leading tackler here.
So there are some guys who have been here who really changed their bodies and will be making bigger impacts than they have in the past.   
VEER: On quarterbacks, Hayden Wolff played three late season games in 2019 and put up some pretty good passing stats. Will he or Stone Smart be your starting quarterback? Stone is more of a running quarterback where Hayden is a more traditional, drop back and pass guy. 
Coach Rahne: We'll have a three-way competition between Stone Smart, Hayden Wolff, and then DJ Mack who transferred in from Central Florida. He's (Mack) a local kid who went to Norview.
It'll be a great competition between those three guys. I feel confident. We're in a good spot where all three have started college football games before. So to have three guys who've played significant, real live action — that's pretty rare. 
We hope to make a decision so that the starter feels confident two weeks out before going into the game.  We won't announce it until game week or game day because all three have different playing styles and we want Wake Forest to have to prepare for all three. 
VEER: In terms of play calling, do you just adjust based on who you have on the field at quarterback?
Coach Rahne: That's the beauty of our system. Coach Campbell did a pretty good job with this. You can adjust pretty quickly. You can play with a guy who's just a pure drop-back and you can play with a guy who's a very good runner.  
So it really depends. Obviously we want to be able to do both because it makes the defense play with all eleven players.
VEER: In the NFL there are teams who are designed to have a committee of running backs, not one primary workhorse back. In 2019, Elijah Davis and Blake Watson each averaged over four yards per carry. You have new running backs as well in Obie Sanni and Keshawn Wicks that seem impressive on paper. Will all four rotate in and out, or will you go with whoever has the hot-hand as each game day progresses? 
Coach Rahne: We have a deep running back room. The other guy in there is Matt Geiger who has a chance to play for us as well. 
We're going to keep them fresh. If you just go with one back he can take kind of a pounding. Keep 'em fresh and get them all in. They all do very similar thing so it's not like you have to change the play calling. We're going to make sure they can all get in a rhythm. 
We did this at Penn State in 2018. We actually had three backs then that each played a lot. I know how to manage the situation. We'd love for one guy to emerge as your bell-cow, but you need as many running backs as you can get because they do take a pounding.
VEER: Old Dominion's pass-rush ratio was 53% pass, 47% rush in 2019. How do you see your play calling ratio for this season or is it based on the competing team after watching film on the opposing defense? 
Coach Rahne: It's a little bit on the opposing defense and a little bit about how we're executing and what we're doing well. 
It's about scoring points. That's the number one thing we've got to do. We have to be able to create explosive plays on offense, which is a run of 12 yards or pass of over 15. 
Obviously, we'd love to be 50/50 (ratio) which makes it difficult on a defense, but that's a little bit of a misnomer.  You really want to be able to run the ball when you want to and throw the ball when you want. That's true balance; not having it dictated to you by the defense. 
VEER: Your receiver Aaron Moore had a pretty good 2019 season. How do you see him developing as a wide receiver?
Coach Rahne: The wide receivers are going to be a really interesting group to watch during camp. We probably have ten guys who could start. We're going to let them battle it out.
I feel really good about some of the transfers. I feel good about what Coach Dupuis, our wide receivers coach, has developed in that room. Those guys know it's going to be competitive. It'll be the difference between being able to start and catch a bunch of balls or sitting on the bench. 
That will help us in games because they've felt that pressure all through camp.
VEER: In 2019, ODU averaged just 16.25 points per game. You won't win many games that way. You're an offensive-minded coach. How many points would you like to see your Monarchs put up on average?
Coach Rahne: One more point than the opponent is all we're trying to get done.
There are going to be games where our defense is going to have to step it up. There are going to be other ones where the temp of the game will require us to score 40 or more points. And quite frankly we are going to have to be able to do both.
I'm not really worried about what they've done in the past. I'm more about what's going to be done now.
Traditionally, the teams I've been a part of for the past four years and back in the Vanderbilt days have scored over 30 points a game and have been successful on defense.
Special teams are a big part of this and we have to convert our opportunities there. We need our defense to score points too. 
VEER: Turnovers can cost your team points. What is your coaching staff's technique for working to minimize turnovers?
Coach Rahne:  We train it every day. We train tackling; we train ball security. We'll break off in offense and defense and do it. We'll do it together as a team. And then we'll flip — teach the offensive guys how to tackle and defensive guys how to carry the ball. 
That's important as well for when they do get a turnover on defense they need to keep the ball and not give it right back. 
We drill all the time. It's talked about all the time. 
VEER: You want to build a winning culture right away. You're starting on the road at Wake Forest. They played a full season in 2020 and were competitive against most everyone, and defeated some ranked teams including Virginia and Virginia Tech.  In what ways are you going to have your team ready so that the game is not a blowout to start the season? 
Coach Rahne: Well, we're going to go in there and try to win the game. 
If you need motivation from me and you haven't played since November 2019 then you have bigger issues. 
Our guys are ready to go. They've watched a lot of tape on Wake Forest, who I have an incredible amount of respect for. Coach Clawson does an awesome job. He's had an unbelievable career. 
It's going to be a great challenge for us. Every single game we go into we're going to have a plan to win that game. There'll be no moral victories. We're going to do everything we can to win the game.
VEER: How important would a win be at Wake Forest?
Coach Rahne: It'd be important because it is the first game. We'd be 1-0. That's the goal. 
We're going to take the season week by week. Every single game is the Super Bowl for our team. 
It'd be huge (winning against Wake Forest). It'd make the bus ride back a lot easier. It would give us some momentum going into the rest of the season. 
VEER: What is your opinion of SB Ballard Stadium and the turf?
Coach Rahne: It's great.
An on-campus stadium with 22,000 people is a perfect size. It's a beautiful stadium. They did a tremendous job with it. 
I live in this neighborhood so a lot of my friends are excited about tailgating. 
We want to make it a party here. We want this to be the hardest place to play in Conference USA and have everybody come out and make this place loud. 
I'm excited about it.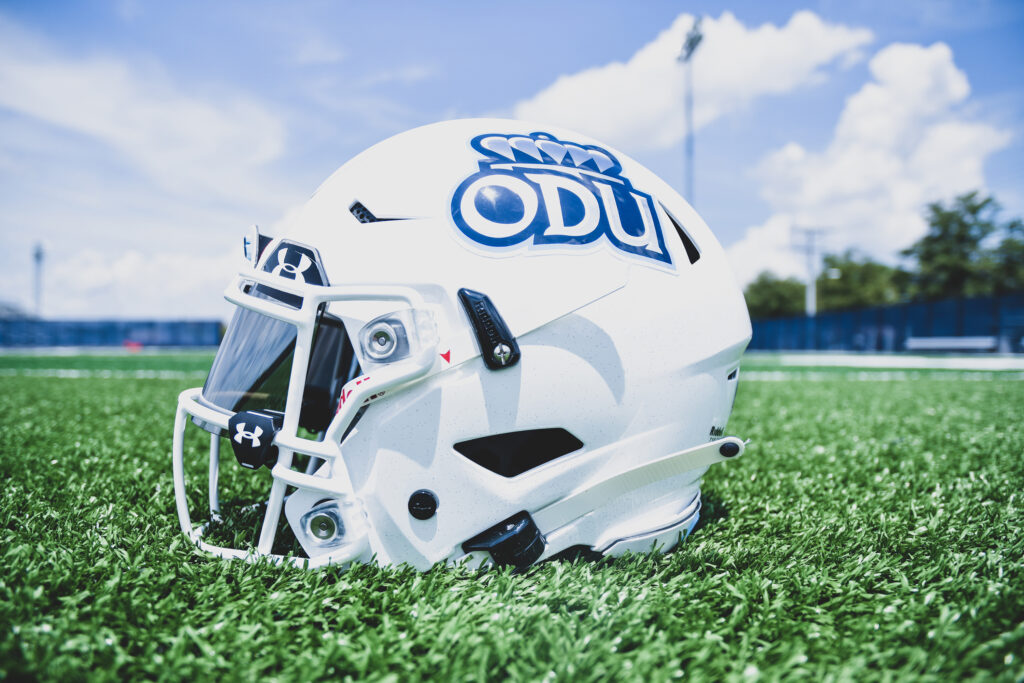 2021 College Football Schedule
Old Dominion University
9/3 @ Wake Forest
9/11 vs Hampton
9/18 at Liberty
9/25 vs Buffalo
10/2 @ University of Texas El Paso
10/9 @ Marshall
10/16 vs Western Kentucky
10/30 vs Louisiana Tech
11/6 @ FIU
11/13 vs Florida Atlantic
11/20 @ Middle Tennessee
11/27 vs Charlotte