By Jeff Maisey
Last October, Christopher Newport University named Holly Koons as the inaugural executive director for its $60 million-dollar state-funded 83,000-square-foot Mary M. Torggler Fine Arts Center. The Torggler Center, named for the CNU Benefactor and Arts Advocate, is scheduled to open in mid-September 2021.
Architecturally, the Mary M. Torggler Fine Arts Center will make a statement with a "stunning façade of cascading glass domes, symbolizing Christopher Newport's bold vision for the role art plays in the life of our university, our community and commonwealth. The center will house the Department of Fine Arts and Art History and boasts a magnificent main gallery for major exhibitions; a 150-seat auditorium; a community gallery; and studio classrooms for academic as well as public art classes, workshops, and camps. The interactive Art Explorers Gallery for children, opening in 2022, will complete the facility." The university states The Mary M. Torggler Center "establishes Christopher Newport as a nexus for the arts in Virginia."
Bringing CNU's artistic vision to fruition will be Holly Koons, whose experience includes overseeing the Telfair Museums in Savannah, Georgia, the Greater Reston Arts Center, and Arlington Arts Center. 
I recently caught up with Holly Koons to learn more about the on-campus arts center. Here's an excerpt from our conversation. 
VEER: What important insights from your previous art directing experiences do you bring to CNU's new Torggler Fine Arts Center?
Holly Koons: I would start by telling you when I came to Northern Virginia, which was about 10 years ago, I came after having 15 years of experience from an art museum environment — the Telfair Museums. When I moved to this area the first job I took was at the Greater Reston Arts Center, which was a longstanding institution in the community but one that wanted to grow. They were wonderful in giving me some ambitious opportunities to do exhibitions that were unlike prior exhibitions at the space and public art installations. 
What I learned was that I enjoyed this model that was community-based organization verses a traditional museum. The difference is that museums collect work. Art centers just bring work in and then change exhibitions regularly. At both Greater Reston and Arlington Arts Center we focused on contemporary art. It gave me a really good footing in the contemporary art in this region and also a good footing in the community. 
VEER: The Torgglers are art collectors and big supporters of arts education. Is the goal of the Arts Center to feature part of their personal collection as well as present rotating exhibitions like the Barry Museum at ODU does, or something different? What is the artistic vision for programming/curating?
HK: I can say that the Torggler's gift doesn't have anything to do with displaying their collection. Their gift was to enhance the campus and provide a service to the community by supporting this building, so there aren't any strings attached to that.
As far as what we're planning to display, we have a large main gallery which will be devoted to professional work.
Student work, faculty work will be in a separate gallery. We also have a gallery that's focused on community that will display work that is local and regional in nature.
The large main exhibition will be artists of national or international reputation. Our first main exhibition is something that has not been seen in the region but I can't tell you what it is just yet. Several of the artists we are showing are from overseas; they have an international profile and it is going to be very exciting work that may challenge expectations as to what art is.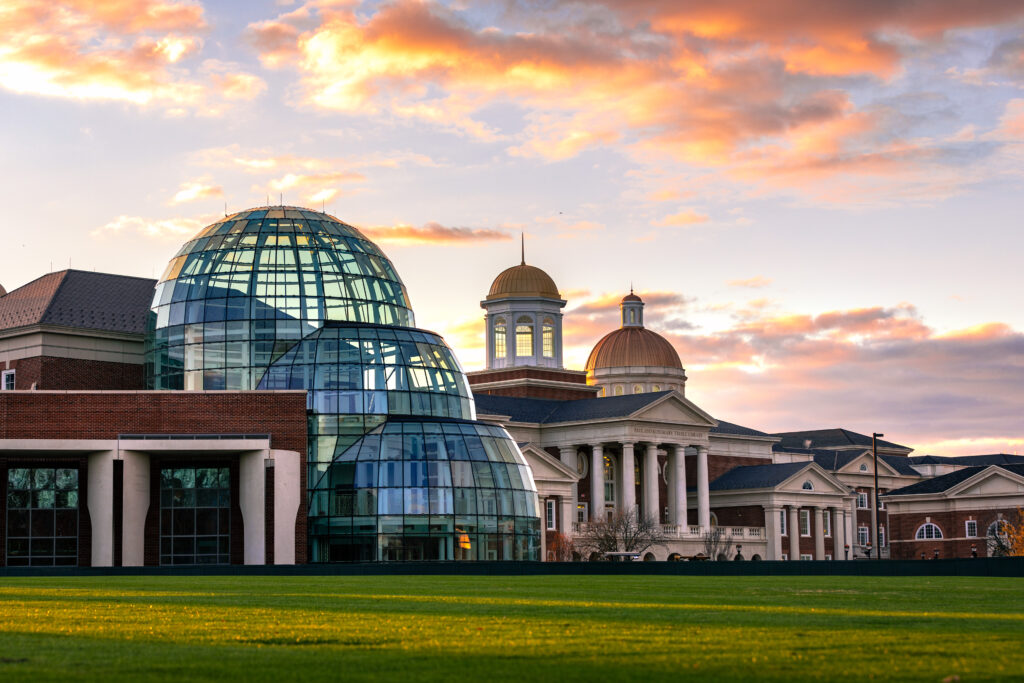 (CNU's Mary M. Torggler Fine Arts Center — pictured above — to open in September)
VEER: To me that sounds like contemporary art. Will you focus more on contemporary art verses tradition in the main gallery, or will you mix it up?
HK: I am going to mix it up. My own background is a really good fit for that. I'm actually trained in late 19th century art and I worked at an institution — the Telfair — that had a largely late 19th, early 20th century collection. We built a new building that was really scaled for contemporary art and at that point I started doing more or less a steady diet of contemporary art, collecting and exhibitions. And I loved it. That was around 2005, and I have been focused on contemporary art since that time.
In a campus environment it is really important to bring contemporary art to CNU. It is really important for the public to have an opportunity to experience it, but it will not be all that we do there. We'll do some exhibitions with historic merit as well.
VEER: In terms of installation artwork are you a big fan?
HK: I love installation art. So many contemporary artists are working in site-specific manners. You essentially have artists who are creating in specific environments that becomes part of the artwork.
I think the term installation art is really broad and can be a little intimidating, but ultimately for me it's just about making use of an entire space as opposed to the traditional concept of something that occupies a small space on a wall.
VEER: You may be familiar with the now defunct Peninsula Fine Arts Center that had an affiliation with CNU. Will there be any similarity in programming as a nod to Pfac?
HK: Based on what I have seen of what the Peninsula Fine Arts had shown over the years it was very diverse. I think that will be consistent at the Torggler Center. I also think the programs that people really loved like classes and workshops for children and adults, summer camps…all those programs that were central to the community we intend to incorporate versions of those programs at the Torggler Center.
VEER: For the Torggler main gallery, will those feature traveling exhibitions or will you curate those?
HK: I'm planning to operate our main gallery on the model of a museum. Museums can never curate all of their shows; they don't have the staff for that and it takes a long time to build an exhibition. So certainly some of our exhibitions will be curated in-house and some will be exhibitions we bring from another institution. 
As a new facility to takes a little time to build your reputation to assure (art) lenders that your space is appropriate for the art. Our space is. It's a top notched art facility. 
On top of that, Pfac had an accreditation from the American Association of Museums — the American Alliance of Museums — that other museums will look for in terms of deciding whether they are going to lend to you. That accreditation from Pfac, we have been able to transfer to the Torrgler Center, so that's a huge leg-up. 
VEER: Is CNU hoping this facility will attract additional, quality visual art students? 
HK: I think it would be ashamed if we didn't. This facility is going to be an amazing one for current and prospective students.