(Americana artist Oliver Wood of The Wood Brothers performs April 12 at Bank Street Stage to open the 2021 Virginia Arts Festival)
By Jeff Maisey
You know the old proverb "necessity is the mother of invention"? 
Turns out to be true yet again.
The folks at Virginia Arts Festival have long thought of ways to incorporate the green space across the street from its headquarters on the corner of Bank Street and Charlotte Street into the Festival's venue experiences. On a couple of occasions this has been done as one-off uses. 
Now, with Covid restrictions on public event attendance being eased but not yet back to normal levels, the Virginia Arts Festival plans to construct a large tent on the city-owned grassy lot for the months of April, May, and into June to "house" an array of performing arts offering in an effort to have a spring season. 
"The Virginia Arts Festival's Bank Street Stage is a flexible outdoor venue, suitable for a wide variety of events," explained executive director Rob Cross. "We are re-imagining our typical Spring Performing Arts Festival but are planning to fill the calendar with spectacular performances while following strict healthy and safety protocols."
The goal, according to Cross, is to produce two or three performances per week. Each performance will be capped at 250 attendees, all but guaranteeing a season of sold-out shows. 
So far, the Bank Street Stage schedule looks like this: 
April 12 — Oliver Wood of the Wood Brothers
April 13 — Zakir Hussain & the Masters of Percussion
April 7-11, 14-18 — August Wilson's play How I Learned What I Learned, co-produced by Virginia Stage Company, Norfolk State University Theatre Company, and the Festival
May 7-8 — Leonard Bernstein's one-act opera Trouble in Tahiti, a Virginia Opera, Virginia Symphony Orchestra, and Virginia Arts Festival co-production
May 10-11 — Brentano Quartet
May 15 — Jae Sinnett Trio
May 26-30 — "A Musical Tribute to Aretha Franklin & Whitney Houston" co-produced by Norfolk State University Theatre Company and the Festival
The Virginia Arts Festival is also partnering with Jim Morrison's North Shore Point House Concerts to co-present Chris Smither (June 4) and Mipso (June 27) under the Bank Street Stage tent.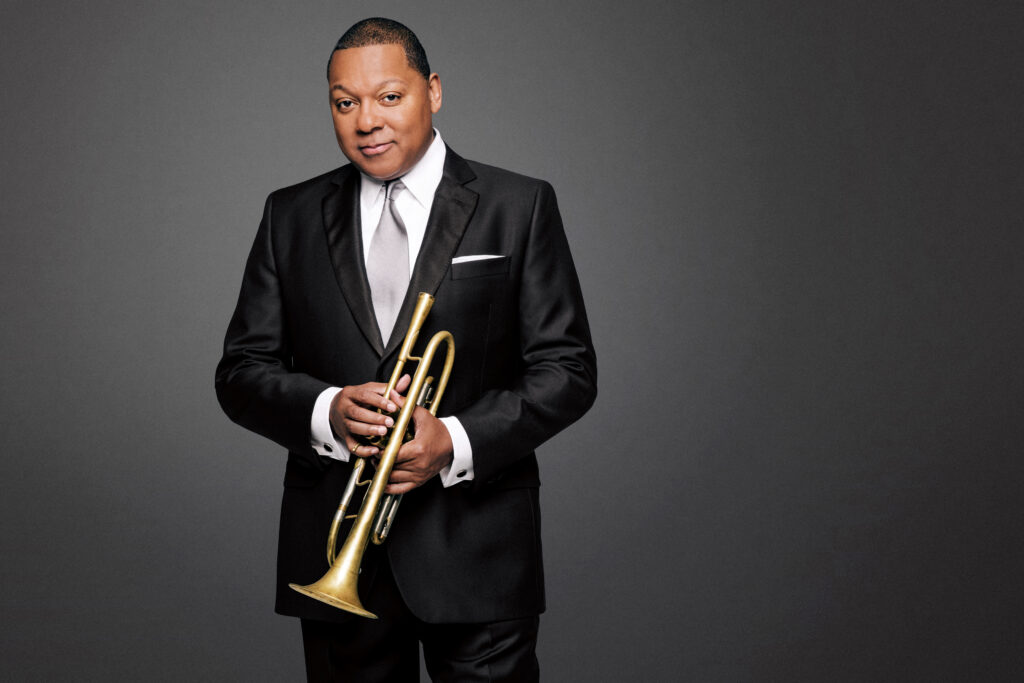 (Look for jazz trumpet great Wynton Marsalis to perform April 30 at Sandler Center) 
In addition to the Bank Street Stage performance, the Arts Fest is moving forward with the indoor (250-person capacity) biggies: Wynton Marsalis at Sandler Center on April 30 and then Bela Fleck & The Flecktones at Harrison Opera House on June 3. 
"We are also moving one of the Festival's signature events, the Virginia International Tattoo, to Old Dominion University's Kornblau Field at S.B. Ballard Stadium," Cross said. "The new event dates for the Tattoo are June 3-6. The 2021 theme, carried over from the 2020 canceled event is: 75 years since the end of WWII: A Salute to the Greatest Generation. The performance will honor the courage and sacrifice of our service men and women. The event will look different in this outdoor space, but the heart stirring pride and emotion it generates will be the same."
Also in June will be the much anticipated performance of Beethoven's Emperor Concerto and Symphony No. 5 featuring JoAnn Falletta, conductor, and Olga Kern, piano. 
According to Cross, the Virginia Arts Festival is now moving forward with its Williamsburg Live programming on the Lawns of the Museums in June. No dates or performers have been finalized. Cross is also programming live entertainment to be presented at the Virginia Beach Oceanfront. Those dates, performs and stage locations remain undetermined. 
In all, an ambitious undertaking but Cross remains steadfast in his pursuit. 
"The community is hungry for live performances, and artists are eager to perform," he said. "We continue to innovate and imagine new performance spaces that are suited not just to the current pandemic conditions, but for the future as well. As long as we can articulate all the precautions we are taking to patrons, we continue to feel optimistic."
And now for a few updates on other arts groups and festival promoters.
PERFORMING ARTS VENUES
Ferguson Center for the Arts
Ferguson Center, on the campus of Christopher Newport University, has no plans to present live events this spring/summer. The minimum capacity allowance the venue needs to operate is 1,500 people.
"This past year has tested us all," said Bruce Bronstein, Ferguson Center's executive director. "The human toll of the pandemic has been heartbreaking and the financial impact on the arts, and live performance specifically, has been devastating. We've tried to adapt by using technology and innovation, but in the end, the Ferguson Center, like so many venues in Hampton Roads and around the country, has a mission dependent on live performance.  A return to that mission will not be as simple as flipping a switch. It is going to take planning, perseverance and more than just a little courage. Now, more than ever, artists and the people who have built careers around the presenting of the arts need our support. Their future depends on it. Together we will return. Please know that we cannot wait to bring light back to our stage. Until then, we've saved your seats."
In the meantime, Ferguson Center has several virtual performances scheduled as part of its "Behind the Curtain" series.
"Many of our patrons have commented that they'd like to learn more about what happens behind the scenes," explained Bronstein. "To address this request, we've created a series titled "Behind the Curtain." These exclusive, virtual events feature industry professionals from around the country, sharing their experience and insight on the work that happens behind the curtain before the magic happens under the spotlights. Until we can all be together again, we hope patrons enjoy these free "only from the Ferguson Center" events we've curated. We are also hosting a "New Voices" series.  In collaboration with Broadway composer Drew Gasparini, the series will have a storyteller/concert vibe."
On March 25, New York theatre producer Erica Rotstein will host "Producing 101," a look at what it take to put together a Broadway show. On April 20, New York writer/director Eric Price presents "Telling the Story," an intriguing glimpse of what it takes to get the words on the page to the stage.
For more info on the "Behind the Curtain" series schedule visit fergusoncenter.org. 
Sandler Center for the Performing Arts
The Sandler Center will co-present "Jazz at Lincoln Center Orchestra with Wynton Marsalis on April 30 as part of the Virginia Arts Festival. On August 22, guitar phenomenon Tommy Emmanuel is scheduled to perform live and in October the Hurrah Players' "Moana" will be presented.
"We are hopeful to announce more shows soon including our resident companies like VSO," shared Sandler Center marketing director Megan Boyle. Other resident companies include Symphonicity, Ballet Virginia, Virginia Musical Theatre, Virginia Beach Chorale, and Tidewater Winds. "As we announce, shows can be found on our site — sandlercenter.org."
American Theatre/Hampton Coliseum
Hampton's historic American Theatre has cancelled its spring and summer season. Hampton Arts Commission/Hampton Coliseum interim director Terri Vander Vennet said she is looking into parking lot concerts and drive-in movie (again) at Hampton Coliseum. She also noted there are "many concert holds" but they are "unable to confirm until capacity restrictions are lifted."
Zeiders American Dream Theater
Currently, Zeiders has been hosting 90 people in its 300 capacity venue. Upcoming in-person events include BJ Griffin (April 23), the Plan B Comedy Show (April 24), and contemporary Americana artist Emi Sunshine (May 27).
"We are also working on a partnership production with Ballet Virginia for May and a new theatrical production in May called "Triple Threat," said marketing director James Bryan. In June we are excited for our TasteBreakers Festival. A two day music festival featuring all local musicians and bands."
Bryan added: "It's been amazing to see how all the arts organizations are working together to take care of each other, its employees and artists during this time."
More info at TheZ.org. 
Suffolk Center for Cultural Arts
The Suffolk Center has been presenting regional bands on its stage during the pandemic under the series "Together On Stage" and continues to do so with country group Just Us on March 26 and indie/rock band Paper Aliens on April 9. More info at suffolkcenter.org 
Chrysler Hall
At press time, several Broadway performances remained scheduled at Chrysler Hall including "Jersey Boys" (June 8-13), "Cats" (July 13-18), and "Anastasia" (July 27 – Aug. 1). More info is expected in the coming weeks at sevenvenues.com. 
PERFORMING ARTS GROUPS
Virginia Symphony Orchestra
"We are BACK," proclaimed Monica Meyer, Virginia Symphony Orchestra's Vice President and Chief Revenue Officer.
That's music to everyone's ears, of course. 
The Symphony's pop side will present "Serpentine Fire: The Music of Earth, Wind & Fire" March 19 at Ferguson Center and March 20 at Sandler Center.
The Symphony will present "The Bach Brandenburgs" led by Cho-Liang Lin as both guest conductor and violinist on March 26 at Ferguson Center and March 28 at Sandler Center. Seating thus far will be limited to 250 season subscribers. 
Other concerts include "A Broadway Romance" featuring vocalists Tiffany Haas and Michael McCorry Rose (April 2-3, Ferguson/Sandler), the Symphony's "100 Anniversary Tribute" conducted by Matt Kraemer (April 9 & 11, Ferguson/Sandler), "Tchaikovsky Spectacular" (Symphony No. 4, April 23-24, Ferguson/Sandler), "The Music of John Williams (May 1 at Chrysler Hall), and "The Streisand Songbook" (June 2-3, Ferguson/Chrysler Hall). More at virginiasymphony.org. 
Virginia Stage Company
Thus far,  Virginia Stage Company has announced a co-production of August Wilson's play How I Learned What I Learned with Norfolk State University Theatre Company and the Virginia Arts Festival on April 7-11, 14-18 at the Bank Street Stage.  More a vastage.org. 
Virginia Opera
The Opera joins forces with Virginia Arts Festival and Virginia Symphony to produce 
Leonard Bernstein's one-act opera Trouble in Tahiti May 7-8 under the tent of Bank Street Stage. 
"Trouble in Tahiti, a one-act opera set in 1950s suburbia, follows a young married couple struggling to prioritize their relationship amidst the laundry list of demands in their daily lives," said Virginia Opera's Amanda Ely. "Audiences will love this infectiously jazzy 45-minute portrait of 'domestic bliss' and find a glimmer of hope in its candid conclusion. Limited live performances will be presented in Norfolk and Richmond."
Symphonicity
Taking it to the streets: Symphonicity is planning for the spring and summer including small musical ensembles at Town Center, the Sandler Center Plaza, and various parks in Virginia Beach. Dates are yet to be determined.
Symphonicity president Lynette Andrews shared, "On May 16, Symphonicity will be offering  two live performances at the Sandler Center for its season subscribers. Though the orchestra may be reduced to accommodate current public health guidelines, the programming will, as usual, feature classical favorites in a traditional setting. Single tickets will be sold for any available seats."
Symphonicity will also participate in the annual Symphony by the Sea pops concerts at the Virginia Beach oceanfront on Thursdays, August 12 and August 26.
Williamsburg Symphony Orchestra
"We have a virtual event planned for May, but really went back and forth on what it would take to pull off an in-person event during this time," said marketing manager JB Crowley.
Check williamsburgsymphony.org for updates. 
Ambrosia Quartet
While the Quartet hasn't scheduled a performance for spring it's founding cellist Rebecca Gilmore will join fellow CNU faculty Dr. Benjamin Corbin (piano) and guest clarinetist Jimmy Gilmore for a live-streamed performance of works by Dr. Adolphus Hailstork, Sammartini and others on April 20 at 8 PM. Search Youtube for ChristopherNewportU. 
Downing-Gross Cultural Center
The DGCC is planning in-person classes and workshops in painting, drawing, film and clay puppetry. Additionally, summer movies and children programming are planned. 
"Downing-Gross Cultural Arts Center is committed to providing affordable arts programming to the community," said Corrine Morgan, DGCC's marketing coordinator. "While we have continued operating over the past year at a limited capacity, we look forward to emerging from the pandemic to continue our mission of building the community through the arts to the full extent."
Hurrah Players
Hurrah Players will present an outdoor cabaret called "C'Mon Get Happy" at The Plot on March 27 & 28.
Hurrah Players will be streaming "Black Girl Magic" March 26 through April 26 for $15. 
The work is described as follows: "Black Girl Magic is a compilation of original scenes, vignettes, and poems as well as excerpts from published speeches, poems, plays, and performances that celebrate the lives and accomplishments of Black girls and women past and present, popular and underrated. It follows the struggles that often prove necessary to birth brilliance, resilience, triumph, and success; the tragedies that produce inner strength, beauty, hope, and community which continues to withstand the test of time."
Look for in-person performances of Disney's "Moana" in October from Hurrah Players. More at hurrahplayers.com. 
Little Theatre of Virginia Beach
VB's Little Theatre acting crew continues to present performances streamed online, including "Their Own Words: A Women's Cabaret" running through March 28. 
Feldman Chamber Music Society
With its current season canceled, the classical music promoters are looking to fall with performances by Boston Trio, Escher Quartet and others planned, but with no dates announced. 
Norfolk Chamber Consort
The season continues exclusively live streamed via Youtube. Upcoming performances include the thematic "Paris in the 1920s" on May 3. 
Todd Rosenlieb Dance
TRDance will celebrate its 15th anniversary of modern dance with a virtual program March 27 hosted by Rosenlieb and Ricardo Melendez. More info at TRDance.org. 
Ballet Virginia
Ballet Virginia will perform "Visions of Hope" May 14-15 in-person at Zeiders American Dream Theater. 
"This new production will feature both classical and contemporary works performed by the company's professional dancers," said Lisa McCarty, Ballet Virginia's marketing director.  "The performances will focus on the journey of moving forward with compassion and gratitude while acknowledging the strife and conflicts of life. Lydia Roberts Coco, Ballet Virginia's Resident Choreographer, will be highlighted along with creations by Artistic Directors, Suzanne Lownsbury and Janina Michalski. Each choreographer will interpret the theme through dance from their own perspectives and diverse experiences."
CONCERTS
Elevation 27
Elevation 27 has continued to present concerts throughout most of the pandemic dinner theater style. Most of the acts have been tribute shows; timely given all major acts are not on the road. Upcoming highlights include Trial By Fire (Journey tribute, March 20), Kashmir (Led Zeppelin tribute, March 26), Creeping Deth (Metallica tribute, March 27), Satisfaction (Rolling Stones tribute, April 9), and Heart Breaker (Heart tribute, April 10). 
The Vanguard
The Vanguard continues to make use of both its indoor and outdoor performance stages. Most shows are free admission including Jason Cale (March 26), Ben Phelps Trio (March 27), and Celeste Kellogg (April 16). 
North Shore Point House Concerts
Promoter Jim Morrison will collaborate by co-presenting shows with the Virginia Arts Festival and others, including Dustbowl Revival (July 10) at Smartmouth Brewing Co in Norfolk. 
Others
Concert promoters for the amphitheaters in Virginia Beach and Portsmouth as well as The NorVa remain mum on whether any concerts will happen this summer. Much depends on the country's progress with the pandemic as bands are routed on nationwide tours and the operating costs across the board are simply too high for limited seating performances. 
FESTIVALS
Coastal VA Plein Air Art Festival
Under the theme "Building Community Through Art," Coastal VA Plein Air will bring fine art to the Ocean View community by hosting the Fifth Annual Plain Air Festival on April 15 – 18 at COVA Brewing Company in Norfolk.
Norfolk NATO Festival
Hampton Roads' longest running festival will happen June 5 at Scope Plaza this year. While no parade is planned the floats of all 30 NATO nations will be on view next to the Plaza on Charlotte Street. Expect live entertainment, food vendors, a NATO Fest beer, and more. 
Festevents
Festevents is planning for spring/summer events based on a 250-person limit, but hope remains for larger events pending approval. Though no official announcements have been made we are aware of a version of Harborfest moving forward in the planning phase. Much more to be announced in the coming weeks. More at festevents.org. 
Live On Atlantic
Organizers hope to announce by April 1 a schedule of events for the Virginia Beach Oceanfront. Signature events including  Latin Fest, Funk Fest, Monsters on the Beach and Chalk the Walk are being planned. Depending on attendance limitations, a series of headline concerts in the 17th, 24th and 31st Street Parks are designed to spread out the American Music Festival (normally Labor Day Weekend) through June, July & August. There will be no sidewalk performers along Atlantic Avenue this spring/summer.
Culture Fix
Culture Fix, the organization headed by Steve Rose tasked with programming events in Williamsburg's Merchants Square corridor, is planning several mainstay festivities including Winter Blues Jazz Fest (in summer) from June 24-27, Summer Breeze Concert Series (June 23 through Sept. 1), and a July 4 celebration. More to come. 
NoCo Spring Wine Fest
On April 24, Cogans North/Hanks Filling Station will co-host the NoCo Spring Wine Fest beginning at 12 noon. 
Sunsets on the River
Beginning June 3, the Hermitage Museum & Gardens will feature local bands on its scenic, historic property on the banks of the Elizabeth River. HermitageMuseum.org for details. 
Canceled for 2021
Patriotic Festival, SOMETHING IN THE WATER, Chesapeake Jubilee, Norfolk Greek Festival, and Spring Stockley Gardens Arts Festival.