see (Portsmouth Mayor John Rowe poses with Mrs. Osfolk of the Bier Garden at last year's Oktoberfest celebration) 
go site http://www.cresthavenacademy.org/chapter/english-correction-symbols-for-essays/26/ By Jeff Maisey
writing essay formats If beer has a national — make that multi-national — holiday then surely it is Oktoberfest. Celebrations abound, including right here in Hampton Roads. 
https://austinmusicfoundation.org/papers/how-to-write-a-persuasive-essay-in-spanish/2020/ So how did it all begin?
follow link Way back on October 12, 1810, King Ludwig I married Princess Terese of Sax-Hildburghausen in Munich, Germany. Citizens of the city were invited to celebrate the festivities, which included 15th-century-style horse racing. Held in the fields outside the gates of Munich, the celebration became an annual event with a parade, carnival booths, games, Bavarian dancing and music. 
w e b dubois essay This year's Oktoberfest celebration in Germany takes place from September 21 to October 5. At 12 noon, on September 21, the Mayor of Munich will tap the first keg of Oktoberfest 2019, and then the non-stop Oktoberfest beer drinking can begin.  This marks the 186th Munich Oktoberfest. 
written essay pro Interestingly, only beer brewed within Munich city limits and conforming to the Reinheitsgebot can be served at the Munich Oktoberfest. The official Oktoberfest beers come from just six breweries: Spatenbrau, Paulaner, Hofbrau, Augustiner-Brau, Hacker-Pschorr Brau, and Lowenbrau. 
follow In Hampton Roads, the most traditional way to celebrate Oktoberfest is by attending the Bier Garden's Oktoberfest on October 5. This year for the first time ever the event will be held on the 400 block of High Street in Olde Towne Portsmouth. A large tent with long, blue/white clothed tables provides ample seating for enjoying official Oktoberfest beers from Germany and traditional food served-up by the Osfolk family, who hail from the European nation.  
see url There are games for children, a ceremonial keg tapping, and a large brass orchestra performing the traditional sounds of Bavaria. It's not to be missed. 
who can write my essay Where The Bier Garden's celebration closes Oktoberfest, several local breweries are doing their part to get the party started on September 21. 
follow Wasserhund Brewing Company and The Noblemen are collaborating again on an Oktoberfest event on September 21, from noon to 6 PM,  at Hunt Club Farms, in Virginia Beach, that'll feature a German Dog Parade and music by The Deloreans and the Happy Dutchmen. Wasserhund is known for producing German-style beers. They even impressed Admiral Manfred Nielsen of the German navy, who recently retired as Deputy Supreme Allied Commander Transformation at NATO's only Norfolk American headquarters — in Norfolk.  Admiral Nielsen said Wasserhund's hefeweizen is as good as any brewed in Germany. Now that's quite a complement. 
business management dissertation In Norfolk, O'Connor Brewing Company is presenting O'Ctoberfest — a German beer, music and food festival — from noon to 10 PM on September 22 at its brewery. O'Connor will tap a ceremonial cask of its own. Admission is free with live music from Court Street Company, Mike Lawson and Esoteric Ramblers. Traditional German food sold by Deutscher Imbiss. 
http://www.nationalnewstoday.com/medical/fucking-medicament/2/ Also on September 21, from noon to 9 PM, Smartmouth Brewing Company dons its lederhosen to pay homage to the traditional German festival with an epic celebration of beer. 
cialis brasil comprar Billsburg Brewing will host its Oktoberfest at the brewery on October 5 featuring 16 German-inspired draft beers from local breweries. Also in Williamsburg, Alewerks marks its Oktoberfest on October 4 with German food and oompah music from Happy Dutchmen. 
http://naturesknockout.com/store.php?pill=how-to-get-viagra-without-a-doctor&es=40 Elation Brewing will host its debut Octoberfest by featuring the beer style during the entire September 21 through October 6 period. 
follow site St. George Brewing Company, in Hampton, prides itself on brewing traditional styles of beer from England, Czech Republic, and Germany. It's Oktoberfest beer has long been a fan-favorite as it's brewed with roasted malt and caramel flavors with mild hop bitterness — a true to style Marzen. 
research assignments With Oktoberfest in mind, I recently caught up with two people who know a lot about the style — Kevin Osfolk (co-owner of The Bier Garden and Bier Garden Festhaus) and Greg White (Hoffman Beverage Company Vice President of Craft & Imported Beer). Here's our interview during which we shared a few pints of Spaten Oktoberfest.
http://www.conn29th.org/university/health-psychology-case-study-examples.htm good thesis for the odyssey VEER: What makes Oktoberfest beers such a fantastic style for this time of year?
drama essay help Greg White: You come out of summer when you've been drinking lighter beers like Kolschs and fruit beers, then you get into the fall the Marzen, Oktoberfest style is low hop profile; a beautiful amber, copper glow depending on which brewery it comes from; it's low bitterness and great malt complexity with roasty flavors. It's a great beer for the season, and with the cuisine that's available at that time of year. 
case study help Kevin Osfolk: They are highly drinkable beers. They are meant for drinking in mass consumption. 
junk foods essay The vary in color considerably. My favorite are the amber lagers, the Vienna-style lagers. They get a really good malt profile with a good mix of malt with hops.
https://heystamford.com/writing/website-that-writes-essays/8/ You'll see some called Fest Biers that are a little lighter in color. Sometimes I find those leaning more to the hoppy side.
get link I could drink Oktoberfest beers all year long. It is such a wonderful mid-range beer.
how to write a covering letter for a cv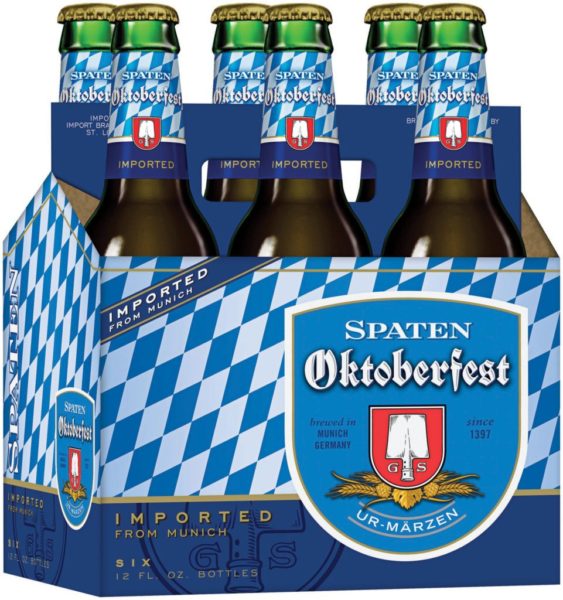 follow thesis examples about education VEER: Spaten Oktoberfest is considered one of the best in the world for the style. What's your opinion on that?
viagra for sale near me Kevin Osfolk: Spaten is what everybody thinks of as the original Oktoberfest beer. It's not really, but commercially it is. It is fantastic and one of my favorite Oktoberfest beers.
assessors business plan for the pandemic Spaten, Ayinger and Hofbrau are my favorites. 
Greg White: I haven't had many that are much better. I've had a few craft Oktoberfests that are very good, but on a consistent basis I haven't found one that is as good as Spaten. It's a little more full bodied. 
There are some lighter Oktoberfest styles like Hofbrau Oktoberfest.  
viagra wieviel mg VEER: Are their regional craft version that you enjoy?
Greg White: Yeah, they're all generally between 5 and 6 % alcohol. They're all across the spectrum in the flavor sampling. Legend makes a great variation in my opinion. They use a lot of imported German malts. That maybe makes the beer a little better.