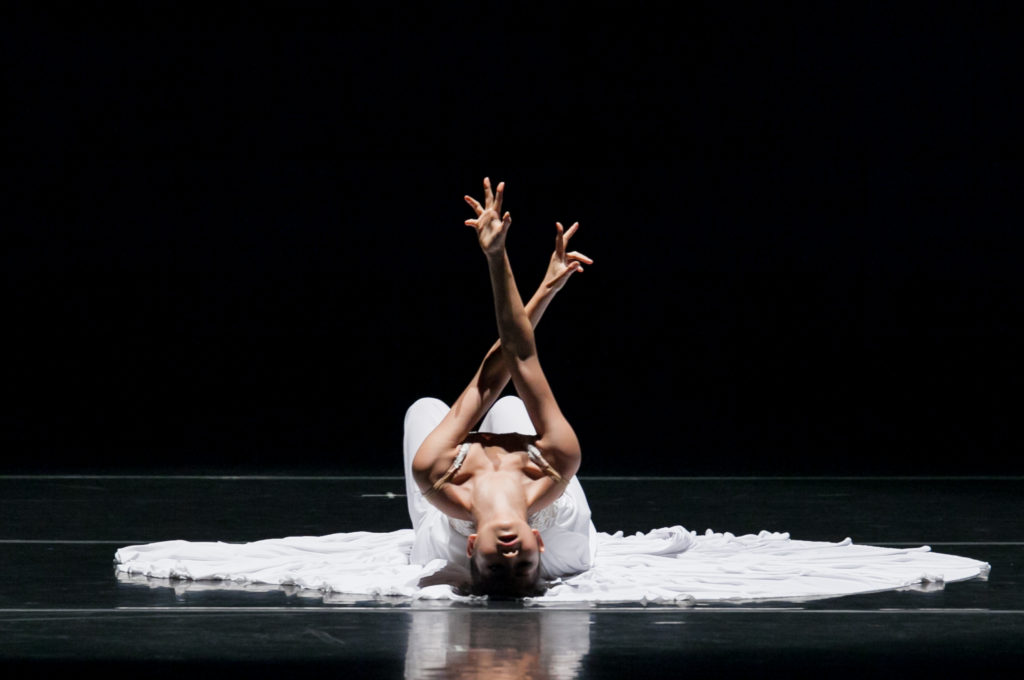 By Montague Gammon III
One Virginia Arts Festival audience will get the world's last look at the works of the Jessica Lang Dance Company, as the multiple award-winning troupe wraps up eight years of performing with their final concert as a company. Their Chrysler Hall matinee, which is also their first visit to Hampton Roads, includes one dance that holds special promise for the local community.
Solo Bach kicks off the evening. "We call it 'a welcome dance.' It's way to get the audience engaged," Ms. Lang said of this "joyous" three-minute, solo dancer, solo violin piece in a recent phone conversation.
After what one dancer has called that "three minutes of pure joy," JLD offers up the "short quartet" called Sweet Silent Thought, "inspired by the mathematics of the sonnets and the couplets;" the musical equivalencies found in Shakespeare's poetry. 
When you watch it "you see motion, you see poetry," Lang remarked. Music composed by Jakub Ciupinski especially for SST: electronic, driving and clearly modern, mixes with the words of five sonnets, spoken in "kind of a very low register," just barely audible, sounding "like a scratchy vinyl" recording.
Local audiences will especially sit up and take notice of Thousand Yard Stare, Lang's acclaimed piece about post traumatic stress and those who have suffered it while serving in the military. The subject is "awful and timely," Lang said, when the piece was performed elsewhere.
She's well aware of this region's military connections; an uncle lives here, and though her family does not have direct involvement in the military, that branch of it has "has lived in Hampton Roads for decades." According to online sources, her father served during the Vietnam era and, like many from that time, has never talked about his experiences.
The title refers to the "the soldier who is lost in a daze that is post traumatic, a daydream that we cannot see. There is action in their minds but we cannot see that. They are locked in a frozen stare."
In making this dance, Lang interviewed combat veterans. Those could not manage to voice their distress were asked to express themselves in drawings while listening to Beethoven's String Quartet No. 15, Op. 132, to which the piece is set. Some of the images they created for Lang appear on her dancers' military green costumes.
Thousand Yard Stare "resonates everywhere…with service men and women and families related to them," says this daughter of a veteran, but more widely, "with people who understand the bravery and the courage and the importance of our military."
Programmed after intermission is the solo dancer work that Lang, and others, term her signature piece. It's a lyrical solo titled The Calling, which she originally created for her husband, Alvin Ailey dancer Kanji Segawa. Here it will be danced by Ms. Kana Kimura; "it's for anyone, it's for the performer not the gender…it's just a beautiful image."
"Short…angelic and beautiful…simple, but in its simplicity quite complicated," set to music by the vocal group Trio Medieval, in just four minutes it "encompasses everything I am as a choreographer…something I am very proud of. You can see who I am as an artist," she said.
For something just a bit different, Tony Bennett, or rather This Thing Called Love, Lang's take on "songs from the 'Great American Songbook,' the best popular music ever composed" as performed by Bennett, rounds out the concert and the performing existence of Jessica Lang Dance. (Lang says she is "opening up a new chapter focussing on creativity" in her ongoing career.)
This Thing Called Love came about because "I thought there was some kind of need to have something popular on the program, something light hearted and beautiful and classic and Tony tends to embody all of that."
It's "important that we get a chance to experience this."
WANT TO GO?
Jessica Lang Dance
Presented by Virginia Arts Festival
April 14
3 PM
Chrysler Hall