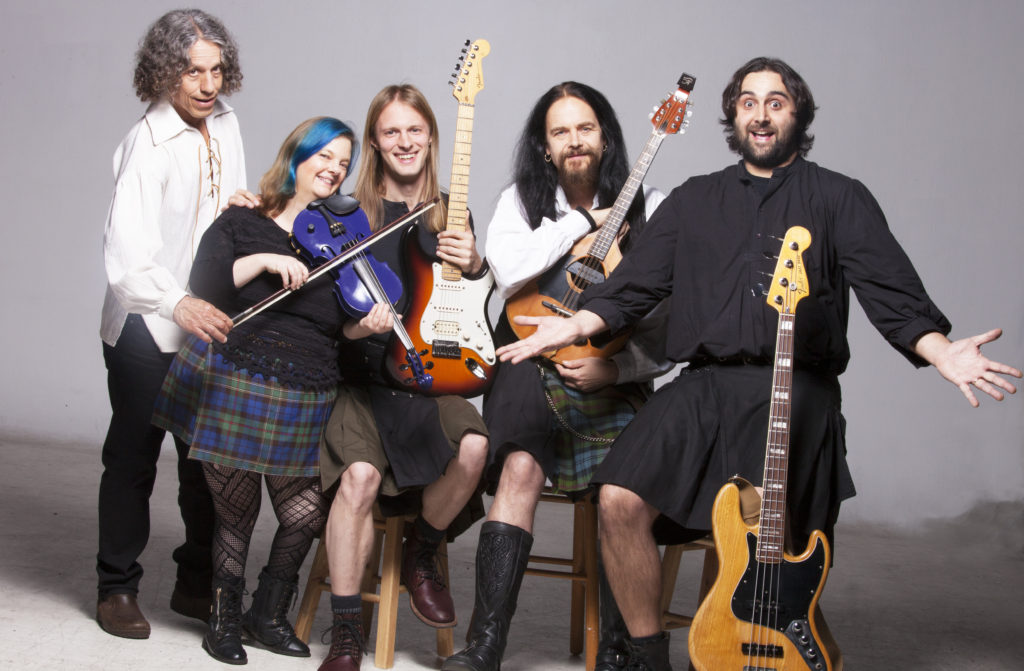 By Jeff Maisey
California-based Celtic-rock band Tempest used to make semi-annual appearances at the ol' White Horse Pub in Virginia Beach, pulling in a couple hundred fans on an off-night while touring the country where they've played huge outdoor events like the Philadelphia Folk Festival, Scottish Highland-themed festivals, and a variety of music halls big and small in support of whatever their most recent studio album was at the time. 
Tempest released its debut album titled "Bootleg" in 1991. The group has nearly 20 albums to its credit including the exceptional "Double-Cross" (2006), "Shapeshifter (2003), and "The Tracks we Leave" (2015). 
Their last appearance in Hampton Roads was headlining the Norfolk NATO Festival some five years ago. Now, with the album "30 Little Turns" out on the streets, the band — known for its high-energy live show and sheer musicianship — will perform Sunday, April 7 at The Vanguard in Hampton. 
I recently caught up with founding singer and multi-instrumentalist Lief Sorbye, who hails from Norway, to learn the latest. Here's what he had to share.  
What has been key to three decades of success for Tempest? You've had many different lineups, but you and the music are the consistent core.
That's the key right there — it's the music that keeps us ticking. The music is the purpose and it get it in front of people whether through recording or live shows.
I still find it just as exciting today as it was almost 31 years ago when I first started the band as a combination of folk music with a rock 'n' roll beat with turned-up energy.
Your brand of folk music incorporates Celtic-influences and those of Fairport Convention. You're also influenced by the prog rock of Jethro Tull. How have you successfully woven these musical fibers into the unique Tempest sound?
I think traditional folk music as we know it — whether it's Celtic or Scandinavian — all has a very similar feel to it, and I think it lends itself really well to the formula of electric guitar, bass and drums. Some of our source material goes back 100 or 200 years. It is an inspiration for our songwriting, but there is something in the energy of the music that lends itself to a rock 'n' roll format. 
Of course, if they had electric instruments 200 years ago they would have used them. So there's something in the spirit of the music that lends itself to a rock band — the way I feel it. 
When we started doing it there were not a lot of people exploring it. I still feel I'm exploring as we go along. We've just scratched the surface. There's a lot more inspiration to be had when you dabble in traditional folk music forms, not only to update that music but to write music with the same timeless feel. That's why the music is timeless to my ears and heart. That's why you don't get tired of it like you do with more modern forms of music based on current fads and trends. 
Tempest is a highly entertaining live band. You match the energy of the music with your onstage wizardry. How important is it to find new members who can equal their musicianship with performance ability and passion?
It's very, very important. 
It was a spontaneous thing when the band first started. From the very first gig we started acting-out on stage the music we played. The music is very high-spirited so you can't help but move to the music. If you don't move to the music the audience won't either. And I'm not just talking physically, but spiritually too. It's very up-lifting. 
If you're playing something that's fun and uptempo then you've got to be a fun, uptempo guy playing it. It's always been part of the Tempest experience. 
Being in the band means that you get down and funky with the energy, and you show the audience you have fun doing it. 
The stage show is important because it is an organic expression of how we feel the music. We feel good after playing a show where we created a positive effect on the audience and the audience will go home happy and maybe feel a little better about themselves and the world. That's the heart of the music and that's the heart of the band when we do our job right. 
Two of my favorite songs recorded by Tempest of "You Jacobites By Name" and "Wizard's Walk." Both have been used as set closers by you in concert. Can you share your thoughts on these two songs?
Yeah, I'm glad you mentioned them. The last show we did we didn't play either one of those because they had been old staples in our set. They kind of come and go, but I just made a mental note that when we come The Vanguard in Hampton I'm going to have them in our set list. 
They are songs that people ask for; songs we never permanently take out of the set list.
"You Jacobites By Name" is probably our most requested song and it is a good example of how we took a traditional song and make it our own, melodically and arrangement-wise.
"The Wizard's Walk" is a combination of both original and traditional things put together in a huge medley with all our different musical influences at that point in time. It's been in our repertoire not quite 20 years. "Jacobites" has been there for almost 30 years.
You are right they are an important part of the band. No matter who is in the band those are songs they have to be able to play. They are great audition songs too because they are big pieces. There are a lot of notes to play that have to be played with the right feel. 
WANT TO GO?
Tempest
April 7
The Vanguard