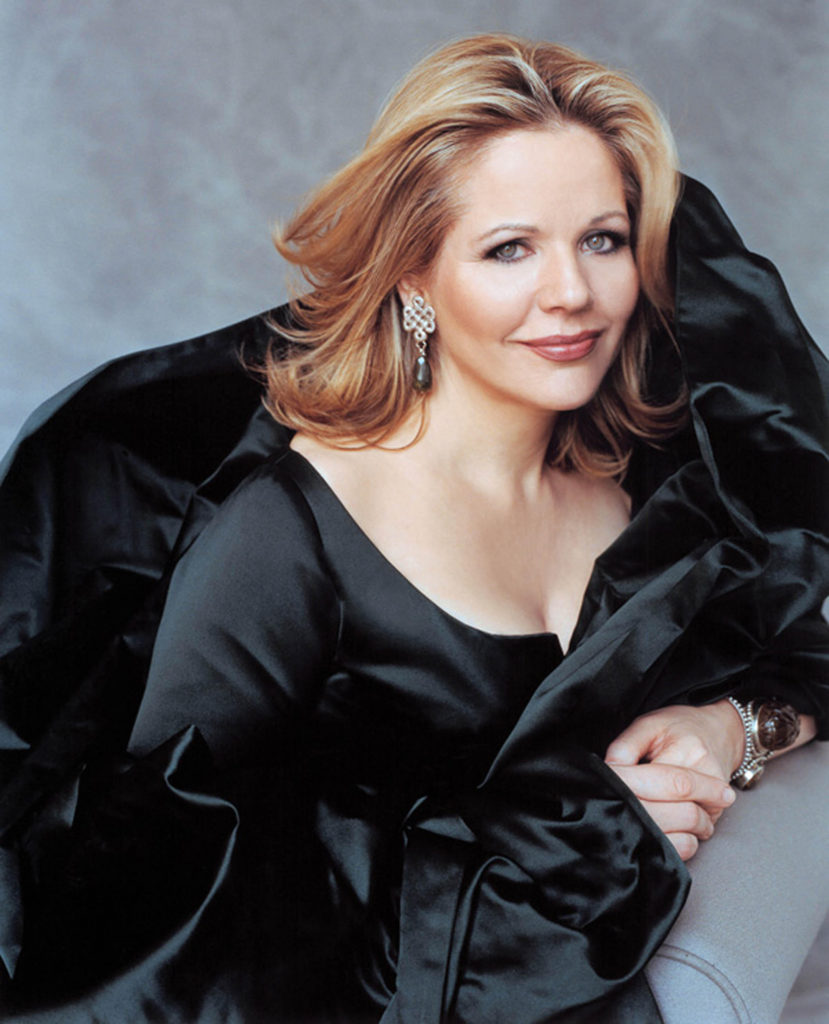 By Montague Gammon III
The opera super star whose 2014 Super Bowl performance taught 111 million Americans how the first verse of our National Anthem should sound, the soprano who has been likened to all-time greats Renata Tebaldi and Maria Callas, whose "Danny Boy" at John McClain's funeral brought tears to the eyes of folks across the political spectrum, who's starred on Broadway, lent her voice to two Oscar winning films, and who even bested David Letterman in a verbal exchange, returns to Hampton Roads for a Virginia Arts Festival concert of art songs, opera arias, and mixed works from musical theater and film.
Of course, that's Renée Fleming.
Letterman: "Wow! Did you know you sound like that?" 
Fleming: "I've been practicing."
Those Oscars last year went to The Shape of Water and Three Billboards Outside Ebbing, Missouri. Fleming's 2018 performance in Carousel that year snagged a Tony nomination and its album got her one of her two Grammy nominations this year. (She's won four so far.) Her acting in her 2015 Broadway debut, Living on Love, earned high critical praise.
Fleming made her post-Juilliard American debut here in Norfolk, in 1986. She played the secondary character of Frasquita in Virginia Opera's Carmen and several characters in Thea Musgrave's Christmas Carol. (Fondly remembering her time in Norfolk, she especially mentioned that Musgrave world premiere.)
She returned to play Pamina in The Magic Flute in 1988, the same year she won the Metropolitan Opera Auditions. 
Just six years after Magic Flute the legendary conductor Sir Georg Solti said, according to the New York Times, "In my long life, I have met maybe two sopranos with this quality of singing; the other was Renata Tebaldi."
In the last few years, Fleming has come back to Hampton Roads for concerts with the Virginia Symphony, and with pianist Olga Kern.
Shortly after touching down in Switzerland, Fleming took time from her globe trotting career to chat about her upcoming Sandler Center program.
"I am always thinking about…what the audience wants to hear. There is no one audience anymore. I try to give everyone something they might enjoy."
The concert opens with five songs by Johannes Brahms, the first being Vergebliches Standchen ("Futile Serenade"), of which the composer wrote "For this one song I would sacrifice all the others." 
Fleming said, "Well, you know the German lied is really the foundation of this whole art form [of art song]. Many…were composed to be performed in people's living rooms. I love the intimacy. These are some of the most famous songs; the reason they are famous is because they are great." 
The Brahms pieces are followed by songs from Pulitzer winner Kevin Puts' 2016 orchestral song cycle, Letters from Georgia, which he composed for Ms. Fleming.
The titular Georgia O'Keeffe was famous for her painting, but her letters were strikingly articulate. But for the opening line of the work, O'Keeffe's comment, "My first memory is of the brightness of light — light all around," all the rest of the lyrics of "Introduction and Taos" and "Canyon," and of the entire work, are drawn from those letters.
Fleming noted that she originally "did not know how fiercely autonomous [O'Keeffe] was, at a time" when women's independence was less common. "Her life is quite extraordinary!"
Before intermission, Fleming will sing three songs that she did for films. Heitor Villa-Lobos' "Ária (Cantilena)" from Bachianas Brasileiras No. 5 was featured in Bel Canto. Fleming will talk to the audience about that one, she said. "'Tis the Last Rose of Summer" was her contribution, licensed by the film producers from a recording, to Three Billboards. 
The first half of the program concludes with the Harry Warren/Mack Gordon song "You'll Never Know." Fleming worked on its arrangement with Parisian film composer Alexandre Michel Gérard Desplat (The Twilight Saga: New Moon; Harry Potter and the Deathly Hallows, etc…).
Then it's off to the cradle of Grand Opera, a quartet of pieces termed "The Italian Group." 
"I think that Italian opera is a thing that is universally loved. I cannot do a concert any more without something from that world."
The songs "Ombra di Nube," by priest and composer Licinio Refice, and "La Serenata," by Francesco Paolo Tosti, a prolific composer and music teacher to the royal families of Italy and of England, bracket works by Ruggiero Leoncavallo and Giacomo Puccini.
Leoncavallo is represented, not by something from his big hit Pagliacci, but by ""Musette svaria sulla bocca viva" from his version of La Boheme, which suffered perhaps the least fortunate bit of timing in opera history, premiering 15 months after Puccini's version.
Puccini gets his due here with "Signore, Ascolta" from Turandot.
A Musical Theater Group wraps up the evening. 
Meredith Willson's "'Till There Was You", from The Music Man, Maury Yeston's "Unusual Way", from Nine, the Kander and Ebb duo of "Love and Love Alone"/"Winter" from The Visit, and the particularly apt "Glamorous Life", from A Little Night Music, showcase Fleming's abilities in that genre.
About the similarities between her own globetrotting career and Sondheim's song about an actress who lives that life, Fleming said "There no question. That's one of the things I find so enticing – I did recognize my lifestyle… I sing all the parts: mother and grandmother, daughter and the chorus, which is a little bit ambitious, but I do enjoy singing it."
Most recently Music and the Mind, described by her office as "work happening at the intersection of music, health, and neuroscience," is Fleming's particular interest. "Striking up a conversation" with Dr. Francis Collins, Director of the NIH, at "an extraordinary dinner party with our Supreme Court Justices," and seated, she said, between Scalia and Ginsburg, she asked Collins – whom she termed "a terrific musician" – about research on the brain and music. That lead to her co-authoring an article with him for the Journal of American Medical Association, and to her ongoing involvement in programs making therapeutic and educational use of music and neuroscience.
Asked when she realized how good she was and how that felt, she replied "You know it's funny, I don't connect with this or if I'm really good…What I hear is what I could have done better – I don't think it will change now."
As she said about the Brahms songs, "The reason they are famous is because they are great." 
WANT TO GO?
Renée Fleming, Soprano
8 p.m., Feb. 23
Sandler Center for the Performing Arts, Virginia Beach
Virginia Arts Festival
757-282-2822