Words by Diane Catanzaro and Chris Jones
Photos by Chris Jones
So, St. Nicholas' Day is coming up on Thursday, December 6. How are you going to ring in that holiday?  Traditionalists will have the kinder place their shoes or a special boot by the fireplace, to hopefully be filled with candies, fruit, and coins by Ol' St. Nick. 
For those of us who prefer our candies and fruit to have a lil' kick, here's a better idea. Go to the Bier Garden in Portsmouth Virginia on the evening of December 6 for their Samichlaus tapping. An annual tradition at this venerable venue since 2000, the tapping of the rare Samichlaus is one of our fondest holiday traditions.  This year a keg of 2011 Samichlaus Classic and a keg of 2013 Samichlaus Schwarzes will be tapped at 7 pm. At 14% ABV, these beers will put the twinkle in your eye. Now we know why St. Nick turned into such a jolly fellow. 
Sami what? Samichlaus? Sounds like Santa Claus? Sounds downright Christmassy.  Here's the straight skinny.
Samichlaus was first brewed by the Hurlimann Brewery in Zurich in 1979,  they produced it until 1997 when the brewery changed ownership and there was little interest in continuing to brew it. In 2000, Samichlaus was resurrected by Braurei Schloss Eggenburg, an Austrian brewery that bought the rights and the recipe for what was once "the strongest beer in the world." 
Samichlaus Classic is brewed one day a year, on December 6. Made with a variety of malted barleys, after fermentation is completed it is aged under cold conditions for ten months, then bottled, distributed, and if you're very fortunate, it ends up in your area code. What does Samichlaus Classic taste like? It's a kaleidescope of complex flavor, with notes of caramel, sherry, plum, dried fruits, and brown sugar.  With little to no bitterness, the sweetness is balanced by a pleasant alcohol flavor in this shoulder-warming, 400-plus calorie glass of goodness.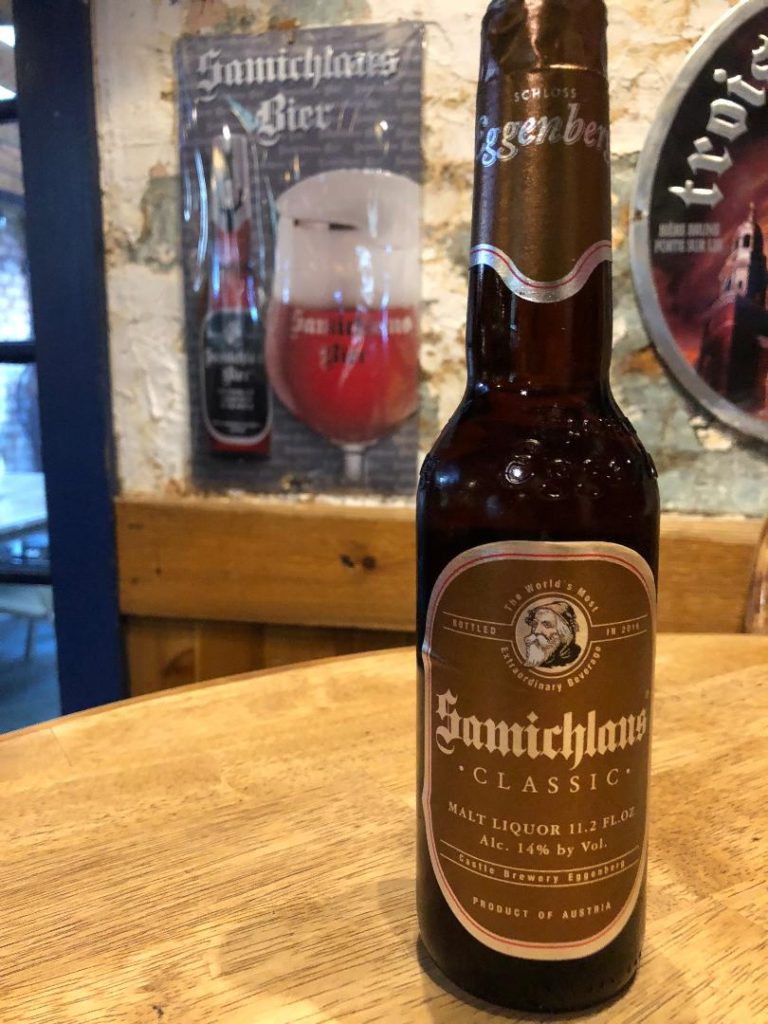 Samichlaus Schwarzes is a younger relative of the Classic, with a black beer's darker malt, coffee-like and dried fruit notes. Not a classic German Schwarzbier, more like a dopplebock with darker malts and hopefully a hint of roasted grains. It is new in this area and we look forward to trying it!
So how did these world-class beers end up at the Bier Garden in P-Town? Kevin Osfolk is a skilled negotiator, and talks his way into procuring multiple kegs of Samichlaus annually. Then he stashes them in a safe house where they sit chilling for years until Kevin decides it's time. Each year's vintage is slightly different than previous versions, and unlike most beers these high alcohol, malt-forward brews improve and gain complexity with age. So, the Samichlaus you get at Bier Garden will be unique. 
Last year a 2011 keg of the Classic was tapped and it was the finest Samichlaus we have tasted. Reportedly this year will feature another keg of the 2011! It won't be the same as last year's, as it has an additional year of aging. But, if it is anywhere near as good, we are in for a tremendous treat! The Samichlaus tasting starts at 7 PM, and it won't last long.  In 2016, the keg of Samichlaus Classic was emptied in 24 minutes. In 2017, it took a more leisurely 47 minutes. 
If you want to make sure you get to taste these bodacius beverages, contact the Bier Garden now and reserve a table for dinner. Suggest you get their well in advance of 7 pm, peruse the menu, get your dinner order in, and let the server know you are interested in the Samichlaus (either the Classic or schwarze). They will be completely booked if you wait too long, so don't tarry! The bar area is also open and it is possible to get your Samichlaus there; the bar area is first-come first-serve with no reservations accepted. 
If you can't make this event, you can buy bottles of the Classic to go from the Bier Garden and at Grape and Gourmet and you can find bottles of the Helles, a lighter colored version of the Classic, are available at Total Wine and More stores.
The Bier Garden has many events so "like" their Facebook page or check out their website to keep up with the action. They have regular Thirsty Thursday "steal the glass" events. November 29 features The Duchesse de Bourgogne. The Bier Garden is the place where many of us met and became smitten with this tartly delicious Flemish redhead. With 23 taps and over 400 beers, you are sure to find some new beers to love as well as old favorites like Aventinus (they sell more than anybody on the planet!). The Christmas ales have arrived and so while everybody else is crowding the malls, you can be doing your own holiday research in the cozy bar. The Bier Garden has an especially deep selection of Belgian ales and German lagers.  Just for grins, we counted 17 Belgian tripels on the bottle list.  And 13 pilseners. These Osfolks people aren't playing around. They have the beer, and a staff that can answer your questions and choose the correct glass. They also serve wine and spirits, so you can lure your non-beer drinking friends and possibly even convert them! While you are at the Bier Garden, check out the gift shop for all kinds of goodies, including some awesome German mustards and a St. Bernardus gift pack that will make holiday gift-giving a snap. 
The nitty gritty:  The Bier Garden, 438 High Street, Portsmouth, VA 23704; 757-353-6002; (www.biergarden.com); they're on Facebook.