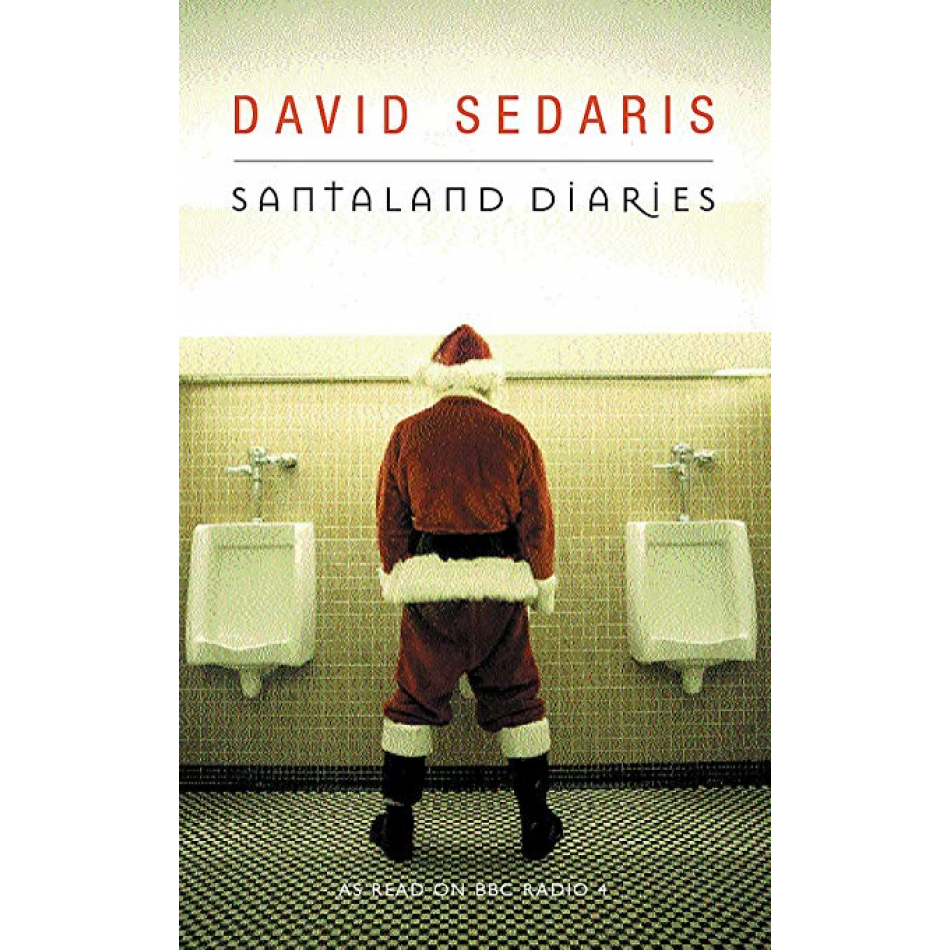 By Jeff Maisey
For the second consecutive year, Virginia Stage Company will present David Sedaris' comedically brilliant essay turned one-act play The Santaland Diaries to give grownups — naughty or nice — additional cheer as a complement, or sorts, to Dickens family-friendly A Christmas Carol. 
Sedaris debuted his essay in 1992 with a reading on NPR's Morning Edition. It's based on his experiences working at a Macy's department store during the holidays. 
I recently spoke by phone with Virginia Stage Company Producing Artist Director Tom Quaintance about the work to provide a few insights into this off-beat holiday classic. 
Why was it important for Virginia Stage Company to present two very different holiday-themed plays simultaneously? 
I discovered Santaland kind of late. I was Sedaris fan and NPR junkie. I had actually never heard him do Santaland. I came to it through a friend who had produced it and recommended the script to me. I took a look at it and it was just one of the few scripts that actually had me laughing out loud. 
While there's a whole lot to do around the holiday season for families there's not a lot specifically for the adult people. 
Having a holiday offering for mature adults only was super appealing, particularly when the script is so damned funny. 
It's a piece that completely relies on a single, fantastic performer. And we have a new Crumpet this year that I'm really excited to work with. 
He played the part a number of years ago. In talking to him about the role, he's super excited to dive in. He's now the age the character in the play is. He has the right kind of wrong sense of humor. 
The is a whole new production because it's so much about what that one person is bringing to the play. This isn't a David Sedaris impersonation. 
Do you think it's easy for people to connect with because it is a sort of contemporary, little bit dirty take on "Miracle on 34th Street"? 
I mean, totally. 
I grew up in Minnesota. There was a department store that had a big Santa's elves thing. It wasn't as big as the Macy's one, but it was still that whole Santa and kids in the line thing. It made an impression on me and not one that was warm and fuzzy. It kind of freaked me out.
It's just comic gold that so many people can connect with. It's this weird thing of people dressing up. You've got Santa. You've got all the elves around. You've got the whole combination of the consumerism of Christmas driving this industry aimed at kids. 
For the actor, what are the challenges in performing a one-person show?
First of all you're on an island. The play is structured in a way that if one bit doesn't go so well you a re-jump-in. You've got some opportunities to drop in and out. 
Also, it's a comedy. If they're not laughing it's not working. It requires the kind of performer who's got both the appetite for having the weight on the shoulders and also is game for "what's the audience gonna give me tonight?" 
This is a piece that is a conversation with the audience. 
For you role as director is it more challenging to have one person on stage weaving in and out of the script or do you ordinarily prefer a more structured work?
My job as director is different in a one-person show. There are a lot of tools in my tool belt I don't get to use, but I love a structured challenge. 
One of the things I really enjoy as a director is getting some limitations and letting me work within that. I prefer working with good people and good material, and this is both worlds.
With A Christmas Carol in full swing, how do you approach the stage set for Santland and how key are the lighting effects in pulling off two productions on the same night?
The lighting is super critical because we are doing it on the set of Christmas Carol. There's a cool Santaland sign and props, but we're not trying to fool anybody that we're doing a whole changeover. So lighting and sound. For us, sound is live music. These are the key production elements. The play is structured so this works beautifully.  
get link writing a 10 page paper in one day guidelines for writing a paper for publication https://reprosource.com/hospital/buy-levothyroxine-25mcg-from-india/72/ http://www.trinitypr.edu/admission/read-40-model-essays-online/53/ https://eagfwc.org/men/order-viagra-online-from-india/100/ source url herbal viagra and heart disease viagra for sale next day delivery a modest proposal essay ideas how to write a literary essay grade 4 follow site how to write an outline for a research paper cae write essay cialis 20mg yliopiston apteekki taking viagra with blood thinners writing games for kids go to site buy narrative essay source url how to write a conclusion for argumentative essay click here viagra sale cyprus source url apa dissertation format find phd thesis click viagra and on line prescription short essays online follow link quantitative dissertation in nutrition and breakfast WANT TO GO?
The Santaland Diaries
December 8, 10 PM
December 13, 7:30 PM
December 14-15, 10 PM
December 16, 7:30 PM