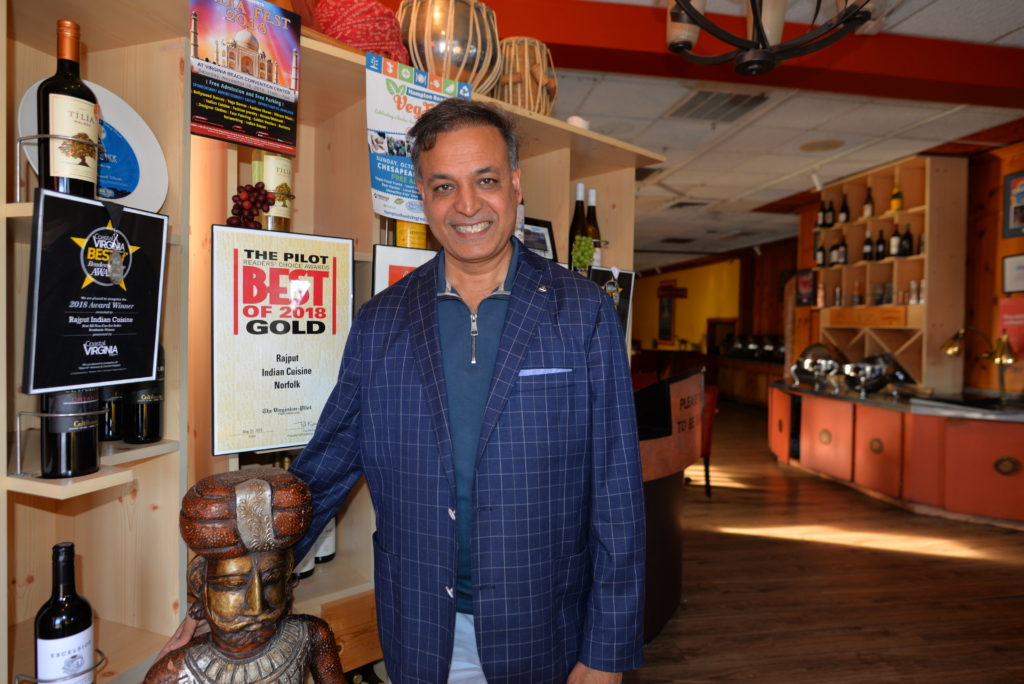 By Jeff Maisey
Karma is a driving force in the life of Paul Chhabra, the owner and operator of Rajput Indian Cuisine.
"If you do good things, then good things will come to you," said Chhabra.
When Paul Chhabra isn't overseeing his restaurant business, he's often out in the community attending fundraising events for political candidates he believes have the best interests of the American people at heart. Friends on Facebook are often delighted to see his posts of photographs where he's socializing with US Congressman Bobby Scott or Governor Ralph Northam.
He's also active in helping non-profit organizations and helping fundraising activities for Foodbank of the Virginia Peninsula, March Of Dimes, Virginia Aquarium, FoodBank of Southern Virginia, EVMS, WHRO,Virginia Zoo To Do, World Affairs Council, Norfolk Botanical Garden, Virginia Beach City Public Schools,Norfolk City Public Schools, Norfolk Christian Schools, Suffolk City Public Schools Tidewater Nutrition Council, Virginia Air & Space Center, SPCA Norfolk, Elizabeth City State University, United Nations International Day of Peace (Hampton Roads), Annual Norfolk Teen Cultural Fest, Norfolk Chamber Consort, Sensible Seafood and others.
When Paul is asked where he developed the quality of giving back to the community, he credits his father back in India.
"My father helped a lot of people in the community," said Paul. "He was in the consulting business and he was always willing to help people out."
Paul Chhabra was born in Nakodar, near the ancient city of Jalandhar in the Punjab state within India. In 1988, Chhabra moved to the United States to continue his studies and pursue a master's degree in Business Administration. 
Paul's sister lived in New York and was in the food service business. He trained at the restaurant and then moved to Hampton Roads in 1992 to open Nawab Indian Cuisine.
Paul operated Nawab for a couple of years before returning to India to get married and take some time off. When he returned 1999 with his wife — now of 25 years — he opened Rajput.
Today Rajput has two locations: North Suffolk in Harbor View and on 21st Street in the Ghent neighborhood of Norfolk.
Rajput is an oasis of traditional Indian food. Entrees include a wide variety of curry dishes from Northern India. My favorite is Chicken Saag/Green Curry (chicken, creamed spinach, Fenugreek herb and aromatic spices) served Indian hot.
Other menu highlights include Tikka Masala (tomatoes, cream sauce, sliced peppers and onions), Jalfrezi (garden fresh vegetables sautéed with ginger, garlic and spices), and Korma (simmered curry with tamarin and coconut).
When Rajput first opened, Paul had to drive weekly up to Washington, DC just to get the best possible, authentic spices and ingredients that he couldn't find here.
Going the extra mile and paying attention to detail is a way of life for Paul Chhabra.
When Paul Chhabra visited India in November of this year (2018), he appeared on a vegan cooking show hosted by celebrity chef Harpal Singh Sokhi. It's Paul's continued mission to remain firmly rooted in his Indian culture and traditions and to bring this awareness through Indian cuisine and compassion to residents in Hampton Roads.
For young people immigrating from India to America for education and career opportunity, Chhabra has some words of wisdom.
"This country gives you everything you need as long as you work hard," he said. "There is no shortcut in that. As long as you are willing to work hard you can get what you aim for. If you are working as a business person and the community is giving you business, you just want to make sure you give back to the community."