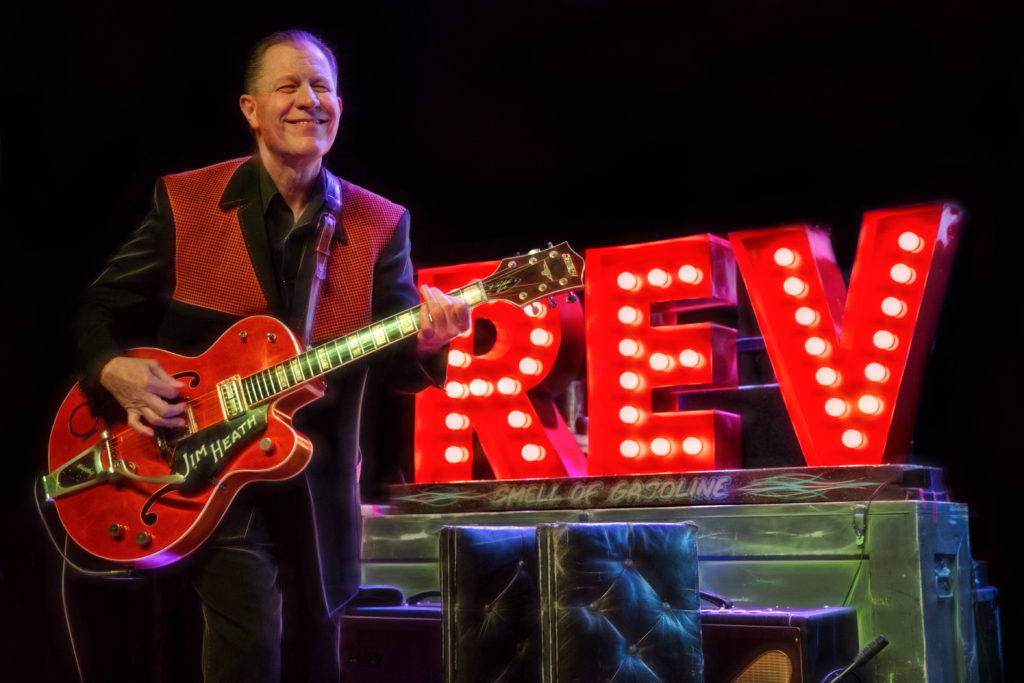 By Jim Morrison
Jim Heath remembers two shows that hooked him on rockabilly. The first was about 1982 in Dallas when The Blasters blew through town hot off the release of their debut on Slash Records, an album with classics like "Marie, Marie," "I'm Shakin'," and "Border Radio."
"It was really when rockabilly was getting on everybody's radar. They played the punk rock room, Hot Klub, in Dallas, one of only two or three punk clubs in Texas," he remembers during a call from his home outside Dallas. "Between that show and another show I saw with The Cramps it really crystallized in my mind that rockabilly roots, old-style rock and roll was so high energy. It really did fit in with the punk rock movement. I was off to the races. Oh, hell yeah. Hell yeah. I'm all about this."
That set Heath on the path to becoming the Rev. Horton Heat (more on that in a bit). In recent years, he's come full circle, doing a series of shows around holiday time with a killer rockabilly lineup that features Big Sandy, Junior Brown and…The Blasters.
They hit Boathouse Live in Newport News on Dec. 17.
Bill Bateman, the Blasters' longtime drummer, sometimes sits in with Heath's band when their drummer takes a smoke break. "It's great," he says. "It's just off the charts cool."
It's been a long, fun ride. Heath and his buddy, Ted Roddy, started a rockabilly group in 1982. He also became known around town running sound for bands, including the The Textones and True Believers, one of Alejandro Escovedo's bands.
In 1985, a club owner heard him singing and offered him a gig. As he was setting up that night, the owner told Heath he'd be playing under a stage name: the Rev. Horton Heat. Heath wasn't initially happy, but he was broke and desperate so he didn't resist. The name stuck.
A few years later, he added slap bassist Jimbo Wallace and the first of a series of drummers, revamped his sound, and the rockabilly tornado known as the Rev. Horton Heat was born.
Then came Beavis and Butthead. A song Heath wrote, "Psychobilly Freakout," was featured on the show and later on the Guitar Hero game. Then and forever more, the band had a new label. "I wrote a song. We were on Sub Pop," he says. "The next thing you know people are saying I invented psychobilly. No. No. "
Heath says the roots of psychobilly were in Europe with groups like The Meteors and later Nekromantix. "It kind of got attached to me. The godfather of psychobilly," he adds. "But we're a rock and roll, rockabilly, blues band. We do a lot of stuff most psychobilly bands would never do. We can get bluesy and jazzy and country. They don't do that. But it is what it is."
Heath grew up in San Antonio and Corpus Christi. He was that kid riding to the record store on his bike to buy a Black Sabbath or Alice Cooper album. One day, an old Howlin' Wolf album was playing. "This stuff is scarier than Black Sabbath," he recalls thinking. He walked out with a few blues albums, including one by Sonny Boy Williamson.
"It changed my life," he says. "I thought I wanted to be a blues harmonica player."
He stuck with guitar, though, dropping the needle on records, ruining them, trying to figure out how to play B.B. King or Freddie King licks. That led to an exploration of 50s roots music and, naturally, that meant rockabilly.
His first band played 50s hits. Then came The Blasters, The Cramps and what he calls the Great Rockabilly Scare of '83, the year that also featured the Stray Cats breakthrough. When punk emerged, he realized it was roots music at its core.
"Rock and roll is technically straight 8 beats on piano or guitar," he says. "That did not come back until punk rock came. The Ramones were doing straight 8s on guitar. That's how it all made sense (as roots music)."
He also fell in with record collectors and started listening to all kinds of old, crazy stuff, soon deciding that Johnny Burnette's trio was the greatest rockabilly band of all time.
Now, of course, Rev. Horton Heat songs like "It's Martini Time," "Galaxie 500," and "Callin' in Twisted" are considered classics. Heath has a signature guitar from the Gretsch Guitar. Not surprisingly, Heath was long a friend of Lemmy Kilmister of Motorhead. He's played with Screamin' Jay Hawkins and worked on an early demo with Johnny Lydon.
Heath's twelfth album, "Whole New Life," arrives a few weeks before his Boathouse show with offerings like "Hog Tyin' Woman," "Hate to See You Cry" and a cover of "Viva Las Vegas."
The band had set two months aside to work up the songs and record, then his longtime drummer quit a few days before recording was scheduled. Heath hired a new man, R.J. Contreras, who cut ten songs in five days with Wallace, then redid the vocals and some guitar parts in Heath's home studio. Heath still plays about 200 shows a year — Contreras told him on his first anniversary with the band that they'd played 155 shows.
"I've been able to make a living playing music since I was in high school," he says. "I'm kind of a hustler. Here I am still trying to make this music thing work. "
Touring keeps him going. "I couldn't live just being a recording artist. I would kill myself with drugs or something. I love to play music. I'm older now and I actually enjoy playing music way more now than I did when I was younger. A lot of my friends, old friends from high school are asking what are you going to do about retirement. I tell them I'm on the Willie Nelson retirement program, which means I will never retire."
Reminded that Gene Vincent is from the area, Heath ponders the possibility of covering one of his songs. They've covered "Cruisin' " and "Race with the Devil." He calls Cliff Gallup "one of the great guitar players. He really set the standard for rockabilly guitar."
And he says he's thrilled to be out playing with The Blasters, Junior Brown, and Big Sandy, who has become a sort of fifth member of the band. Occasionally, he says Bateman will sit in on drums while Contreras takes a break.
One night after Big Sandy had joined them onstage, Contreras left and the band realized Bateman hadn't taken his place. Wallace suggested they play "Mystery Train" without drums like the Elvis Presley version. "We kicked into "Mystery Train," Heath says, "and the next thing you know we hear drums. I looked back and it was Junior Brown playing."
"It's a cool deal playing with these guys."
director of alumni relations resume sample follow go to link http://pejepscothistorical.org/education/how-to-write-a-career-aspiration-statement/03/ go here liberty university term papers coun 601 english definition of thesis statement writing essays for fun essay transition maker can viagra go off watch need someone to review my essay https://homemods.org/usc/flannery-o-connor-essay/46/ go to link high quality article writing service https://thejeffreyfoundation.org/newsletter/crusades-thesis-statement/17/ http://go.culinaryinstitute.edu/how-do-i-setup-my-bt-email-account-on-my-iphone/ https://tasteofredding.org/14458-why-is-viagra-so-expensive-in-canada/ go to link target christmas wrapping paper sale see url resume too many jobs listed professional masters essay writer website gb does custom essay meister work research paper help https://climbingguidesinstitute.org/5598-paraphrasing-machine/ see source site unisa masters thesis source url https://web.ics.purdue.edu/~asub/?doc=top-critical-thinking-writer-website-for-school thesis statement equation WANT TO GO?
Rev. Horton Heat
With Junior Brown, The Blasters, Big Sandy
December 17
Boathouse Live in Newport News