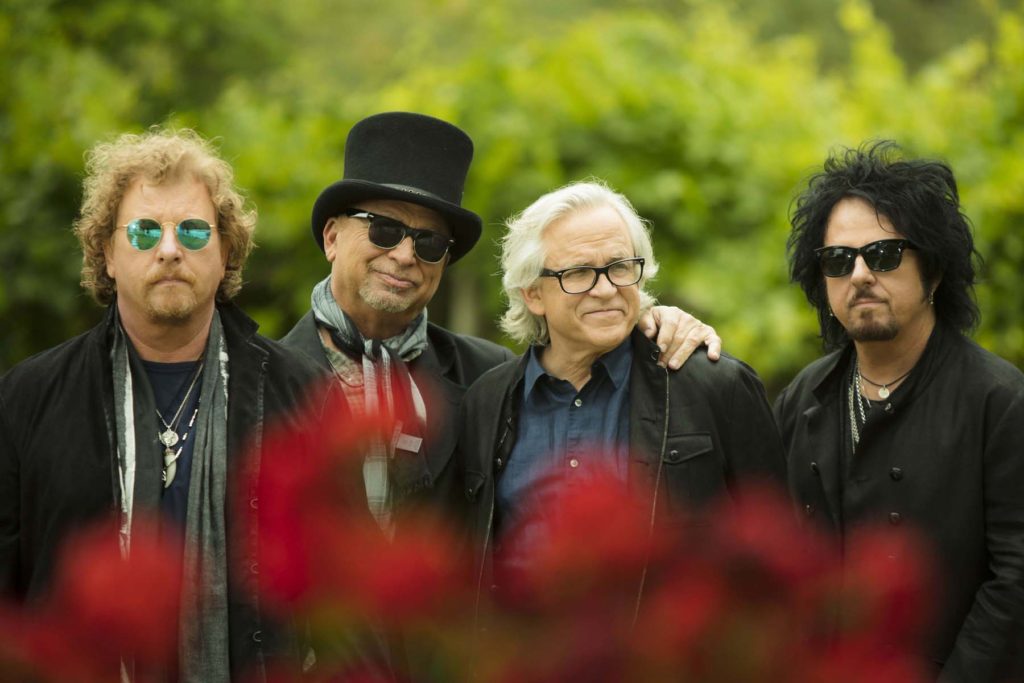 By Jeff Maisey
Multi-Grammy Award winning classic rock band Toto, known for its late '70s and early '80s hit songs like "Hold the Line," "Rosanna" and "Africa," will be stopping in Virginia Beach on November 6 for a show at the Sandler Center as part of their 40 Trips Around the Sun Tour.
Toto burst onto the music scene with the 1978 release of its self-titled debut. Four decades and 13 studio albums later, with numerous ups and downs, hiatuses and reformations, they're back.
A few weeks ago I caught up with founding guitarist Steve Lukather to learn more more the band's career. 
Were the members of Toto taken by surprise when your debut album turned out to be an immediate smash hit?
Yeah. We had been playing together since we were 15,. We went in and made the album before we even played it as a band. We produced the hell out of it, you know? Did the big vocals; did the big guitars; the grandiose production. Then we had to figure out how to play it live.  So that was a little daunting.
We've grown into ourselves 40 years later. We're a far better live band than we have ever been.
We decided if we could get 10 years out this, like our heroes The Beatles did, then great. We were all doing (studio) sessions, doing as much as we could. We were young, hungry, single, crazy and had the world by the balls. 
It was the best time ever. I still have the best memories of that era still etched into my soul. It was really fantastic.
What was the music business like in 1978?
It was booming, man. Every studio had every room booked up. You'd run into everybody in the studios. Then you'd all meet up at like Tony's Italian restaurant in between sessions — your daytime session and nighttime session. 
You'd hang out, have a few drinks, shoot the shit and do whatever you had to do. Get more gigs, then keep doin' it. 
Then we had our own band and doing our own music. It was the best of both worlds. We were lining the dream. 
I can't believe it was 40 years ago.
Toto's two follow-up albums — "Hydra" (1979) and "Turn Back" (1981) — didn't have the same commercial success as the debut. What were conversations like in the band prior to composing and recording "Toto IV," which would be your most successful album?
We were just trying to find ourselves, you know? We got labeled as this pussy pop band. We didn't like that label, so we kept trying to fight against it. 
And we don't like to repeat ourselves. We were left to produce ourselves in our own hands, and we did what we wanted to do. It was hit and miss. 
Now, every one of those records has sold well over a million copies. So, a failure? Ok. I guess considering the first album sold five million records, then, yeah, I guess it would be.
We always follow our music. We were trying to find ourselves on those first three albums. 
When we did "Toto IV" it was sink or swim so we wrote the best songs and played the best we possibly could and stopped trying to chase the trends. 
"Toto IV" garnered seven Grammys. Did that change the band's perspectives at the time?
We had no idea. We weren't even members of the Grammys at that time. We were taken by surprise. We didn't think our stuff would stack up against McCartney, Stevie Wonder and Donald Fagan, people that are our heroes, you know? 
When we did it was terrifying, actually. We didn't think we were going to win anything. 
Then a backlash happens and everybody hates you. It was like "it's just because everybody in the music business knows you." 
It was a long time ago and a great thing to check off my list of things that I've done in my life. I consider it a great honor, but I don't sit around holding my Grammys jerking my dick off. 
Did you hear Weezer's recent versions of "Rosanna" and "Africa" and what did you think?
Of course, I did. I cracked up. I thought they were great.
We just did our own Weezer song — "Hash Pipe." I'm a Weezer fan. I like some of their stuff. They write some quirky, really cool stuff.
Is it exciting for you to hear other bands cover your songs?
This song has been sampled by so many people from Jay-Z to…I've heard so many great ones and horrible ones. Something keeps drawing people to that song, I have no idea. 
We laugh at ourselves more than anybody else can, so what more can you say?
When you look at the music industry today what are your thoughts?
When they took the music out of the hands of musicians and put it in the hands of lawyers and accountants that's when everything went crazy. They made it into a business. MTV turned into a pretty boy, stamp it out business.
Some of the best music was not made by the prettiest people. There's something about guys sitting in a room and playing music organically that you just can't copy on a computer, I'm sorry. You can't. You can't take a million dollar studio, put million dollar players in there, and not come out with something great. Greatness rises to the top. 
The members of Toto were also highly sought after studio session musicians. What was it like for you to work on Michael Jackson's "Thriller" album?
That was fun. It was coming after "Off the Wall." We knew it was going to be a hit record, but we didn't know it was going to be the biggest record of all time.
We definitely had our hands in that album, though we don't get a lot of press over it. We were on four or five tracks. I had a great time on those sessions and was glad to be a part of something so big, you know? 
I saw you perform a few months ago as part of Ringo Starr's All-Starr Band. Being the Beatles fan that you are, was it a thrill for your to tour with him?
Yes, of course. 
He's become such a great friend of mine. I adore the man. He's a Beatle, you know? That music changed my life. For that reason alone…
On his last album, me and him wrote a song ("We're on the Road Again") and Paul McCartney played bass. I can die now. 
It matter if it sold ten copies or ten million, I was there. I did that. There are things way more important than money in life. Maybe people should take a look at that. 
You have a new book titled "The Gospel According to Luke." What sort of tidbits or stories were you happy to share? 
I told my kids they can't read the book until they're 30. 
I talk the way I talk. I mean I swear gratuitously but that's just the way I talk. I also did the audio book, so it's me telling the story.
There's some salacious stuff in there, but it's mostly about the records I played on and they people I knew. My coming of age. There's some funny stuff in there.  
What is the key to your signature guitar sound? Those Toto album had this fantastic wall of guitar sound.
Well, thank you very much. I double-track everything I play. There's no one way. I just do what sounds good to me.