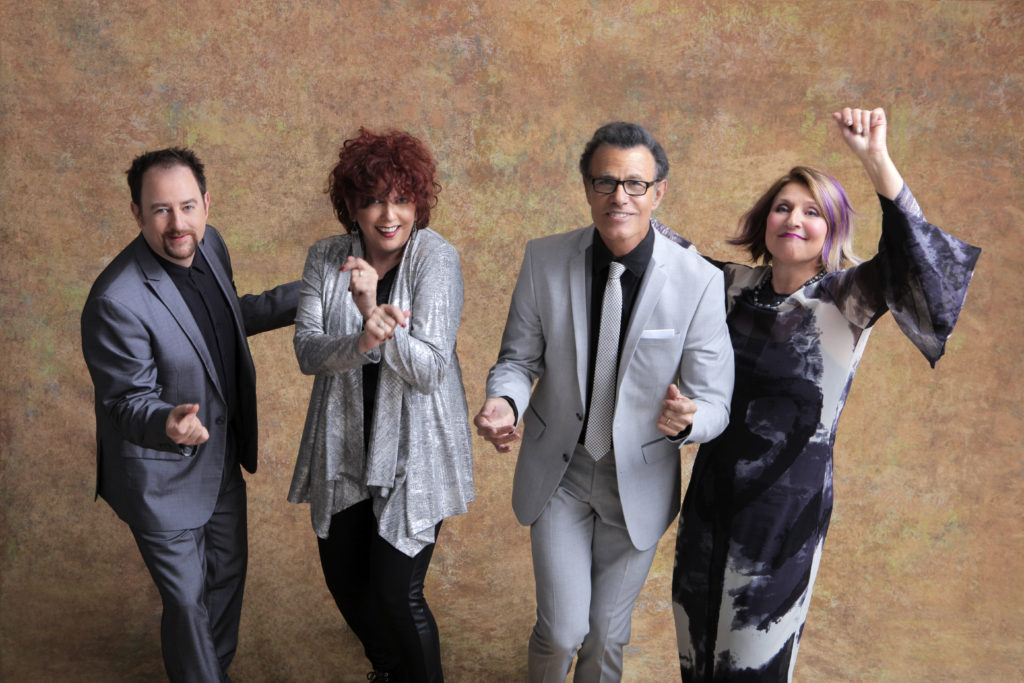 By Montague Gammon III
The ten Grammy winning Manhattan Transfer, perhaps the only important musical group born in a New York taxicab, brings its multi genre, four-part harmonies to The American Theatre in the Phoebus section of Hampton Dec 1 and 2 with their Manhattan Transfer Holiday Show..
The long lived foursome got its 1972  start when the late Tim Hauser – ex MadMan marketing exec, active singer, and at the time a New York cabbie, had as a fare a young lady named Laurel Massé. A vocalist herself, daughter of an opera singer and granddaughter of one of Fred Waring's Pennsylvanians, with a fondness for Casals, Beethoven and The Beatles, she knew of Hauser's short lived, one-album earlier group, also named The Manhattan Transfer.
Another passenger later invited Hauser to a party where he met Janis Siegel who had one recording under her belt, a 1965 single with a group called Young Generation; Massé's then boyfriend introduced them to Alan Paul, who was then performing in his second Broadway show, Grease. He was a young veteran of the Great White Way, having been in the original Oliver! as well.
In 1974  that foursome got written up in Newsweek, and by 1975 they had won enough acclaim to get their own TV summer replacement series – their self-named comedy variety hour lasted for all of three weeks but did give Bob Marley his first US TV appearance.
In the 46 years since Massé and Hauser first met there have been only two permanent changes in the group, he passed away in 2014 and she retired from the group to have a solo career.
Cheryl Bentyne replaced Massé; like her predecessor she is the daughter of a musician father. Bass-baritone Trist Curless is the fourth member of the current group.
Marked by the variety of musical styles they perform, in 1981 Manhattan Transfer became the only group to have won Grammy Awards in both the Jazz and Pop categories. (They won a total of 3 that year, Pop for "Boy from New York City, Jazz for "Until I Met You (Corner Pocket)," plus an award for Gene Purling's arrangement of  "A Nightingale Sang in Berkeley Square.")
Their  all-jazz album, Vocalese, also made Grammy history in 1985 with its record 12 nominations, garnering two awards.
Jazz, pop, do-wop, Latin and bossa-nova, rhythm and blues and now even a touch of hip-hop all come within their vocal compass. They have recorded works by the Gershwins, and album tributes to Louis Armstrong and Chick Corea; they are in the Vocal Hall of Fame and their voices have been heard in films such as Dance with Me, A League of Their Own and Sharkey's Machine, on the TV shows "Dinah" and  "Austin City Limits," with Johnny Carson and even in a 2001 TV special called "Christmas at the Vatican."
Thirty albums after the group was founded, The Manhattan Transfer Holiday Show will feature hits from two seasonally themed albums: 1992's "Christmas Album," and "An Acapella Christmas," from 2005, along with selections from their March 2018 album "The Junction," their first album since 2009.
Jazz Weekly called "The Junction" simultaneously "TImeless and timely,"  Online Jazz Times reviewer Christopher Loudon  said it " joyfully celebrates the group's seemingly limitless musical vocabulary."
Founding member Paul has commented "We were reborn twice; once when Cheryl joined the group. And now, with Trist, we're reborn again."
WANT TO GO?
The Manhattan Transfer Holiday Show
8:00 p.m. Dec 1
3:00 p.m. Dec 2
The American Theatre
125 E Mellen St, Hampton
www.hamptonarts.net/the-american-theatre 
757-722-2787