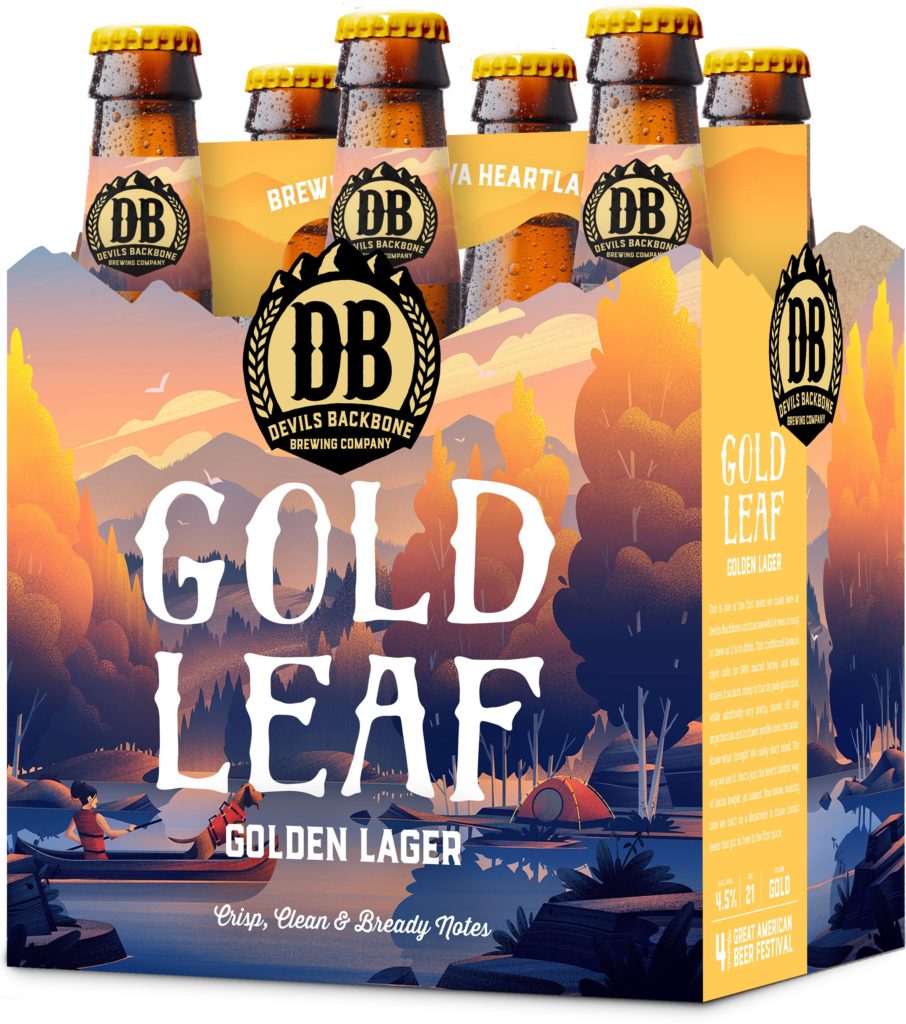 By Jeff Maisey
It's been 10 years since Devils Backbone Brewing Company opened its well-known brewpub in rural Nelson County, and today the brewery is remembered as a trailblazer that helped raise the bar for all craft breweries in Virginia. 
"Looking back on my 25 years in the craft brewing industry from Portland in the early '90s to Denver in the mid-'90s to Starr Hill in Charlottesville in the 2000s, reminds me of the growing waves in the industry," said Mark Thompson, co-founder of Starr Hill Brewery and current owner of The Brewing Tree Beer Company in Afton, Virginia.  "The first wave in the early '90s was happening almost exclusively in the North West.  The second wave started to expand to places like Denver by the mid-'90s, and it really wasn't until the mid to late 2000s that the wave began to rise in Virginia.  When I founded Starr Hill in Virginia in 1999, there were only seven breweries in the entire state, consumer demand was low and overall beer quality was at times suspect.  When Devils Backbone emerged in 2008, it solidified a tipping point of consumer acceptance, elevated quality, and solidified demand for all craft beers in the state."
"There are many things that have elevated the Virginia craft beer scene, and Devils Backbone played a huge part in this surge," said Kevin O'Connor, founder and president of O'Connor Brewing Company in Norfolk. "From producing award-winning world class beers from a brewpub in the mountains of Virginia to ushering in the new "era" of breweries with their support of SB604 (the Tasting Room Law) to really pushing the envelope with spreading their beers around the Commonwealth with their state of the art production facility, Devils Backbone has helped secure Virginia as a beer destination.  I am proud to be their friend and proud of what they have accomplished." 
The idea for Devils Backbone came to Steve Crandall on a trip to Germany. Crandall was a builder by trade. He loved the beers styles in Europe and thought why not build a brewery in his home state of Virginia. 
Crandall called the Brewers Association with his idea and they provided him with a how-to book.  He took the book to heart and along with wife Heidi and brewer Jason Oliver began planning.
From the start the idea of building a brewery/brewpub in a rural area went against conventional wisdom at the time, especially when craft beer had not taken root in Virginia at all. 
"We got a lot of pushback from folks that said this would never be successful," recalled Steve Crandall. 
Originally, the Devils Backbone brewpub was going to be part of a residential development at the base of Wintergreen Mountain on Route 151. The grand plan for building houses around the brewery fizzled when the stock market crashed that year — 2008. 
With a newly constructed brewpub in the middle of nowhere and a tanking economy it seemed the brewpub might be headed for choppy waters out of the gate. But that's not what happened.
"Oddly, at the same moment we couldn't make enough beer," said Crandall. "The beer just took off. We became very quickly the darling of the craft beer industry." 
Limited by the production capacity at the brewpub, Devils Backbone opened a full-scale manufacturing facility down the road in Lexington, Virginia.  While the Crandalls and a small group of investors were bullish on the brand, the financial risks were daunting. 
"We had the confidence and maybe the stupidity that at age 52 years old Heidi and I put up every dime we ever earned in our lives, our home, our land and our accounts to go out and borrow $5 million to build the packaging brewery in Lexington." 
Devils Backbone Brewing Company quickly gained national and international acclaim winning prestigious awards at the Great American Beer Festival and World Beer Cup.
The brewery was also instrumental in getting favorable legislation passed in the Virginia General Assembly to the benefit of all craft breweries in Virginia. Devils Backbone also hosted the Virginia Craft Brewers Guild festival and Virginia Beer Cup competition on the grounds of the brewpub — at no cost. 
Like pop stars, a successful brewery needs that one beer that everyone gravitates to — a greatest hit, if you will. 
While Devils Backbone's many award-winning beers such as Gold Leaf Lager, Baltic Porter and Schwartz Bier have gained many fans, it's the Vienna Lager that everyone loves. In fact, if you could name one beer that is at the top of the list as the best craft style beer in America an argument could be made for Devils Backbone Vienna Lager. 
"Vienna Lager is one of those rare beers that comes along every once in a while and really changes the landscape," said Greg White, Director of Import/Craft Sales, Hoffman Beverage Company in Chesapeake, Virginia.  "At our company to a large degree this has always been an easy beer to sell.  That in itself is a credit to Devils Backbone.  It has won many World Beer Cup and Great American Beer Festival gold medals including winning both in the same year which is unheard of.  I really believe that the Vienna style encapsulates what so many folks look for and crave in lagers and that is a malt forward and very smooth lager that looks great in their pint glass.  By most accounts Devils Backbone's version of this style has been the most successful well received version in the past 10 years anywhere in the America."
Today, Devils Backbone Brewing Company is part of the Anheuser-Busch/Inbev portfolio of brands. Being part of a larger company has brought some criticism, but the business move allowed Devils Backbone to expand its grounds to include a distillery. The operation still runs essentially as the same mom (Heidi) and pop (Steve) business it always has. Hikers from all over the world still set up camp and visit for a much needed break along the Appalachian Trail. 
When asked about the importance Devils Backbone Brewing Company has played over its 10 years, Greg White added this reflection.  
"Devils Backbone has been really instrumental in raising the bar for craft beer in Virginia in a multitude of ways.  From helping to galvanize a movement that pushed through SB604 and allowed for the first time craft breweries in Virginia to operate tasting rooms to helping create the Virginia Craft Brewers Guild that has given smaller brewers a much larger voice in Virginia.  They also hosted the first Virginia Craft Brewers Fest on their grounds and did so for many years until it recently was moved and that is such a popular event now.   So they have been a tremendous help in creating opportunities for so many others in the Virginia craft brewing industry.  Really though their greatest and most important achievement that made those other things possible was their ability to produce truly world class and award-winning beers on a consistent basis.  These beers have opened so many eyes to what craft beer is and could be in Virginia."