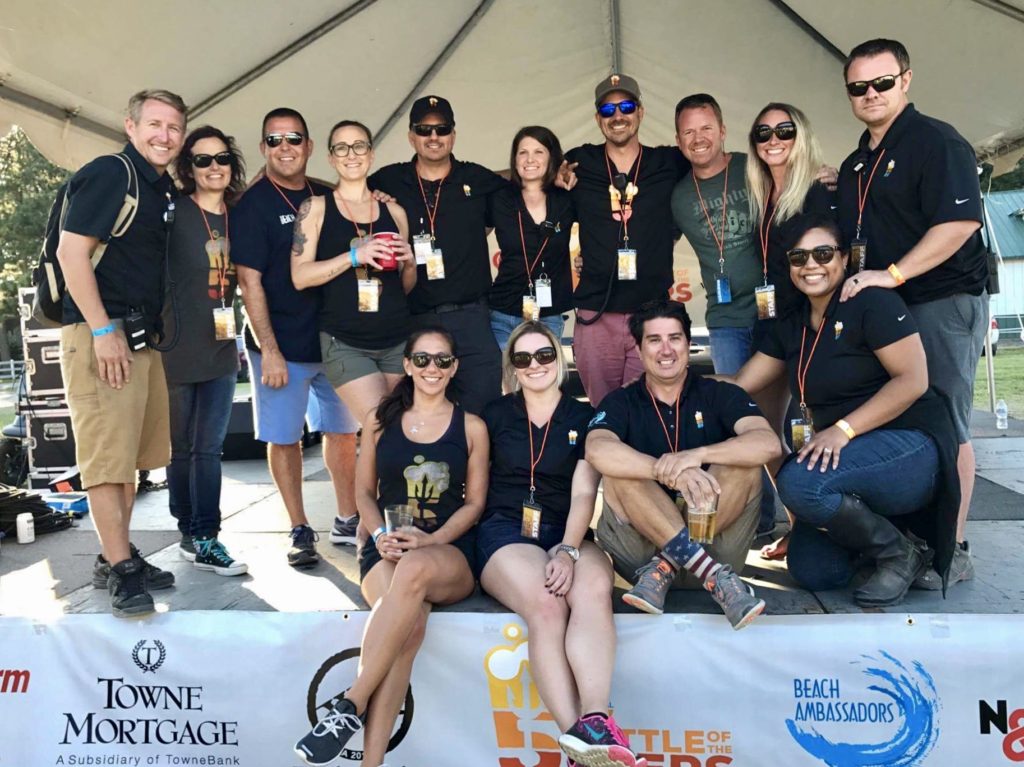 By Jeff Maisey
What better location to wage battle than at a military reservation. That's where this year's 757 Battle of the Beers will be held — Camp Pendleton in Virginia Beach.
Camp Pendleton was constructed in 1912 and served primarily as a riffle range for the state militia. Today it is funded through and used for training by the Virginia National Guard. 
On October 20, however, the Beach Ambassadors will host an open-to-the-public Battle of the Beers where 30 of Coastal Virginia's craft breweries along with Sly Clyde Cideworks will compete for the votes of attendees and judges. 
I recently caught up with Beach Ambassadors co-founders Shawn Fischer and Andy Beale to get the latest, pre-Battle intel. Here's what they had to share. 
How did the 757 Battle of the Beers concept come together?
Andy:  The concept came together over evening beer-storming, I mean brainstorming, sessions.  In late 2012/early 2013 craft beer was just starting to be a thing in Hampton Roads, and we saw how people were accepting of the movement early on.  There weren't very many festivals out there that brought all the local craft producers yet, and we decided the timing was right to showcase local beer and raise some money for charity at the same time.  The first event was held in early August 2013 at Tapped Gastropub in Hilltop and Alewerks, Back Bay, O'Connor, Beach Brewing (now Reaver Beach), Smartmouth, St. George and Young Veteran's were the first participants.
VEER: What was the feedback you and Beach Ambassadors received from both the participating breweries and attendees?
Shawn:  Feedback has always been overwhelmingly positive.  Admittedly, it gets harder and harder to differentiate ourselves from other festivals each year.  It was easier to impress patrons 5 years ago than it is now.  Most of the time, the positive feedback comes from our charity focus and the inclusion of all 757 brewers and not just those that are distributed by certain distributors.  Typically, any complaints come from the years when the weather was unbearably hot.  We now try to aim for a fall date.  This year, when Hurricane Florence scared us off of September 15, many were pleased that we'd be moving to later in October based solely on the hope of cooler temps.
VEER: How has the event evolved and has attendance increased?
Shawn:  Its always been about the growth of craft brewing in Hampton Roads.  In 2013, we had 7 participants….now we have 29 brewers and a cidermaker.  I have been around craft beer for over 20 years and never dreamed this area would support so many brewers.  Brewers of all sizes are thriving and a big reason for it is the fact that they actively participate in their communities.  Our event is a celebration of just that.  While I personally didn't lead the charge in 2013, I'd think our focus back then was more on the charities.  Today, the focus is shared evenly between the charities and the brewers themselves.  For this reason, the brewers really support this event.  They attend and physically participate in the event which really isn't the case for most festivals.  Last year, for our 5th Anniversary, we rolled out The Battle of the Brewers as a part of the event.  This "battle" is a fun way to get the brewers involved and to compete in something besides brewing.  We partner with Backyard Sports Club in a 3-round competition consisting of beer-themed games and trivia.  They really enjoyed it last year and hope to see it become even bigger this year.  The winner's charity gets a chunk of the proceeds.
VEER: Can you share the amounts of money raised as a result of the event and the charities benefiting from this?
Shawn:  757 Battle of the Beers has raised (approximately) $84,000 in 5 years.  This year, we hope to surpass the $100,000 mark.  Benefiting charities have included St. Mary's Home in Norfolk, Child Development Resources in Williamsburg, Chesapeake Care Clinic, UDT Seal Association, LLS-Light the Night, Camp GROM, CASA, and many others.
VEER: What's new for the 2018 battle?
Shawn:  Well we have a new location!  We enjoyed our years at Hunt Club Farm but a scheduling snafu had us take another look around.  The folks at Camp Pendleton have been super easy to work with and we love the fact that they have such an open area to showcase.  It's outlined by trees that will offer some shade and also offers plenty of on-site parking…which is always an issue as you grow.  Aside from that, we are asking brewers to brand themselves a little more this year.  This has been a request for a while and is a part of us evening up our focus on the charities and the brewers.  Battle of the Brewers will also be bigger and in a more central location with some seating for patron viewing…and cheering!  Lastly, we are adding 3 additional brewers and for the first time, a cidermaker in Sly Clyde Ciderworks out of Hampton.  While the cider can't be entered into the beer categories, we feel that it goes hand in hand with what the brewers bring to the community.  Who knows, we may eventually see a cider division at this thing down the road.
What are your future plans for this event?
Shawn:  757 Battle of the Beers is now a part of Hampton Roads culture.  We feel great about that.  The goal is to keep it going and keep it growing.  The challenge though, is that Beach Ambassadors is, and will probably always be, a small organization.  We are 100% non-profit and not one member makes a penny from what we do.  We are made up of local men and women who are professionals and entrepreneurs who have a unique drive to support the community in creative ways.  With us all having day jobs, it limits our time to really go out and grow the organization.  We lean on the community to support our events through sponsorships right down to the individual event tickets.  As long as this part grows, so can the event.
WANT TO GO?
757 Battle of the Beers
October 20, 1-6:30 PM
Camp Pendleton/Virginia Beach