By Jeff Maisey
Ring, ring.
Hello, this is Norfolk calling.
Wait a minute, this is Norfolk — Norfolk, Virginia.  
At the beginning of August, Smartmouth Brewing Company president Porter Hardy IV was contacted by David Holliday, founding brewer and owner of Norfolk Brewhouse in the United Kingdom. Holliday was requesting a collaboration venture for his 2019 Norfolk Day beer. 
"Really, this is all David's brainchild and we were honored that he thought to ask us to participate," said Hardy.  "We get some crazy offers, but this one checked out and we were really excited once we started getting into the details."
Norfolk Day was created just this year as a way for Norfolk County in England to celebrate is unique culture of small towns, rural, agricultural landscape and marshy, sandy coastal gems — Norfolk Broads — dotted with lighthouses and windmills. 
Delighted with this year's inaugural celebration, Holliday wasted no time in laying the groundwork for a celebration ale for 2019.  
"The success of the first Norfolk Day in July did not go unnoticed overseas and we're thrilled to announce that next year's event will be celebrated in America – and that an awesome craft brewery from America will be joining us here in Norfolk," Holliday posted on the brewery's website. "We're brewing up a collaboration brew with the team from Smartmouth Brewing Company of Norfolk, Virginia.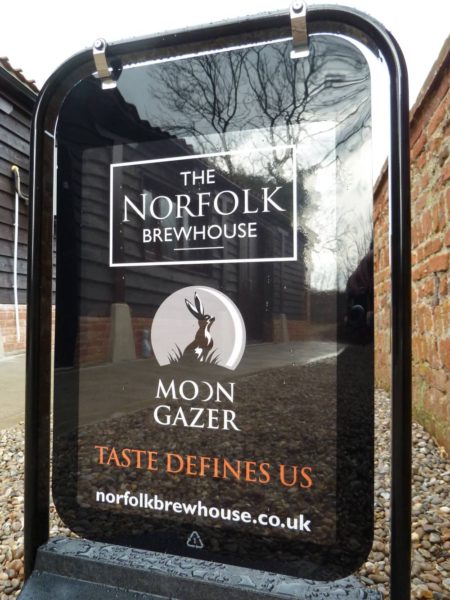 (This Norfolk Brewhouse sign says it all: Taste defines us.)
"This ambitious project will see the American brewery visit us here in Hindringham to brew a celebration ale, but will also see team Moon Gazer and some Norfolk grown Maris Otter barley shipped to America so that Smartmouth Brewing can brew up their own twist of a Norfolk ale," Holliday continued. "This will mean that beer lovers on both sides of the pond will be able to raise a glass to Norfolk next July."
Norfolk Brewhouse is located in England's barley-growing region of Norfolk County.  The independent brewery produces a range of ales under the Moon Gazer brand, including Golden Ale, Gold IPA and Ruby Ale, all at or under 5% ABV — traditional for British brews. 
It's award-winning craft lagers are under the Norfolk Brewhouse brand and include DewHopper Norfolk Lager (4% ABV) and StubbleStage Premium Norfolk Lager (5% ABV). 
Before being contacted, Porter Hardy had not heard of the UK brewery
"Maybe we've just been too focused on Virginia," admitted Hardy. "That being said, I am super excited to try some honest cask ale.  There's just something about a proper pint that's hard to beat."
As for the style and recipe of the collaboration, things are already coming together.
"David put forth the idea of using Marris Otter malt as it is made right there in Norfolk and is some of the best malt in the world," Hardy said. "That sounds like a great foundation to us.  We can get Marris Otter from our normal supplier so I think that will be the base for our beer.  For the beer brewed at The Norfolk Brewhouse, our very preliminary ideas circle around melding UK and US techniques and ingredients."
Hardy said he is working with city officials to make Norfolk Day — July 27 — a broader reality for 2019 beyond the Smartmouth tasting room release. 
In the meantime, Smartmouth Brewing Company celebrated its 6th birthday with a street party at its Norfolk location on October 13.