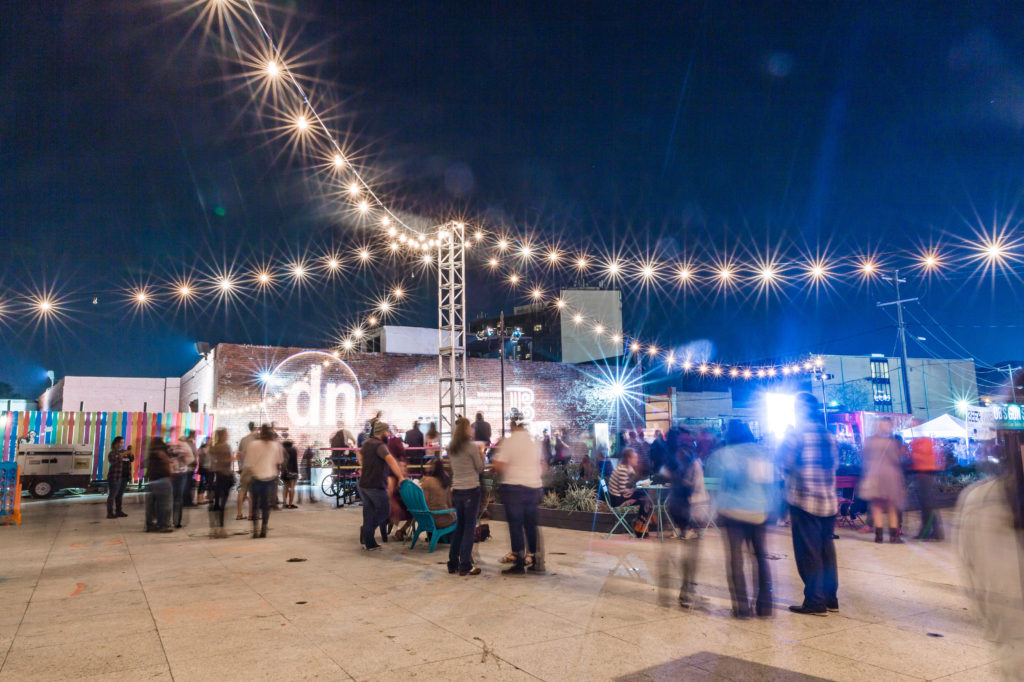 By Jeff Maisey & Cindy Mackey 
The 4th Annual NEON Festival will take place in the Norfolk's NEON District from 6 to 10 PM on Thursday, October 18 and Friday, October 19. This free festival is presented by Business Consortium for Arts Support in partnership with the Downtown Norfolk Council and the Chrysler Museum of Art.
The two-day festival encourages visitors to explore and discover the NEON District, Norfolk's first official arts district, that is anchored by the Chrysler Museum of Art and Harrison Opera House, and extends to The Plot on Granby Street. The festival taps-in to the electric vibe potential of the NEON District and draws from the passion and creativity in Downtown Norfolk and the region.
Rachel McCall of the Downtown Norfolk Council and multi-talented Janelle Burchfield are this year's co-chairs of the NEON Festival. 
According to McCall, the festival began as a way to launch the brand of the NEON — New Energy of Norfolk. 
"That was a wonderful success and people were very excited about it," said McCall. "Then it became an every-year celebration of the new stuff that is happening — new public art, new businesses. Every year we think about what's new that we're celebrating this year." 
The anchor of the NEON Fest is The Plot, a parcel of open-air land where the main stage and beer garden will be set up. At press time, the complete music lineup had not been finalized, but McCall shared that Moer will headline with Fortresses.  
Among this year's other participants are Teens With a Purpose and the Governor's School for the Arts. 
"Teens With a Purpose are going to do a big showcase," she said. 
WHRO's Curate program will showcase some of its featured artists at the Bearded Bird brewery on Granby Street. 
"We're also partnering with the Hermitage Museum, celebrating their new 3D exhibition," said Burchfield. They'll be bringing some artists into Amplified IT.
Expect new public art to be unveiled, buskers entertaining on the sidewalks, and pop-up dancers.
"One of my favorite parts in going to all the pop-up galleries and just putting art in unexpected places," Burchfield said. "I just love that." 
WANT TO GO?
Thursday Schedule:
NEON Festival at Chrysler Museum of Art with live music, food trucks and activities. Music provided by Virginia Arts Festival's steel drum band The Rhythm Project and Mosquito Cabaret, plus glow yoga on the lawn at 7 p.m. with Bhav Brigade and accompanying music by PranaMuktiBhakti.
Mural Tours at 6 and 7 p.m. leaving from Chrysler Museum
Third Thursday
at the Chrysler Museum Glass Studio with California neon artist Michael Flechtner and music from Sharkophagus. Free admission with advance tickets.
Glass Studio assistants
unveil a new rooftop neon sculpture atop the Chrysler Museum Glass Studio at 7:45 p.m.
d'Art Center's
opening night of Impression, a national printmaking exhibition, with food trucks, DJ, photobooth, a printmaking make & take, works for sale and Smartmouth Brewing Co. in the gallery. Exhibition awards announced at 7 p.m.
#workingartistsstudios
grand opening from 6 to 8 p.m. in Duke-Grace building, suite 250
Friday Schedule:
The Rutter Family Art Foundation and Commune open a new exhibition of skateboard art, Something Beautiful, curated by Jason Hawkes of Cardinal Skate Shop
TCC @ NEON, 6-10 p.m. Join Tidewater Community College at its newest venue, the TCC Pat & Doug Perry Glass Wheel Arts Center, for music by their own Blue Moon Jazz Ensemble, delicious morsels from TCC's culinary students, displays of student artwork and demos of glassblowing and ceramics. Plus, learn about the exciting plans to transform the NEON District with the new Patricia & Douglas Perry TCC Center for the Visual & Culinary Arts and Hospitality Management.
The Plot, 6-10 p.m. beer garden with O'Connor Brewing Company, food trucks, live music and performances from Kayce Laine, Teens with a Purpose, Governor's School for the Arts, and others, ending with a big dance party with MOER at 9 p.m.
Hurrah's Copeland Center features a preview of Hurrah Players' Annie, live musical performances, a magic show and poetry readings from The Muse Writers' Center and ODU's MFA poets, 6-10 p.m.
Hat-tober Fest at long-time NEON District men's clothier Stark & Legum with a happy hour, live music and a trunk show of new fashion brand, ALFA, 5-9 p.m.
SPARK Poster Show & Silent Auction presented by American Institute of Graphic Artists' Hampton Roads chapter in mural-filled Magazine Lane, 6-10 p.m.
Pop-Up Art Galleries hosted by the Copeland Center, Urban Discovery Ministries and the ViBe Creative District
WHRO's Emerging Leaders Board Talk at Bearded Bird Brewing featuring the CURATE series artists
Hermitage Museum & Gardens 3D printing art exhibition at local tech business Amplified IT, 6-10 p.m.
Mural Tours at 6, 7 and 8 p.m. leaving from the Plot
Community Art Lab with Old Dominion University professor Natalia Pilato and art education students leading a paint-by-number activity for a future mural project
Governor's School for the Arts students showcase their talents with live jazz, classical singers, pop-up dances, face painting, chalk art at the Plot and two new public art pieces, NEON Squared sidewalk murals and Flo with the Go, a fence mural
Norfolk Bike Polo Fish Bowl Expo at the Cofer lot with live music, food trucks, local artists live painting and 20-minute bike bolo pick-up matches
Cardinal Skate Shop Balance Trials on Starke Street with skateboard competitions