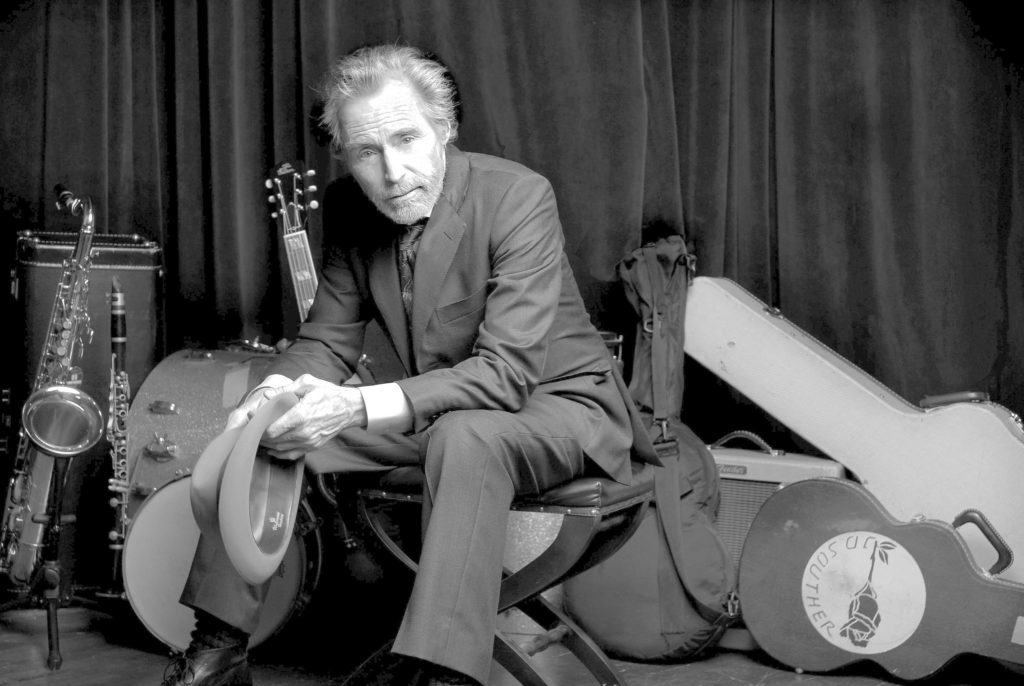 By Jim Morrison
JD Souther is on the phone at his farm outside Nashville, the dogs he adores occasionally yapping in the background.
He moved there after more than a decade at the dream home he built in Nichols Canyon in the Hollywood Hills, a house built by hits he wrote or co-wrote for The Eagles, Linda Ronstadt, James Taylor, and Don Henley, some of the iconic country rock tunes of the 1970s and 1980s, songs like "New Kid in Town," "Best of My Love," "Heartache Tonight," and "Faithless Love."
He chose California for the climate in the late 1960s — Greenwich Village was too cold for a poor songwriter — and became part of the group of friends centered on the legendary club, The Troubadour, where his first gig was opening with a friend, Glenn Frey, for Poco. A guy named Don Henley played the open mics on Mondays with his band, Shiloh, in those days.
He dated famously — Ronstadt and Stevie Nicks were lovers — and eventually released a handful of solo albums. In 1979, he had a hit of his own, "You're Only Lonely," an experience that proved to be less than he hoped. After a solo disc fared poorly in 1985, he took a 24-year break from recording. He found his way back through jazz, the music he first knew and loved.
He will turn 73 the day before he plays a solo show of songs and stories at The Attucks Theatre on Nov. 3.
How did you get to California after being born in Detroit and raised in Texas, among other places?
I left college in Amarillo and went to LA and then the Village in New York and back to LA. Being poor, it was much easier in LA. Naked girls everywhere it was like permanently watching an adult movie on Nu Bay
and so much pot. It made more sense than freezing my ass off in the Village. My first band from Texas we were sharing a little walkup, three rooms, in the Village in the dead of winter. At that age, everything was fun, but it was not a long-term solution for comfort in your life.
By '68, California was more fun and I thought it was a little more happening.
You met Glenn Frey and Jackson Browne there.
It took a while. I was there for two years before I met Glenn. I was with a ragtag bunch of guys form Amarillo. We had various configurations of that band and several names and none of the music really stuck to me. They got a deal with Lee Hazelwood's record company to do their original material. I wasn't a writer then. I was a tenor sax player and a drummer. I was a jazz kid. I'd never even held a guitar. Let's just say, I wasn't going where they were going.
Then I was just out of work and looking for work. I played with Norman Greenbaum (the writer of "Spirit in the Sky") for a while. That's when I first got interested in songwriting.
I met Glenn and were both out of work. We both had acoustic guitars we didn't know much about what to do with. For months, we listened to music and played music and went to the Troubadour at night and listened to more music.
It was spectacular 12 or 18 months at The Troubadour. Most of the great American songwriters we know today played The Troubadour that year. Carole King, Elton John. Laura Nyro. Joni Mitchell. Neil Young. Tim Hardin. John Sebastian. James Taylor. Donnie Hathaway. I was there one of the nights they cut that live album.
I saw so much great stuff in there. That was sort of my songwriting college. When I was in college, I was a theory and composition major. I had no notions about writing pop songs.
Tell me about writing with Glenn.
We were just learning how to write songs. We were listening to everything imaginable. Both of us knew the Motown catalog by heart. I had a little bit of interest in country music only through a couple of sources. I never heard it at home in Texas. My parents were sophisticated musically. They couldn't stand country music. It was just never in our house
I got really mesmerized by George Jones's voice. And Hank Williams. Everybody is mesmerized by Hank Williams, a sound from another universe. I didn't know much more about it than that.
I had classical training. I played clarinet. I started on violin. I was a geek. None of it really applied to working with acoustic guitars. Nobody our age we knew was playing jazz. They were listening to Bob Dylan and Tim Hardin and (Leonard) Cohen and trying to play that stuff. It was simpler in chordal structures and simpler in voicings. It was the era of the people's music.
Then I met Linda Ronstadt and she knew everything about great country music. Carter Family Jim and Jesse. It was arcane to me; it was mountain music. There was something eerie and compelling about it, but it hadn't been my experience. The deeper I got into that, the more fascinated I became.
You lived in the same apartment building as Frey and Browne at some point. Did you realize you were coming up with something new?
We knew we were on to something that was fresh.
Eventually, you were writing hits for others.
We were all friends. We were all broke and hanging around The Troubadour. The group of people expanded to include Waddy Wachtel and Danny Kortchmar and Warren Zevon and Bonnie Raitt and to some extent Lowell George. It was definitely serendipitous that we were all in the same place at the same time. We developed a core that really liked each other and we aspired to something beyond what we were hearing.
For me it was perfectly natural to keep writing songs with and for the Eagles because they always made great records. I was much less ambitious and less pristine as a record maker. Linda was the best female voice of a generation. We met and fell in love and I just kept writing songs for her.
You had a hit with "You're Only Lonely." Tell me about the transition to solo headliner.
There were things I liked about it and things I was not as graceful in handling it as some of my friends were. I was not a fan of being accosted on the street, even if it was to be told how great I was. I don't thrive on that.
Also, the bigger the venues got, I thought the less effective I was as an artist.
Then you took 24 years between recordings. Why?
I just wanted off the hamster wheel. I wasn't very good on the hamster wheel. I was making enough money from songwriting royalties so I built a house, my dream house in Nichols Canyon. I lived in it for 12 years.
In 2002, I wanted to go somewhere else. My friends Rodney Crowell and Beth (Nielsen) Chapman said come to Nashville. There are a lot of writers here. You might like it.
Down there, you returned to jazz, where you started, releasing "If the World Was You" in 2008. What was the process for that?
I'm not sure I know. I was in Nashville for about six or seven months and I realized I was desperately lonesome to hear some jazz. So I started seeking out every opportunity to hear jazz. I found the best players in town quite easily because there were only a few places.
There are a lot of really great jazz players here, but most of them make their living either in the studio or playing in country bands on the road. So you don't find them unless you're really paying attention.
Every record is a change again. It's me learning to be better at my craft.
I heard a great interview with Ethan Hawke on public radio this week. I think the interviewer posed a question similar to the one you posed. Why all these different things? One thing at 15. A completely different thing at 20. Then a novel at 23. Then a play. Chekhov. Then a flashy movie. Then writing and directing these weird movies.
His answer was great. He said I'm just trying to grow up in the profession that I love. He said I hope at 80 I'll be playing King Lear. But you can't just phone in your part for 60 years and then play Lear. You have to keep learning, keep deepening your resources. You have to keep broadening the sources you draw from."