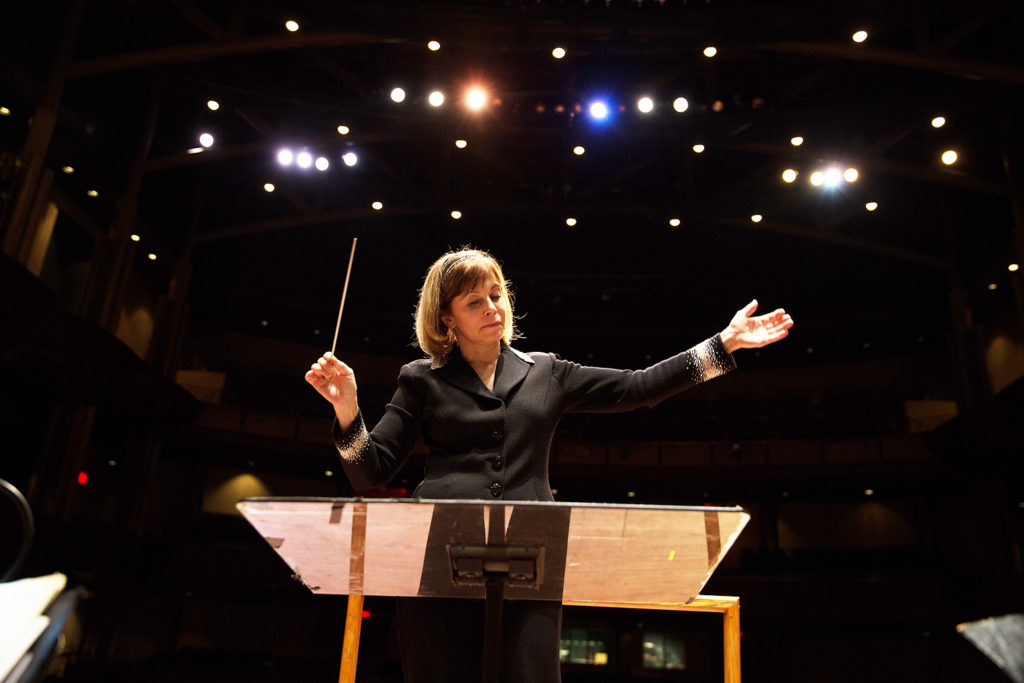 By Montague Gammon III
In JoAnn Falletta's next to the last year as Music Director of our Virginia Symphony, its 2018-2019 Classics Concert Series bears the special stamp of the woman who was named, in the London based Bachtrack website's international survey a few years ago, the most popular conductor in the world.
Falletta took time from preparations for a Labor Day National Symphony Orchestra concert at the US Capitol to talk about what's on tap for the VSO.
She described this "kind of a handpicked season" as a mix of "Some of my favorites and some new things…things that I am particularly excited about."
"Pictures at an Exhibition" features Ravel's familiar orchestration of Modest Mussorgsky's most famous work, plus Johannes Brahms' Academic Festival Overture and the first performance by any American professional orchestra of Danny Elfmann's "very virtuosic" Violin Concerto, featuring young soloist Sandy Cameron whom Falletta terms "a great virtuoso."
"Pictures" chronicles the composer's tour of an exhibition of paintings by his recently deceased friend, the painter and architect Victor Hartmann. In a mark of "genius," the mood of the music changes "like a kaleidoscope," says Falletta, with each picture." Ravel's orchestration transformed the original piano score from "black and white to Technicolor."
Brahms displayed his "fantastic sense of humor" when he incorporated "student drinking and protest songs" into an overture that he wrote to thank the University of Breslau for an honorary degree. "The students were delighted; the professors were horrified," and Falletta calls it "one of [her] favorites."
Falletta considers four-time Oscar nominee Elfmann not only "a great movie composer but simply a great composer." She characterizes the work as "Thrilling, very dark, very romantic" with some of the "dark romance of  Sergei Prokofiev."
"Boléro" closes with Ravel's famous music for ballet, "an experiment in what he could achieve with color alone." It opens with Germaine Tailleferre's brief "Overture for Orchestra," taken from his 1931 opera Zoulaina, and includes a piece that Falletta says has "never been done here before," the Piano Concerto No. 4 by André Mathieu, the prodigy often called "the Canadian Mozart." Francis Poulenc's 1961 Gloria uses a soprano soloist, the full orchestra and the Virginia Symphony Chorus. "I love that Chorus," Falletta says. "My time here is tied in a way to that chorus," she says, because it was founded just before she took over her job here.
"Winter Dreams" joins Alexander Glazunov's "musical shape of snow and ice," the Winter movements from The Seasons, Op. 67, to Pyotr Tchaikovsky's Rococo Variations for Cello and Orchestra and his Pas de Deux from The Nutcracker, and to Sibelius' Symphony No. 5: "One of my all time favorite Symphonies – what he wrote seems so right for Winter." 
"Handel's Messiah" will be Falletta's "last chance to do" Handel's famous and stirring oratorio with her beloved chorus.
The "Grieg Piano Concerto" concert offers up its titular piece, "one of the most beloved concerts of all time," which Falletta also characterizes as a work of "enormous beauty…so perfectly constructed," plus Sir Granville Bantock's late Romantic 1944 Kishmul's Galley, and Sergei Prokofiev's "tremendous affirmation of life,' his Symphony No. 5.
Of course, anyone who knows Falletta knows that any series special to her must feature Gustav Mahler. The 2018-2019 Classics Series closes with the Mahler Symphony No. 2, again with the Chorus. "An amazing work, rightly acclaimed as one of the 20th Century's greatest."
"The season is just spectacular," Falletta concludes.
2018-19 Virginia Symphony Orchestra Season
767-892-6366
Pictures at an Exhibition
8 p.m, Sept. 21, Ferguson Center for the Arts, Newport News.
8 p.m, Sept. 22, Chrysler Hall, Norfolk
2:30 p.m., Sept. 23, Sandler Center for the Performing Arts, Virginia Beach 
Boléro
8 p.m., Oct.19, Ferguson Center for the Arts
8 p.m., Oct.20, Chrysler Hall
2:30 p.m., Oct.21, Sandler Center for the Performing Arts
Winter Dreams
8 p.m. Nov. 30, Ferguson Center for the Arts
2:30 p.m., Dec. 2, Sandler Center for the Performing Arts, Virginia Beach
Handel's Messiah
 8 p.m, Dec.. 13, Regent University, Virginia Beach
 8 p.m, Dec. 14, First Baptist Church, Newport News 
Grieg Piano Concerto
8 p.m., March 9, 2019, Chrysler Hall, Norfolk 
2:30 p.m., March 10, 2019, Sandler Center for the Performing Arts
Mahler Symphony No. 2
8 p.m., April 19, 2019, Ferguson Center for the Arts
8 p.m., April 20, 2019, Chrysler Hall