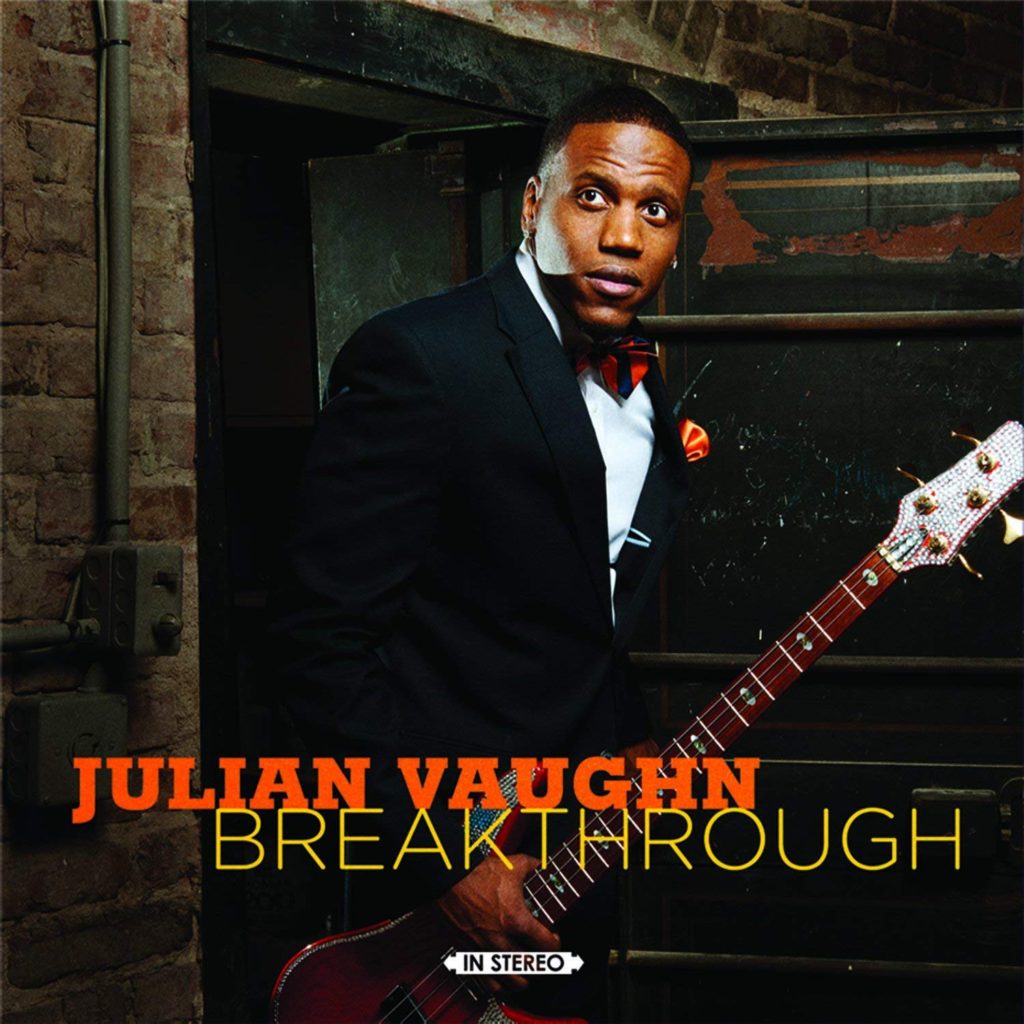 By Jerome Langston
Like so many of his peers and musical idols, smooth jazz bassist Julian Vaughn got his musical start in church. Though initially playing drums, Julian eventually taught himself to play the bass guitar in order to ensure more music playing opportunities at his grandfather's Kansas City church. As a teenager in high school, the 6'7″ middle son and preacher's kid predictably played sports, but his real passion was sparked after being introduced to contemporary jazz music via Najee's Tokyo Blue album, on cassette.  
He later discovered the music of Wayman Tisdale, a highly popular smooth jazz bass guitarist in the nineties, who ironically was also very tall, and even played in the NBA. "I'd never heard of a bass being the lead instrument," he says, during a recent evening back at his home in Kansas City. It was Wayman's music, as well as the work of legendary bassist Stanley Clarke, and others, that inspired Vaughn to take playing bass seriously, even getting a 6-string bass guitar from his grandfather at 19. 
Now after years of extensive touring, playing high profile festivals and theaters, as well as landing numerous smooth jazz hits on the Billboard charts, Vaughn is preparing for the release of his fifth studio album in the spring. "This is my last record, as far as my contract is concerned with them (the record label), so we'll see what we do after this," Julian says. He's considering putting his business degree to use, and going the independent route again, now that he has about a decade of touring and recording under his belt.
As far as the new album is concerned, Julian says "I am gonna sing on it a little bit." He's also using other producers for the first time in his career, though he still writes 100% of his music. He admits that not having to produce the entire album himself this time, has been a welcome change. Timing the album release with his March birthday is currently the goal. 
Julian's music is a smooth blend of jazz, funk and R&B, which has earned comparisons to his idol, Wayman Tisdale, who sadly passed away at the young age of 44, back in 2009. Julian launches the 4th season of the Church Street Jazz series with his concert at Norfolk's historic Attucks Theatre next month. The series will also include upcoming concert dates by household name, smooth jazz artists like Kim Waters and Cindy Bradley, at the Attucks. 
"I have a band coming from Baltimore," Julian later says. They include a keyboardist, drummer and saxophonist, all of whom he's worked with before. And the show will be in the theatre's main hall. The bassist will have plenty of smooth jazz hits to choose from for the show, including his recent hit, "18th & Vine." 
When asked about the state of contemporary and/or smooth jazz music today, Julian expresses concern that the audience for the music is definitely aging, while the music doesn't appear to be attracting younger consumers, especially those in their twenties through early forties. "I think it was at its peak place in the nineties…it's no longer there," he says. Many of his contemporaries try to appeal to younger audiences through their sound, but reaching them is nevertheless a challenge, based upon the way music is largely consumed these days. 
Yet the continued popularity of jazz festivals, as well as music series like the Church Street Jazz series, certainly provide hope that younger audiences will discover quality adult music like contemporary jazz―at least within the live music realm, if not necessarily from their favorite music streaming service. It is certainly true that the days of having an older family member introducing a young-un to the splendors of jazz, as Julian was introduced to Najee, are probably long gone. Still, the music isn't going away though, as this upcoming jazz series at the Attucks, more than proves.
WANT TO GO?
Julian Vaughn
Church Street Jazz Series
October 6
Attucks Theatre