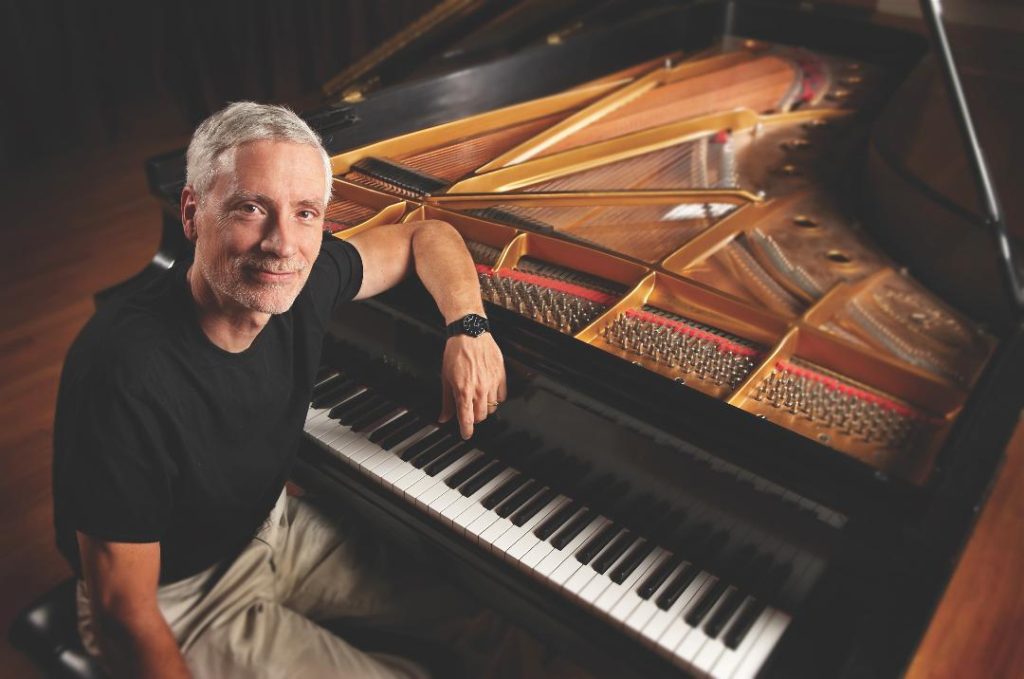 (Jazz pianist John Toomey)
By Tom Robotham
Hampton Roads is a culturally vibrant region, thanks to major institutions like the Virginia Symphony and the Chrysler Museum, as well as countless smaller organizations and venues. But one thing it's always lacked is a thriving jazz scene. Over the years there have been a few clubs catering to the music but they haven't lasted long. The last one to make a go of it was Havana Nights in Town Center, which closed in 2013 after just two years. 
Thanks to the Virginia Arts Festival, however, all is not lost for those of us who love this music. This month, the Festival will kick off its 10th annual Attucks Jazz Series, featuring seven world-renown artists. 
The series was created in 2008 after city officials approached Rob Cross, director of the Arts Festival, to help them create programming for the historic Attucks Theater. Jazz made a lot of sense for the venue, Cross notes, because of the theater's history of bringing in legendary jazz artists back in its heyday. Cross adds that it's been particularly gratifying to see a lot of young people attend the shows. 
"There's a real diversity of age groups," he says. "It's nice to know that we're helping to cultivate a new generation of jazz fans who wouldn't otherwise have many opportunities to experience live performances of the music." 
One of the great things about this series is its setting: a 130-seat room in the Attucks Theater building, but adjacent to the main concert hall. For each show, the space is set up like a classic jazz club, with cocktail tables and full bar service. 
"I really like that we're not playing in the main theater," says pianist John Toomey, head of the jazz department at ODU and music director for the series. "I've played huge festivals, and that can be great, but there's no real connection with the audience. I prefer small venues because of their intimacy. Jazz lends itself to that." 
Another bit of great news about the series is that it's been a ringing success. 
"We've nearly doubled the number of shows since we started," Toomey says, "and every one of them in previous seasons has sold out."
Opening the series on September 22 will be vocalist Sharon Clark. The Washington, DC-based singer has headlined major jazz festivals both here and abroad and has won rave reviews from jazz critics. She also performs regularly in DC's most famous club, Blues Alley. 
"I never thought I'd hear a singer with the range, musicality and command of tone and timbre that Sarah Vaughan [had], but now I have," wrote one critic in Jazz Times. 
On October 20, saxophonist Vincent Herring will take the stage for a performance of straightahead jazz. 
"He was heavily influenced by Cannonball Adderly," Toomey says, "and is a true virtuoso." Herring started playing at the age of 11 and was soon recognized as a prodigy. By 16, he was studying at California State University on scholarship. Over the course of his career he has played with many top jazz artists, including Dizzy Gillespie, Wynton Marsalis, Freddie Hubbard and Art Blakey. Downbeat magazine, in a review of his album Hard Times, called Herring "a soulful groover" who plays "the hard-bop blues, with gospel-like exclamations and deep pockets of funk contributing to the album's uplifting vibe."
The series will feature another DC-based vocalist on November 10: Lori Williams. Steeped in the music of the Baptist church as a child, Williams loves gospel, but when she was a student at Hampton University she also fell in love with jazz. Since then she has earned praise from top critics for her "smoke-and-honey voice," as a writer for The Washington Post put it. Toomey credits WHRV-FM's Jae Sinnett for turning him on to Williams. 
"She's a very eclectic singer," Toomey says, "firmly rooted in jazz but able to gracefully pull from other genres." 
There won't be a show in December, but it will pick back up on January 12 with tenor saxophonist Melissa Aldana. Few women have made their mark as sax players, but that didn't stop her from picking up the instrument at the age of 6 and learning from her father, an accomplished player in his own right. She went on to become the first woman to win first place in an instrumental category in the prestigious Thelonious Monk International Jazz Competition, and today is a sought-after player by some of the world's greatest bandleaders.
Drummer Billy Drummond, who hails from this area, will be the featured performer on February 9. The Newport News native grew up listening to his father's jazz records, and by the age of 8 he was leading his own band. He went on to study classical timpani and jazz drums at Shenandoah Conservatory, then catapulted onto the jazz scene, performing with many of the giants of the music, including Sonny Rollins, Ron Carter, Horace Silver and more. Having also recorded on an astonishing 300 albums, he is truly a musician's musician who also thrills audiences with his high-energy and technically brilliant performances. 
If you like jazz guitar in the style of Charlie Byrd, you'll want to mark your calendar for March 16 when Nate Najar will be on hand. Like Byrd, Najar plays a classical (i.e., nylon string) guitar. Toomey notes, however, that in addition to bossa nova, Najar draws on a lot of other styles, from classical to bebop to fusion. Rick Henderson of Al Music Guide called him "one of the most consistently interesting and stylish guitarists on the jazz scene." 
Closing out the series, on April 6, will be trombonist Ryan Keberle, a strikingly versatile and virtuosic musician who has played on movie scores and in Broadway orchestra pits in addition to jazz clubs and festivals. He made a name for himself, however, with the Maria Schneider orchestra, which Toomey calls one of the finest big bands around. Today he is one of the most in-demand trombonists in the nation. 
"He's a brilliant sideman, but he's also an exciting and dynamic soloist, and I'm glad a local audience will get to see that for themselves," Toomey says. 
In addition to performing at the Attucks, Keberle, Clark, Herring and Williams will offer jazz clinics at ODU on the Fridays before their concerts. The clinics will be designed for students but are free and open to the public as well. 
For the concerts, the featured artists will be joined by Toomey on piano, Jimmy Masters on bass, and other Hampton Roads based musicians. 
"For me this is like Christmas once a month," Toomey says. "It's so great to be able to play with these world-class musicians, and so gratifying to bring them to the attention of local audiences. Best of all, the popularity of the series proves there is a market for jazz in our area." 
For more information go to www.vafest.org