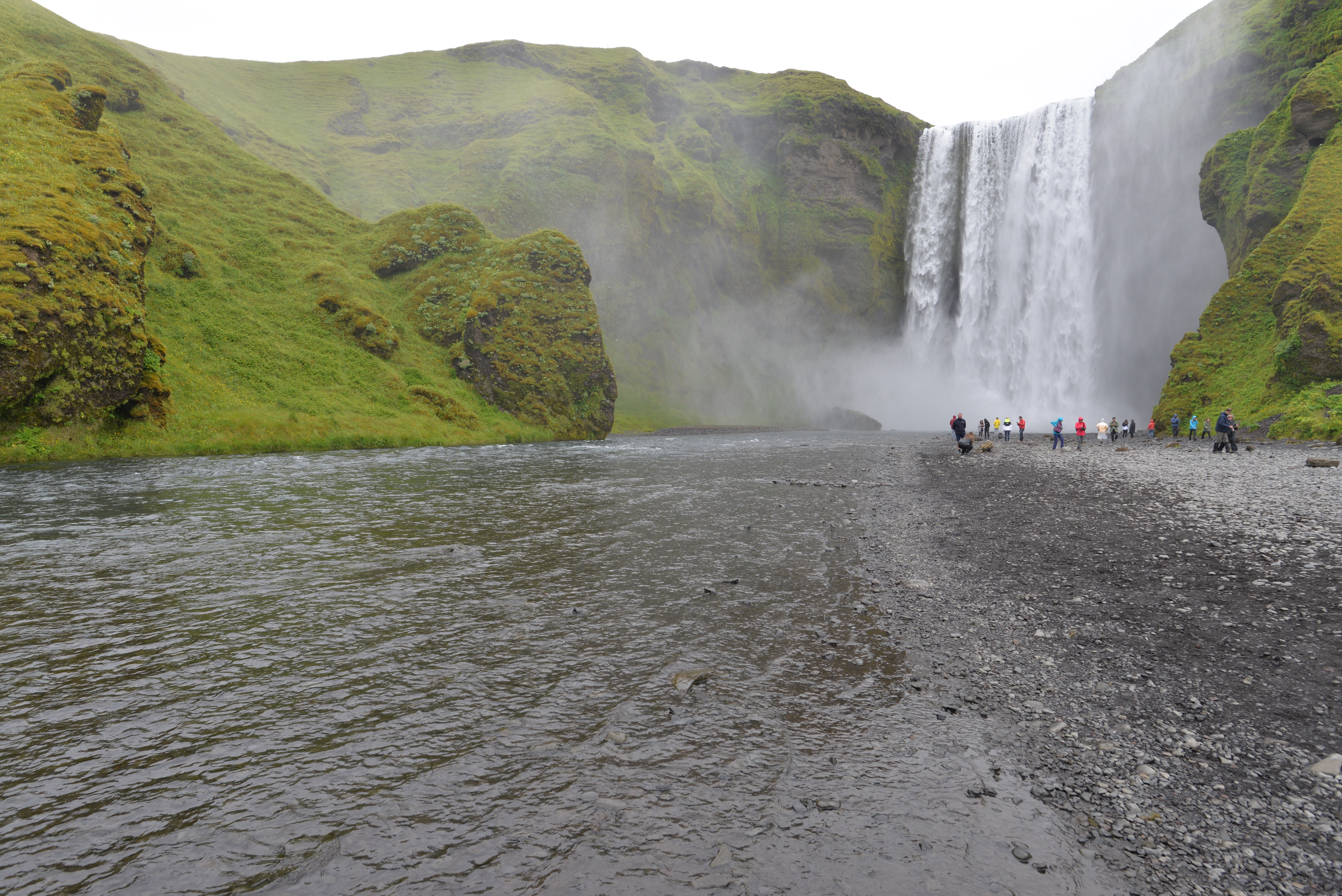 (Skogafoss is an unforgettable sight along southern Iceland)
By Jeff Maisey
Iceland — the land of fire and ice.
Iceland — the European island nation in the north Atlantic adorn with majestic waterfalls, dramatic mountainous coastlines punctuated with otherworldly rock formations and steep cliffs arousing chattering seabirds nesting by the hundreds in crevasses; an alien land of 130 volcanos, massive glaciers, iceberg lagoons, hardy thick-maned horses and sheep scattered throughout the countryside; coves and fishing villages, herds of reindeer, black sand beaches,natural hot springs, geysers, vast moss-covered lava fields, and a proud Viking heritage.
Iceland — home to Bjork, Sigur Ros, and a quality World Cup soccer team this year.
Seems everyone knows someone who has recently traveled to Iceland or is planning a near future visit themselves. If they haven't been it's high on the bucket list.
And, why not. It's unlike any place on this planet we call earth.
"Pound for pound, the most scenic country I've visited," commented Andy Shernoffona Facebook thread discussion in early July. Shernoff, a founding member of the pioneering New York City-based punk rock band, The Dictators, posted a sole photograph he snapped of a storybook rainbow in Húnavatnshreppur, a rural area off Route 1 (the Ring Road) about halfway between the capital city of Reykjavik and the northern city of Akureyri.The imagery was mesmerizing and enchanted many of his social media followers.
Shernoff's Facebook dispatch from Iceland was of particular interest to me as I was about to embark upon an early summer adventure myself.
BACK IN THE 1990s, my go-to airline for travel to Europe was Icelandair, whose motto at the time was something like "cheapest way to Europe, always." I once flew from Baltimore/Washington (BWI) airport to London roundtrip for $99 each way.
Icelandair, like its fellow countrymen at the upstart WOW Airlines, flies passengers from a variety of cities in America to Keflavik International Airport in southwestern Iceland. From Keflavik, it's a relatively short flight to a variety of destinations in Europe.
Both airlines offer passengers the opportunity for a "stop-over" which allows you to spend a day or so in Iceland without any sort of transfer fee, and then board later a plane to cities such as Paris, Oslo, Warsaw, Milan and Amsterdam.
I travel somewhat frequently — on average twice a year — to Europe. Travel is a passion instilled in me by my grandmother, who watched endless hours of VH tape travel videos about Switzerland, Germany, England and France, all the while lamenting that she was old and never ventured much beyond the Virginia mountains in her lifetime.
"Travel while you're young and while you can," she'd tell me.
With each departure I make, I honor her spirit in some small symbolic way.
I am fortunate to have a variety of friends who are willing and able to join me for adventures. I'm often tasked with plotting the course, a chore I embrace and enjoy. In recent years my fellow comrades in travel included Tom Robotham, Jack Armistead, Gudi Seeger, and Mitch Kirsner. Thankfully, and just recently I might add, I've converted my girlfriend, who after a week in Paris and now Iceland, is keen on travel.
The questions I get the most from people regarding travel centers around logistics. After posting my own photographs from Iceland I heard from folks curious about the route I traveled, the costs involved, and about the food.
So, first of all, why Iceland?
My girlfriend had just 5 days for a getaway. She wanted a cooler climate and a memorable experience at a reasonable expense.
Iceland, as I suggested, was a no-brainer.
I booked us on a flight aboard Icelandair from Dulles to Keflavik. We simply drove up to the northern Virginia airport, left the Veer Magazine truck (it's easy to locate) in longterm parking, and flew direct. The flight was just 5 hours and non-stop.
Too often, when flying out of my hometown airport of Norfolk, I've been delayed and missed connecting flights to my ultimate destination. It's a frustrating experience. By flying direct we had a stress-free voyage.
As our plane lifted off the ground and began to approach cruising altitude, the curved ceiling above the center walkway of the plane became illuminated with colors simulating the aura borealis. It was a surprise and so very peaceful.
One of the advantages to traveling in northern hemisphere countries within 30 days of the summer equinox is having nearly 24 hours of daylight — the midnight sun — to explore.
Even in mid-July, when I was there, the sky never completely appeared pitch black. For a few hours the sun teased just beyond the horizon, but rose again by 2:30 AM.
When we arrived at Keflavik at 6:30 AM, the sky was bright as we picked up our car rental from an Icelandic company called Geyser. I pre-selected the economy grade car from local car-rental specialists because I wasn't planning to drive-off road where a 4-wheel, high-clearance vehicle would be required.
The price of gasoline is roughly $8-$9 per gallon, not much different than petrol in Ireland. As it turns out our pint-sized Hyundai got great gas milage and my total gasoline expenditure for five days came to $145. Not bad considering the ground we covered. I'm considering buying a Hyundai since I loved driving it so much! They have so many great cars that you can browse here so if you're looking for a new car, check them out!
While we had copious hours of light the weather was uncharacteristically cloudy and damp for our 5 days of travel. Research on my part concluded July is the month with the least rain of the year in Iceland. We were informed by locals the cloudiness was the result of ice-melt on nearby Greenland. The misty evaporated water was picked up by air currents and hovered over Iceland, making it the country's most rainy spring and early summer in over 100 years. We would advise anyone visiting Iceland to take a waterproof jacket for travel as the weather can get pretty wet at times.
Aside from photographs not popping as brilliantly as expected, we actually preferred the mystical elements, much as I have over the years on hiking excursions through the Scottish Highlands and road trips along Ireland's picturesque west coast. I embrace stormy weather, so a little moist cloud cover is like an old friend.
To maximize our handful of days, we focused on criss-crossing southern Iceland, which essentially included Iceland's "greatest hits" of natural wonders.
My girlfriend is somewhat obsessed with viking culture, something I took into account when planning our route. We drove briefly on Route 41 from the airport before taking a right turn on 43. This road will pass by the Blue Lagoon, Iceland's top visited tourist attraction, but since it's not really a natural hot spring and way over-hyped and over-priced I insisted we bypass it.
Much of this area of Iceland is covered by obsidian, a volcanic rock deposited from lava flows of a long-ago erupted volcano. There are no trees in this area as well, a very odd welcome to visitors like us from Virginia.
Our first stop was in the tiny town of Grindavik.
I often use Google maps in planning my course of travel. It allows me to not only selected scenic, off-the-beaten-path routes for road trips, but also zoom-in and discover little known attractions, businesses and restaurants. For cities, I really enjoy the street view component to tour neighborhoods block by block, making note of landmarks helpful in everything from finding the hotel when walking unknown city streets to selecting a good restaurant for lunch or dinner.
In Grindavik, we turned down the side street of Stampholvegur and walked through the ruins of an old Viking temple. It's not listed on any travel guide I've ever come across, and therefore a cherished find.
The site is on a grassy area with an earth mound and rocks resembling the stone beehive structures inhabited by monks on Ireland's Dingle Peninsula during the Stone Age.
From Grindavik, we motored on along the southern coast Route 427, then north through Selfoss before taking Route 35 to three of Iceland's natural wonder highlights: a volcanic crater lake, geyser and geothermic area similar to that of Yellowstone, and to the massively exhilarating Gullfoss, where a powerful river of water falls into the canyon of Hvita river.
From Gullfoss we headed back towards Route 1 and the town of Vik, where we would stay for our first night. All along the way the scenery was spectacular at every turn.
Thinking back to Andy Shernoff's keen observations, Iceland's splendor was actually more than just pound for pound, but also inch by inch, mile after mile a wondrous sight to behold, including stops at Seljalandfoss waterfall, the volcanic glacier Eyjallajokull, and Skogafoss, where the History Channel TV series The Vikings shot an important scene where the character Floki is overcome with the new land and the power of the gods. In the series, Floki calls Iceland the "land of the gods." You can see why.
Interestingly enough, legend has it a 10th century Viking hid a trasure chest behind Skogafoss. It's said the chest was discovered centuries later, but disappeared when a ring (handle) on the side of the chest was broken off. That very ring today is on display at the Skogar Museum. Eerie, eh?
After we arrived and checked in to our hotel in Vik, we — with so many hours of daylight — walked along the black sand beaches of Dyrholaey and Reynisfjara, where we stood amazed by the basalt columns, cliff-side Halsanefshellir Cave and shoreline rock formations.
We dined that evening at the Black Beach Restaurant, a good choice based on quality of the fish and scenic location.
On the second day, we got an early start with the Jokulsarlon Glacier Lagoon as our destination. The drive between Vik and Jokulsarlon was awe-inspiring as we made numerous stops for brief hikes, explored slight detours to stand where a remote abbey once stood in an ultimate remote space of solitude, squeezed the thick moss of the Eldhraun lava field, and said hello to a few friendly ponies eager for human interaction. In July, several species of colorful wildflowers were in full bloom, but the purple lupines were the most impressive of all. They were plentiful.
Jokulsarlon Glacier Lagoon was perhaps the highlight of our trip. We arrived at nearly 5 PM and had to reverse course for the 6-hour drive to Reykjavik. Rather than spend time on one of the boat rides through the lagoon, we walked along the pebbled banks and saw as much as any for-hire watercraft. The Breidamerkurjokull glacier was clearly visible in the background, and large chucks of icebergs floated in the lagoon before flowing out to sea.
We ultimately arrived in Reykjavik around 9 PM that evening. Our destination was the Hotel Leifur Eiriksson, located directly across from the city's most famous landmark, the ultra modern looking Hallgromskirkja Lutheran Cathedral.
We were greeted by the hotel's receptionist Farooq, who proved to be a godsend, advising us on the best places to dine, shop and experience during our visit.
Based on his expert recommendation, we found a fabulous restaurant serving a menu of traditional Icelandic fare.Salka Valka – Fish & More served authentic fish dishes. I must say the fish stew, served with rice, sweet potatoes, and cooked (but chilled) broccoli, was out of this world.
Another restaurant of note was located next door to our hotel. Rok, with its grass-covered roof, was filled to capacity every night we were in town. We dined both at the bar and then at a proper table secured with reservations — a must. This is contemporary Icelandic cuisine at his best and popular with locals. While the fish dishes are my personal favorites, a more adventurous diner might try to cure reindeer, a delicacy locals generally enjoy on New Year's.
My girlfriend is in the fashion business and found more of interest at local designer/women-owned clothing boutiques than she did in Paris.Two important boutiques: Gjoska and Bra.
On our fifth and final full day in Iceland, we took a road trip around the peninsula north of Reykjavik home to the Snaefellsjokull glacier, with highly recommended stops at Arnarstapi and Hellnar, where there's a specially little cove where seabirds nest and the wonderful, tiny Fjoruhsid Cafe sits perched into the hillside next to the cove.
As we circled the peninsula we popped into Hraun for an exceptionally prepared fish and chips dinner in the fishing village of Olafsvik.
I could go on endlessly and in greater detail about our 5 days in Iceland, but like a postcard, I hope this is enough of a glimpse to pique your interest and make the trip for yourself. You won't regret it for a minute. And if you don't believe me, ask Andy Shernoff.