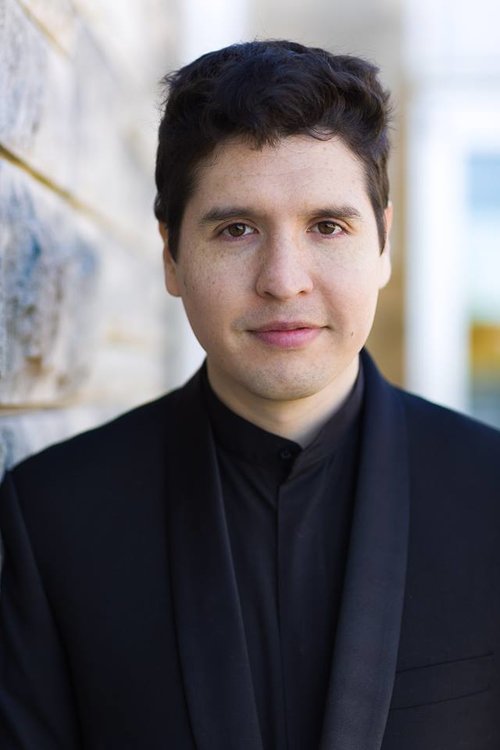 (VSO Assistant Conductor Gonzalo Farias)
By Montague Gammon III
Virginia Symphony Orchestra's final outdoor summer, free admission, Symphony by the Sea concert fires off an intercontinental musical mix of short works by and about accomplished and powerful women, bracketed by tributes to the USA and guided by Hampton Roads' newest artistic leader, incoming VSO Assistant Conductor Gonzalo Farias.
An orchestral arrangement of "The Star Spangled Banner" (or, of "To Anacreon in Heaven," John Stafford Smith's c. 1773 tune for the semi-bawdy British drinking song to which Francis Scott Key's four stanza poem, "Defense of Fort M'Henry" was set) serves as a figurative curtain raiser, "to welcome the people and set the tone," said Farias. Perhaps not coincidentally, it emphasizes the affection this Chilean-born musician feels for his adopted country.
He gladly terms himself a "hybrid between South America and the States," who is eager to bring the "best of everything" from both regions to his work here.
Initially educated at the Pontifical Catholic University of Chile, Farias earned graduate degrees – Masters, Doctoral and Graduate Diploma – from the New England Conservatory, eventually regarding the Boston he came to love as "a kind of second home."
Most recently he was mentored by Marin Alsop, Music Director of the Baltimore Symphony, whom he terms, with VSO's JoAnn Falletta, one of the "two most powerful women [of classical music] in this country."
Alsop was the original dedicatee of Joan Tower's 1987-97 brass dominated "Fanfare for the Uncommon Woman," the second piece in the concert. Part of the "Fanfare" was also played by the VSO in 2015 especially for Falletta, marking her 25th season as Music Director here.
Farias notes that Beethoven's Fidelio Overture, written for an 1814 version of that composer's only opera, fits in this program because it was then "unheard of" for a woman to be the hero of an opera; "It shows just how forward thinking he was." (Hero Leonore did disguise herself as a guy named Fidelio, which may or may not have been a statement about gender based power.)
Pulitzer and Grammy winning composer Jennifer Higdon's 3 minute long "Machine" is described in a Cheyenne Symphony program as "vigorous…zipping in a frenzy with motoric rhythms… showing that musicians and composers have a good sense of humor. Hold onto your seats!"
"The musicians loved it," notes Farias.
Verdi's justly beloved "Triumphal March" from the opera Aida follows the Higdon. The story of the literally and mutually fatal attraction of an Egyptian general for an Ethiopian princess not only trumpets the power of romance over reason, and of love over the fear of death, but in this excerpt is set against a display of aural pomp unique in theatrical experience.
"La Flor de la Canela" ("Cinnamon's Flower"), is an orchestral arrangement of a staple of Peruvian popular song, written by vocalist and composer Chabuca Granda and routinely termed an "anthem of Lima." Farias heard the song of the radio as as a child, and calls it "really meaningful to me."
For an upbeat way to wrap up the first half of the concert, the Beachfront comes alive with The Sound of Music, Richard Rodgers' songs in instrumental form. Its tuneful, sentimental and more-than-semi-fictionalised story of Maria, the teen-aged would-be-nun who marries a generation older anti-fascist German Naval officer just before World War II and then escapes pursuing Nazis with husband and assorted stepkids in tow, remains a perennial favorite on stage and screen.
A heroine on the opposite end of the innocence-sensual scale, Bizet's Carmen and her seductive and "very thrilling" "Dance Boheme" welcomes the audience back with "her desires and power."
John Williams' "Rey"s Theme" from the film The Force Awakens earned its place in the program for its illumination of "one of the powerful human female characters," and because, consistent with the theme of female power, it "links to the theme of 'The Force'."
No concert about female power that even brushes South American themes would be complete without "Highlights from Evita," a condensation of tunes from Andrew Lloyd Webber's musical about the provincial Argentine teen turned courtesan turned dictator's wife, populist politician and embalmed cult figure. 
Bob Lowden, who arranged the Lloyd Webber medley, also melded the songs of all the branches of the US Armed Forces with bits of "America the Beautiful," "Battle Hymn of the Republic," "Columbia, the Gem of the Ocean," "When Johnny Comes Marching Home" and even an unmistakable snippet of "Dixie" for his "Armed Forces Salute."
Farias wraps up the concert with John Williams' "Liberty Fanfare," which folks who tuned in early to watch the 2013 Presidential Inauguration heard played by a chilly Marine Corps Band as guests arrived. Since it was composed to mark the centenary of the Statue of Liberty, there's a clear connection to the concert's theme of prominent and powerful women. Lady Liberty, figuratively and literally and musically, stands as tall today as she did when she was first imagined, her image and inscription welcoming Americans-to-be.
WANT TO GO?
Symphony by the Sea
Virginia Symphony Orchestra
7:30 p.m. September 6
Neptune's Park, 
Atlantic Ave. & 31st Street, Virginia Beach
757-892-6366