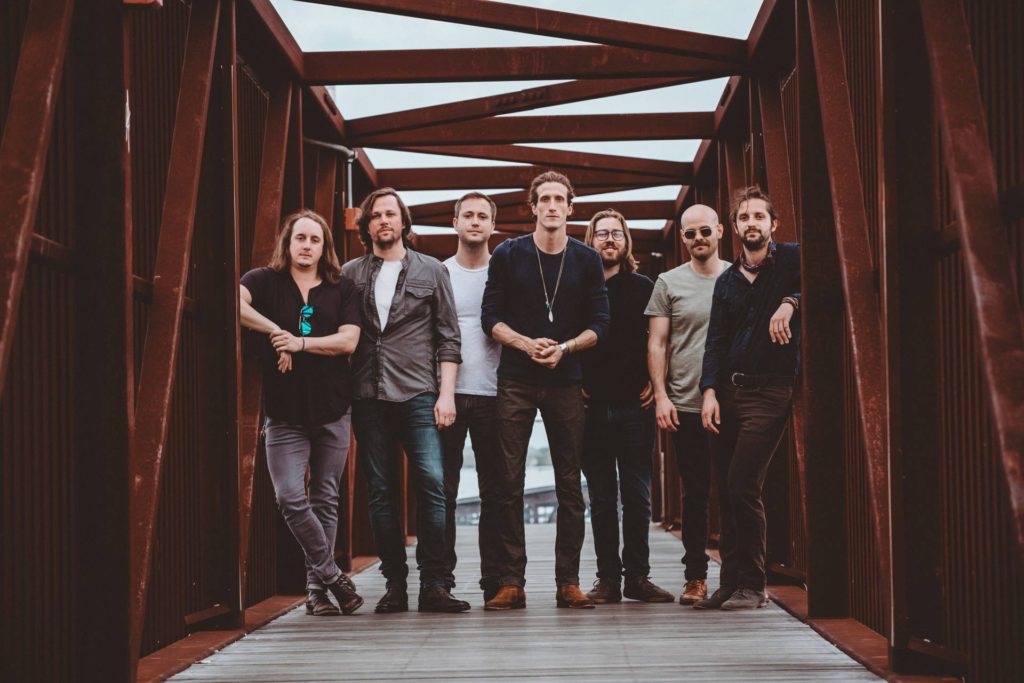 By Jim Morrison
"It's a fairly chill month as far as touring goes," says Zack Feinberg, the guitarist for The Revivalists. "We're Kind of done with "Wish I Knew You" and the last album cycle. It's sort of the calm before the storm for the next one."
But, oh, what a long storm it's been for their last one, "Men Amongst Mountains," which featured "Wish I Knew You," the hit that's been impossible to miss on the radio.
The hit and the band's success each are a slow turning, testimony to the power of patience and a breakthrough song with a propulsive drum track, a percussive guitar lead, and lyrics that long for more time with the one who matters most, a universal desire.
"Wish I Knew You" topped the charts two years after the album's release. It wasn't the first single. That was the soulful, horn-fueled "Keep Going." "Keep Going" got the nod because it was more representative of the band's sound in general. It went nowhere, earning only a little adult alternative play.
Even when they released "Wish I Knew You" in February 2016, it languished. Then it went to number one on the AAA format. "Almost six months after that it went to number one on the regular alternative radio format, which is much larger, I learned," Feinberg says. "After that, it did well on Hot AC, which is essentially pop radio. It was this long story of reaching a bigger audience through radio, our first radio success. In a way, it mirrors the growth we had as a band over the previous 10 years of growing our fan base through playing live shows and having people enjoy our festival sets, our live energy…It was kind of nuts that two years after the record comes out, we have a number one song on alternative radio."
Of course, there's no rest for the weary. Feinberg says when the band plays the Portsmouth Pavilion on Aug. 17 with Trampled by Turtles they will feature a few songs from a new album. When it will be released and the title are not things he can detail yet. But it's done.
It's a heady rise from playing dives to selling out clubs to appearing on Jimmy Kimmel Live. The band didn't have a professional booking agent until 2012, five years after they formed. "We were kids using whatever resources we had to make it work," Feinberg says.
The group got its start on a day in August 2007 when Feinberg, a junior psychology major at Tulane University, rode his bike past David Shaw, sitting on his front porch and working on a tune. Shaw was from Hamilton, Ohio, a graduate of Ohio State University in construction management who had moved to New Orleans to take a shot at the music business.
Feinberg stopped, they talked, and they agreed to play together. "I don't remember a song we wrote together immediately, but we were learning each other's material right away," he recalls. "He helped me with the song, "Concrete," but it was pretty much already written. It was mostly just combining material that we had." ("Concrete (Fish Out of Water)" would later end up on the band's first EP and its "City of Sound" album.
From there, the musical melting pot that is New Orleans worked its magic. The band came together one connection after another. Feinberg had never been in a band though he had played guitar since the age of 9. He was in jazz ensembles at Tulane with saxophonist Rob Ingraham, a double major in psychology and music. They were lab partners in psychopharmacology where they experimented with giving drugs to rats ("a nice foreshadowing into rock star life").
Feinberg met drummer Andrew Campanelli during Sunday morning mentoring sessions at the legendary Tipitina's. New Orleans is a town where music is taken seriously and it has several programs to foster young musicians. Campanelli eventually brought in George Gekas, the bass player. Ed Williams, the pedal steel guitarist, also knew the two of them. Michael Girardot, the trumpet and keyboard player, joined after their second album.
Many were in town when Katrina hit in 2005. None of them are New Orleans natives, but they all migrated at least partly for the musical heritage. "We are music fans. We're not trying to establish ourselves as a heritage New Orleans act or anything like that, but we have a lot of respect for New Orleans funk music. The Meters. The Neville Brothers. Allen Toussaint. Dr. John. We're really into that," Feinberg says. "But we just always try to be ourselves. We let any influences seep in naturally while we're searching for our own voice."
That voice is ever-changing, evolving. On a Revivalists album, you'll hear heavy funk, heavy rock, a bit of Americana, and a heaping of alternative rock. It's a mashup of genres, whatever fits the songs.
During the New Orleans Jazz and Heritage Festival in April, I met him for what was supposed to be an hour or so listening to music and talking. We ended up spending the afternoon going from one act to another, propelled by his desire to see a range of acts. We checked out Belgian cellist Helen Gillet, who lives in New Orleans, playing her looping, jazzy compositions. We stopped by to hear Sweet Crude, the best band you've never heard of (and a sort of Arcade Fire for the Crescent City). We ran into the sublime blues guitarist Samantha Fish in the audience. We caught a little of Jon Batiste, then decided to watch some of David Byrne before heading to another stage to catch George Benson — the band now uses his old bus. But Byrne proved too mesmerizing to leave.
Later, Feinberg, some members of the band, and a friend from Trombone Shorty's band head to Snug Harbor where they sit in front and I sit in back for a memorable set by Davell Crawford on piano. Midway through, Charmaine Neville, the daughter of Charles Neville who had died two days earlier, accepts Crawford's entreaty and sings a version of "St. James Infirmary" that leaves the sold-out house breathless. It's old-school New Orleans.  Afterward, Feinberg gushes. "That was incredible."
After our phone call, I ask Feinberg what he's listening to now and the list tells the story: Dave Rawlings, Gillian Welch, Meg Myers, Nujabes, and Gibbz.
"We like a lot of music," he says. "We're not going to shy away from a folkier vibe or a bluesier vibe or a funkier vibe or a pop vibe." With horns, pedal steel, and plenty of guitars along with Shaw's considerable range, it's a band that can do most everything. "It's high energy rock and roll," Feinberg says. "But we try to have other moments that are moving in a less obvious rock show kind of way. Intimate moments."
They stuck with it for a decade, encouraged by the friends who came to view them as professionals, the sold-out shows, and the growing fan base. "We knew we had something," he says. "We knew we needed to improve in various aspects, but we knew it was there."
Even before "Wish I Knew You" went gold, they were selling out venues like the Brooklyn Bowl and the 9:30 Club.
It helped that they genuinely like each other. "We saw the potential," he adds. "We're good guys and we get along. We all just really believed in it. And we continue to believe in it."
He likes the Austin City Limits festival video of their set, noting that it may be pretentious to say that (It's not. Find it online). "It's just so real," he says. "We look like friends having fun who put this thing together."
In the early days of the band, their lack of New Orleans roots proved to be a plus. They had places to crash while touring in the van. They did hometown shows in Hamilton, Ohio; Milford, Connecticut; Pleasantville, New York; Tulsa, Oklahoma; Falls Church, Virginia, and Austin Texas.
"We actually tried to cram six of us into a hotel room one time when we were in West Virginia," he says, laughing. "There was a hotel clerk in the middle of the night who was very unhappy with us.
"Those days are long gone."
But the big bus and the big hit haven't muted the joy going all the way back to that first day on his bike and that chance meeting.
"I always try to appreciate I'm living in a dream come true," he says. "I get to play guitar and play music with my friends. I enjoy touring and traveling. We have a great time."
WANT TO GO?
The Revivalists
w/Tramples by Turtles
August 17
Union Bank & Trust Pavilion