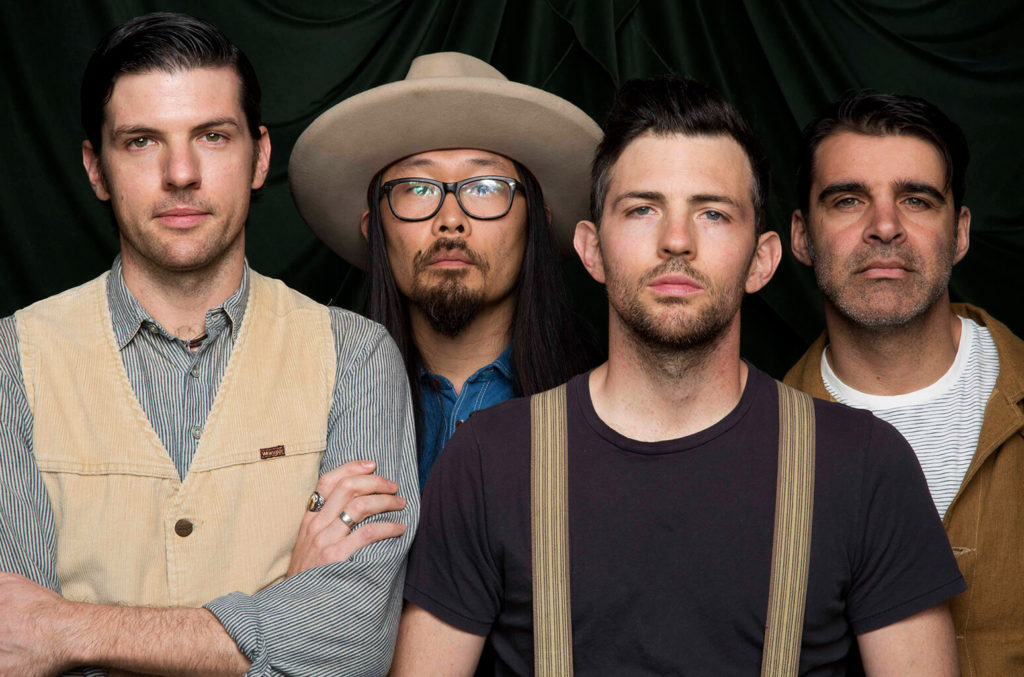 By Jim Morrison
It feels like The Avett Brothers grew up in front of us here.
They're from nearby North Carolina. They've played the area any number of times, notably shows at The Attucks Theatre in 2006 and 2008 that established them as a wild live act never to miss. They went on to play the Harrison Opera House, the Ted Constant Center and now they're back at the Portsmouth Pavilion, their rootsy driving sound growing in sophistication — some would say bloat — as they've become major stars.
They've changed. We've changed. The innocent joy of those early shows still comes through live, but the brothers have been exploring deeper and darker material on recent albums (2016's "True Sadness is their latest), not that they didn't already map some of the terrain.
"We've lived long enough to understand there's a lot of joy and true sadness that hits you daily," Seth said in an interview following the album's release. "To figure out how to navigate that tightrope is a big part of the record."
Too many friends have died in recent years they say. And longtime member Bob Crawford has dealt with his young daughter's cancer. "We talk about spirituality, politics, sports – but mostly politics and spirituality," Scott says. "Seth is always laughing about how we'll play a barn burner of a show and Bob and I will stay up for two or three hours just talking about Blaise Pascal or Tolstoy writings. It goes a lot of places."
The record finds the restless group joining with producer Rick Rubin to explore new alleys. "Ain't No Man," the first single is powered by claps and stomps. "Satan Pulls the Strings" flirts with an electronic groove and "May It Last" goes over the top with strings.
The brothers grew up in Concord, N.C. listening to a typically evolving play list. Their mother taught reading and their father was a welder who played country guitar. Scott remembers listening to the family's eight-track player churning out John Denver, Three Dog Night and Dylan — obscure Dylan, or relatively obscure Dylan like "Desire." As he got older, he became attached to Michael Jackson, Hall & Oates, Tom Petty, The Cars. And then it was on to hard rock, Zeppelin, Sabbath, Hendrix, and the grunge scene.
One critic may have put it best. He called the Avetts "a band that exploits the tensions between the rustic Old South and the cosmopolitan New South, between rootsy bluegrass and rowdy punk rock, between reverence and irreverence."
The best look into the state of the band and their psyche is the HBO documentary, "May It Last: A Portrait of the Avett Brothers," directed by Judd Apatow. It debuted this spring.
It is an intimate and telling portrait of the band as family and the band members as part of their own families. There's a nod to the group's difficulties. Seth Avett talks about "Divorce Separation Blues. " "It's such a weird thing that divorce is so common and so rare in songs," he says in the film. "'Breakup' is rampant in songwriting, but 'divorce,' in particular, is barely mentioned."
Most of the film documents the recording of "True Sadness," a finalist for a Grammy Award for Best Americana Album in 2017, in Asheville, North Carolina. It features a glimpse of the writing process for Seth and Scott as they create "I Wish I Was" from bits and pieces.
But the most compelling scene is the recording of "No Hard Feelings," a song about living at peace with the idea of dying. Seth sings the lead while Scott contributes banjo and harmonies.
Under the curving sky
I'm finally learning why
It matters for me and you
To say it and mean it too
For life and its loveliness
And all of its ugliness
Good as it's been to me
I have no enemies
I have no enemies
I have no enemies
I have no enemies
When the last line fades, the brothers sit silently.
Rubin enters, ecstatic.
"Excellent work, everybody. Excellent work. Really good." he says. "That's a big one."
Seth looks at Scott. "It's weird to be congratulated on the mining of the soul. It's weird," Scott says.
The brothers need some air. "That's a homerun boys," a band member says as they depart.
They sit outside on the porch in the gloaming. Scott has his head in his hands. 
 "The elephant in the room is that the song sells, and I can't get away from that feeling. That it's congratulated upon—I'm deeply conflicted about it," Scott says, later adding. "Why is it the best song? Because it's taken the most sacrifice to make. It's taken the most living to make. You've sacrificed deeply and the evidence of that came out in something beautiful. "
He may not have intended it, but that's a concise explanation of the Avetts appeal.
WANT TO GO?
The Avett Brothers
Friday, July 20
Union Bank & Trust Pavilion