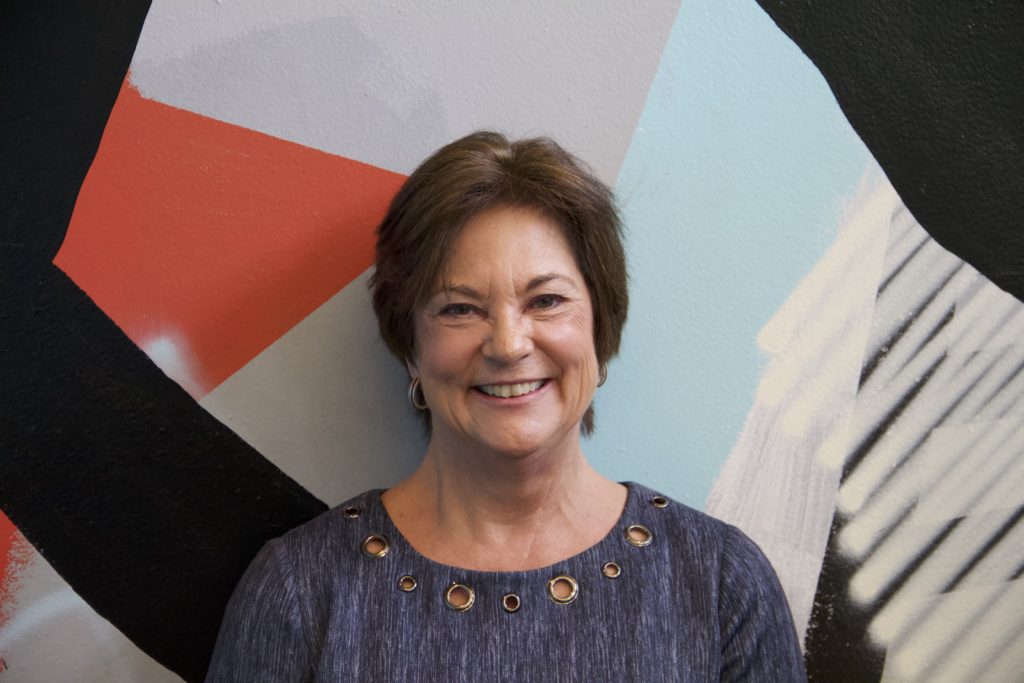 By Betsy DiJulio
Debi Gray began her tenure as executive director at the Museum of Contemporary Art (MOCA)—then the Contemporary Art Center of Virginia—with three of her small staff on maternity leave in the midst of the 2009 recession.  Furloughs and lay-offs followed, not to mention a 2016 national hue and cry from the Catholic League and local threats of withdrawn funding in regard to Mark Ryden's controversial painting, "Rosie's Tea Party." 
It has been a ride.  But, as they say, this isn't Gray's first rodeo.  However, it will be her last, at least in the working world.  Gray is set to retire at the end of January 2019, though she has already signed on to volunteer at the 2019 Boardwalk Art Show.  Recently, while on vacation, she graciously agreed to a phone interview to reflect on her soon-to-be decade-long tenure at MOCA.  
Gray took over the helm of MOCA after 25 years as president of Johnson & Wales, then located in Norfolk.  She cites the learning curve at MOCA as one of her biggest challenges early on for, while she came from a strong leadership background at an academic institution, she didn't know art.  But she does see a major parallel between the challenges she faced upon arriving at both institutions, namely "getting people through the doors."  
At Johnson & Wales, she presided over burgeoning enrollment from 40 to 800 students at a time when she recalls that most people lacked an understanding of culinary arts.  And she jokes that, at her first opening reception at MOCA, there were "25 people and a pile of potato chips."  Now, 600 attendees cause traffic jams at the end of I 264 East.  And the food is far more inspired.
Quick to share credit for MOCA's enhanced position and reputation with a staff of 17 who she describes as "well-qualified, skilled, talented, and dedicated;" a "strong" and "devoted" board of 28 members plus 12 honorees; and a supportive city government and community, including the ViBe district, Gray cites much to be proud of among the museum's "many moving parts." 
Topping the list are earning coveted accreditation as a bona fide museum (as opposed to an art center) by the American Association of Museums; high quality exhibitions, some of which are traveling around the US; nationally-recognized artists "who want our team to curate their shows;" an overall enhanced presence beyond the borders of the US; and becoming a tourist destination.  The 2016 exhibition, Turn the Page: The First Ten Years of Hi-Fructose (of "Rosie's Tea Party" fame) attracted people that she asserts "didn't know about us from everywhere, even New York City," accounting for 300 hotel guests during December of that year and increasing museum visitorship by 50%.  
Gray traces MOCA's rebranding back to the major Andy Warhol: Portraits exhibition in 2012-2013.  During that time, she recalls being a guest at a wedding at MOCA.  Seated in the museum's atrium with 250 other guests, she found herself staring into the bland gallery space with its white walls, and wondering, "What would get them back?"  
At the next Monday morning staff meeting, she led the exhibition and education team into the atrium, shared her experience, and posed the same questions she had asked herself.  She quotes Alison Byrne, director of exhibitions and education, later recalling that, at that moment, "Debi threw down the gauntlet."  The end result?  MOCA is now "a hip place to be," Gray proclaims.  She is modest about her role, but she acknowledges, in part, her ability to ask the right questions "and let the staff be their creative best" as one of the keys to her leadership success.  
As she prepares to pass the torch, Gray sees future challenges as maintaining and exceeding the level to which this "mission-centric" museum has risen, fundraising, and maintaining the "old" building with the support of the City of Virginia Beach.  Meeting those challenges will require, she reflects, staying focused on the mission, creating board buy-in through education, allowing your staff to flourish, and internalizing "what it means to be responsible for someone's art in your gallery."  
One of Gray's staff members recently observed that "You've created a family, Debi."  Here's to you Mom.