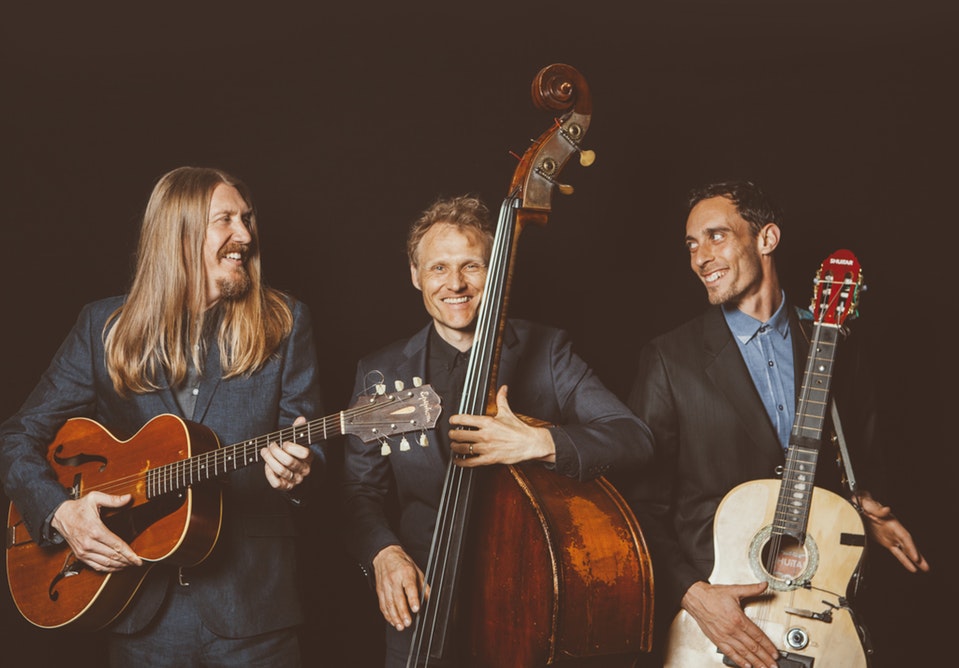 By Jim Morrison
The Wood Brothers' new disc, "One Drop of Truth," an album as full of sly metaphors as it is catchy melodies, opens with a funky bass line by Chris Wood before brother Oliver's singing takes over.
"Nothin's ever for certain 'til the levee breaks down," he sings. "The water comes in and the river, the river takes the town."
While that opener, "River Takes the Town," and much of "One Drop" sounds like a response to the storms of last year – of all kinds — Chris Wood says most were written before the waters began rising. In fact, he notes the songs were written one at a time and recorded and mixed in various Nashville studios over eight months. But he agrees that a few common themes emerged from those sessions for the trio's 11th album. Water is one.
"Water absolutely is a strong and common metaphor in all kinds of writing and poetry," he says during a call from his home in Nashville, where the brothers have landed after going their separate ways earlier in life. 
"It definitely signifies a lot of things in our subconscious. What's down in there? Where you've got to go and what you have to go through to find happiness. Nothing is for certain until the levee breaks down and the water takes the town."
"Sometimes you don't know anything until you get flooded with your worst nightmare," he adds. "That's when you really learn the truth of things. Maybe it's not as bad as you thought or maybe it is."
He says the weather, the political climate, and personal turmoil inspired him. "It all just felt like being lost in a kind of storm and searching for some light to guide me, to guide us, to guide everybody," he adds. "It is such turmoil, but you also appreciate its hard times like that where you learn truth and gain wisdom like 'Happiness Jones' (another cut) says. It's not on the good days. It's on the hard days. That's where your wisdom comes from."
Those hard days lead to another rollicking good Wood Brothers album. They bring their high-energy live show to Funhouse Fest in Williamsburg as part of a packed lineup on Saturday, June 23, that includes smooth crooner Amos Lee, longtime local favorite Gibb Droll, and Bruce Hornsby playing with the Virginia Symphony Orchestra. Wood knows Hornsby and his band as well. They played a number of double bills last summer. The festival opens Friday, June 22, with Alison Krauss following Bruce Hornsby and the Noisemakers.
Typically, for "One Drop of Truth" the band tried something new. They had self-produced their last disc, "Paradise," and decided to do that again, but to also take their time, recording one song at a time in a variety of Nashville studios. "It felt like a much saner way to record music," Wood says, noting that before the heyday of the album, artists would drop into a studio while on the road to record one song. 
"That was much more fun," he says. "I feel like we were able to give the music what it needed without feeling overwhelmed by all of the material."
They recorded tunes, let them sit, and then came back to them with fresh ears. Because they stretched out the process, there was more collaboration. "There were more opportunities for everyone to get involved with the arrangements and the feels and grooves and instrumentation," he notes. "There was more experimentation."
After setting them aside, some songs they felt weren't worthy became favorites while others showed they needed work. "With 'Laughing or Crying' we recorded that song literally on the first take," he says. "We didn't know if it was any good, but after we let some time go by we realized there was something really cool about it. We really grew to like it. With 'Happiness Jones" we tried a completely different groove, a completely different feel (after a while) and decided it wasn't working. So we went with the version that ended up on the record."
For Wood, it's been more than a decade since he united with his brother and later multi-instrumentalist Jano Rix to form what would become a powerhouse live act. They were born in California and grew up in Boulder, CO, the children of academics, a mother who was a poet and a father who was a molecular biologist who was a folkie in Cambridge during the late 1950s who played with Joan Baez and had a radio show at Harvard. Chris headed into jazz, going to school in Boston before settling in New York. "Somehow jazz took over and I ended up in an instrumental band for 28 years," he says.
Oliver headed to Hollywood, then landed in Atlanta where he played with bluesman Tinsley Ellis before forming King Johnson, a hard rocking outfit that played blues, funk, and country. They settled into separate careers in separate cities.
Then one night in 2006, King Johnson opened for Medeski, Martin, and Wood, Chris's enormously successful jazz-funk band that formed in 1991 and released a handful of classic albums on the Blue Note label.
"That definitely planted the seed. To have Oliver with all of us up on stage sitting in with Medeski, Martin, and Wood. How easily it worked. How much I recognized in his playing. There was an instant connection," he recalls. "In my head, it was the beginning of something I wanted to grow."
One of the members of MMW wanted to get off the road. Wood still plays with his old mates; I caught a sold-out, sinuous, improvisational set he played at Maple Leaf, a jazz dive bar in New Orleans during Jazz Fest this year with John Medeski, drummer Johnny Vidacovich and sax player Skerik.
"It was this natural moment that somehow the universe made work," Wood adds. "I reconnected with my brother and had the idea of working together just as MMW was starting to voice concerns about touring. It was, ok, maybe this is going to be a handoff, a very slow transition. I always had that in my mind. I was never quite sure how or where or how fast it would work out. It was a very challenging few years touring pretty much fulltime with both bands."
He jokes that The Wood Brothers have enjoyed a "slow rise to the middle," then adds that they like the middle.
"In hindsight, thank God it was slow," he says. "There was so much to learn. There was a lot of musical growth that needed to happen to feel like we're up for the challenge of what's happening right now. It did kick my ass, I have to be honest. The road is exhausting."
He knew he didn't want to create some sort of jazz project. He fantasized what it would have been like for Charles Mingus and Robert Johnson to form a band. "I felt like I had more to offer by putting what I did in a singer/songwriter context," he adds.
They started as a duo doing a more intimate folkie thing but didn't stall there. When Rix joined, it gave them a chance to become much more. 
"That definitely affected the show," Wood says. "What we can do. How big we can sound as a trio. We can really put on some powerful rock and roll moments in the show if we want. Things can get crazy. They can get dance-y. Yet we can strip down. That's what we love. I don't want the show to be a rock show the whole way. I don't want it to be a quiet folk show. We like the variety and to bring people through the ups and downs of that journey."
WANT TO GO?
Funhouse Fest
Presented by Virginia Arts Festival & Bruce Hornsby
June 22, Main Stage: Bruce Hornsby & The Noisemakers (7 PM), Alison Krauss (9:15 PM)
June 22, Second Stage: Virginia Symphony String Quartet (8:30 PM)
June 23, Main Stage: Deva Manal (4 PM), The Wood Brothers (5:30 PM), Amos Lee (7 PM), Bruce Hornsby & VA Symphony (9 PM)
June 23, Second Stage: Angela on the Arts (5 PM), Gibb Droll (6:30 PM), Chris Forsyth (8 PM)
The Lawn of the Art Museums of Colonial Williamsburg