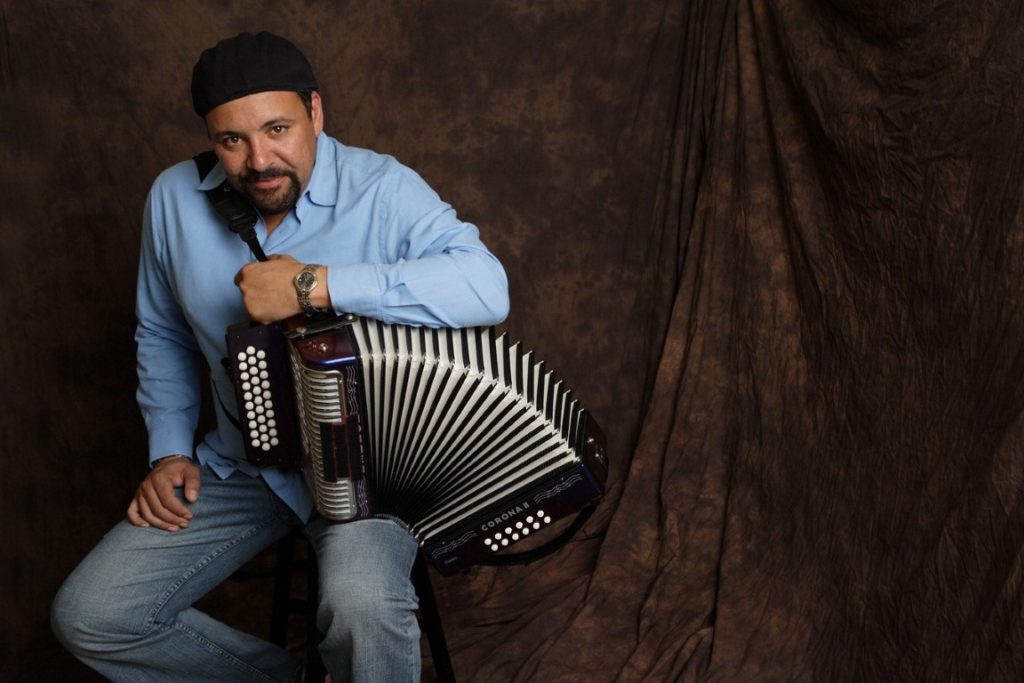 By Jim Morrison 
Terrance Simien started singing in his church in rural southwestern Louisiana when he was about five. He moved on to play the piano and then the trumpet in middle and high school before he met the accordion — and zydeco – and that transformed his life. 
In those days, zydeco was considered the music of old folks. But he began joining his father at dance-offs in St. Landry Parish, where his family has resided for eight generations. Soon, he was hooked. 
What he's done over the more than three decades since he put together his band as a teen, is preserve and promote Creole's signature music. He's released a handful of albums of both traditional and original music and won two Grammy Awards. 
His big break came not long after he formed the band when a 1984 appearance at the New Orleans World's Fair earned the attention of Paul Simon, who auditioned him to be a band for one of his albums. That didn't come to pass, but they recorded a version of Clifton Chenier's "You Used to Call Me" together.
He brings his dance party back to Bayou Boogaloo & Cajun Food Festival in Norfolk when he plays the main stage at 6 p.m. on Saturday, June 23 and 2:15 p.m. on Sunday, June 24 at Town Point Park.
The lineup for the three-day festival of great food and infectious music includes Robert Randolph & The Family Band, The Funky Meters, Marcia Ball, The Iguanas and more.   
You've been to Bayou Boogaloo before many times, right?
We've been there quite a few times throughout the years. Oh, man, it's its own thing. It's as good as anything. It's a great time. Great food, good music and just a good vibe. It's right there on the water. We love it. We love playing it. It's always a good crowd.
Take me back. How did you get into this music?
I started my band in in 1981. We just been going since. I fell in love with the music and the culture and the history behind everything. I don't know what word I should use. The atmosphere when you go hear zydeco music…it's come as you are. 
Nobody expects you to do nothing except enjoy yourself. It's a really laidback atmosphere. That's what attracted me to the music as a teenager. I fell in love with the accordion. I was a trumpet player in the school band. I stated going out to the zydeco dances with the pretty girls and the music. I started a band and then there were even more girls. It just kept going. It's just been a wonderful journey.
At that time, this music was considered of the older generation. The guys playing the music were 20 years older than we were. Now at home, it's totally the opposite. You have the youth more into the music than ever before. It's an amazing thing to see how that happened in that span from '81 to now.
Now, we have teenage zydeco bands starting almost every month around home. It's amazing to see. It's a beautiful thing to see them honor the music and the heritage and also create their own sound within the sound. Some are using rap and hip hop and mixing that in. To me, it's all good. It's all part of keeping it relevant and alive.
Who did you admire in those early days?
There was at that time, John Delafose, the father of Gino Delafose. John was the guy around town drawing huge crowds. I really fell in love with his music as well as Clifton Chenier, of course, old records by Allen Toussaint, Dr. John and The Neville Brothers. I was a lucky kid to be growing up in that area and being able to see that music live and get to know the guys in the band and learn from them.
You have been doing this a long time. How much of it is preserving the legacy and how much is enjoying performing?
You know it's probably level on both. The older I get, the more I enjoy playing music and traveling. I look forward to every gig, being able to connect with the people with the music. But to be able to go into a school and educate kids like we've been doing for the past 18 years with Creole for Kidz that gives me a whole 'nother season of joy. I feel like I'm really doing my part to educate the public to the true history of our music and our culture.
You're a Jazz and Heritage Festival regular. When did you first play there? Did you have any idea it would be become this big?
I knew it was something the first time I did it. My first show at the Jazz Festival was 1986. We've been doing it every year since. It' amazing to see how big it's gotten. I couldn't imagine.
If you want to experience one of the greatest musical events in the world and definitely the best Louisiana has to offer, you have to do the Jazz and Heritage Festival at least once in your life.
 You do both covers and originals. You've worked with a lot of great songwriters. What' the best advice you've gotten?
You know when I was really young, I got a chance to work with Paul Simon when he was doing the "Graceland" CD. We did a session with him. We were one of three zydeco bands who did. He ended up picking Rockin' Dopsie Sr. to be the band. But it was my band, the Buckwheat (Zydeco) band and Rockin' Dopsie in the studio. 
We ended leaving with a single song, "You Used to Call Me," by Clifton Chenier. Paul sang background vocals. That was the first time I heard a Creole waltz with those kind of harmonies and that really inspired me to do more with the vocal side of the music. Talking to Paul, he said whenever you write a song, you always have to tell a story. That sounded like something simple, but I had never heard it before. Coming from one of the greatest songwriters ever, it was, wow, you're right.
He said you always want to tell a story. People can feel the realness of the song. That's always stayed with me. I've also gotten great advice from Taj Mahal, Art Neville, Dr. John, Allen Toussaint. I've been very, very lucky to meet those guys and find them gracious enough to spend some time with me and give me come great advice.
WANT TO GO?
Bayou Boogaloo & Cajun Food Festival
Friday, June 22
Main Stage: Robert Randolph & The Family Band (8:30 PM), Big Sam's Funky Nation (6 PM), New Breed Brass Band (3:30 PM)
Missing Kidney Stage: Dwayne Dopsie & The Zydeco Hellraisers (7:30 PM), New Orleans Swamp Donkeys (5 PM), New Breed Brass Band (2 PM)
Saturday, June 23
Main Stage: The Funky Meters (8:30 PM), Terrance Simien & The Zydeco Experience (6 PM), New Breed Brass Band (3:45 PM)
Missing Kidney Stage: The Iguanas (7:15 PM), New Orleans Swamp Donkeys (5 PM), Steve Riley & The Mamou Playboys (1 PM & 2:30 PM)
Sunday, June 24
Main Stage: Marcia Ball (4:30 PM), Terrance Simien & The Zydeco Experience (2:15 PM), New Breed Brass Band (12:30 PM)
Missing Kidney Stage: Chance Bushman & The Ibervillianaires (12:30, 1:30, 3:00 & 3:30 PM)
Town Point Park, Norfolk