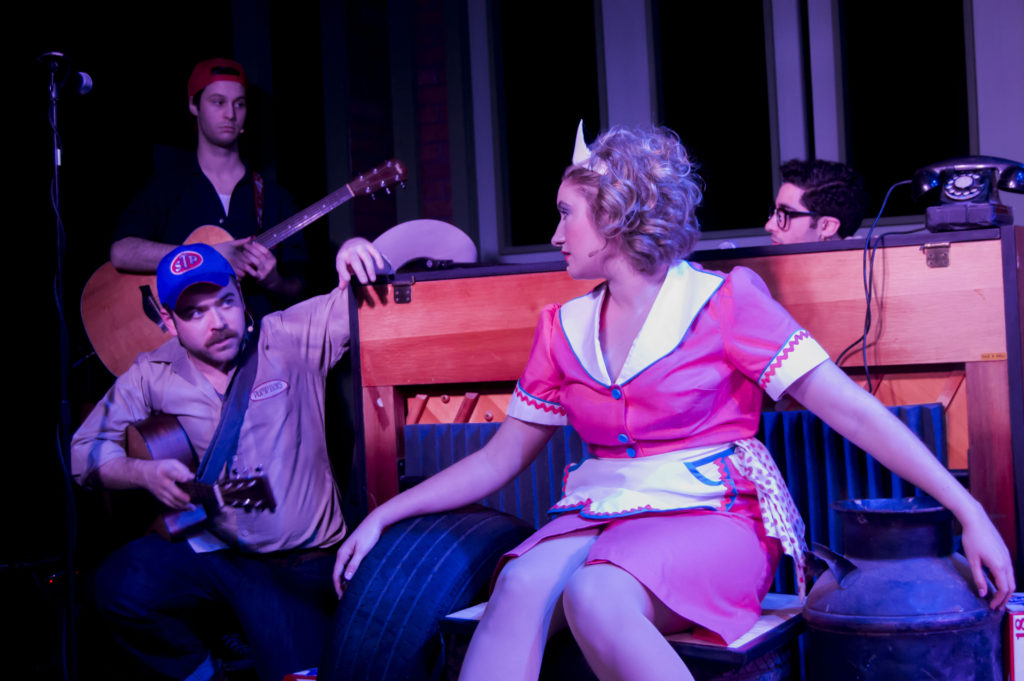 By Jeff Maisey
As the Hampton's uniquely intimate American Theatre closes out its 30th anniversary season and artistic director Richard Parison completes his first year at its helm, a programming first fulfills a promise for the venue to look both back and towards the future. 
When the Off-Broadway musical "Pump Boys and Dinettes" is staged April 13-15 and 20-22, it will debut Parison's vision of offering in-house, produced theater at the venue. It's a natural for both the theater and Parison.
"I come from the producing theater world," Parison said. "I wanted to be able to inject that into the season so that we could ultimately have a combination of presenting and producing. Over the years I think it could grow into something that would allow us to integrate a lot more local and regional actors."
Parison spent part of his 20 years as a theater director and producer at Firehouse Theatre and Virginia Repertory Theatre.  He likes what Virginia Stage Company and Virginia Musical Theater are producing on the Southside and wants to bring some of that flavor to the Peninsula. 
"I knew the only way we could do that having been a presenting organization for 30 years would be to co-produce with another producing theater. 
In this case, Richmond's 5th Wall Theatre Company. 
Auditions for the cast were held in Hampton Roads, Richmond, and New York City. The cast of "Pump Boys" is required to be multi-facetted, not only acting, but singing and proficiently playing a musical instrument. For this musical work that includes guitars, piano, upright bass, harmonica, accordion, and kitchen utensils. 
"Pump Boys and Dinettes" is a fun-filled throwback to the days of "Hee-Haw" and Nashville's Grand Ol' Opry. That's not to say it relives a radio broadcast, but it does feature country music, dancing, clapping, and is so upbeat audiences can rarely sit still. 
Parison produced the play ten years ago at a different theater. Because of his knowledge of the work as well as the local audience, he felt it was an ideal piece to introduce to the American Theatre.
"The inspiration for choosing the piece is it's a musical that really harkens back to a very nostalgic period of time where life is much easier and simpler," Parison said. "I thought this would be the kind of piece that our audience would really gravitate to. It has a sort of low country, southern feel to it that I think is very accessible to our audience. I was pretty positive both the Richmond audiences and the Hampton Roads audiences would find it a lot of fun and entertaining."
5th Wall Theatre prides itself on collaborating with other community theaters. They presented "Pump Boys" with the same cast in March to positive reviews.
Richmond Magazine wrote, "Thanks to director Richard Parison they've embraced a folksy attitude and kept their interactions lively" and concluded with "Pump Boys and Dinettes" was "a toe tappin', big grinnin', dang good time."  
"This ("Pump Boys") was really one of the first pieces where the actors were quadruple threats; they were singing; they were acting; they were dancing; and they were playing instruments," said Parison. "And so it does have a sort of retro feel to it." 
WANT TO GO?
Pump Boys & Dinettes
April 13-15, 20-22
American Theatre