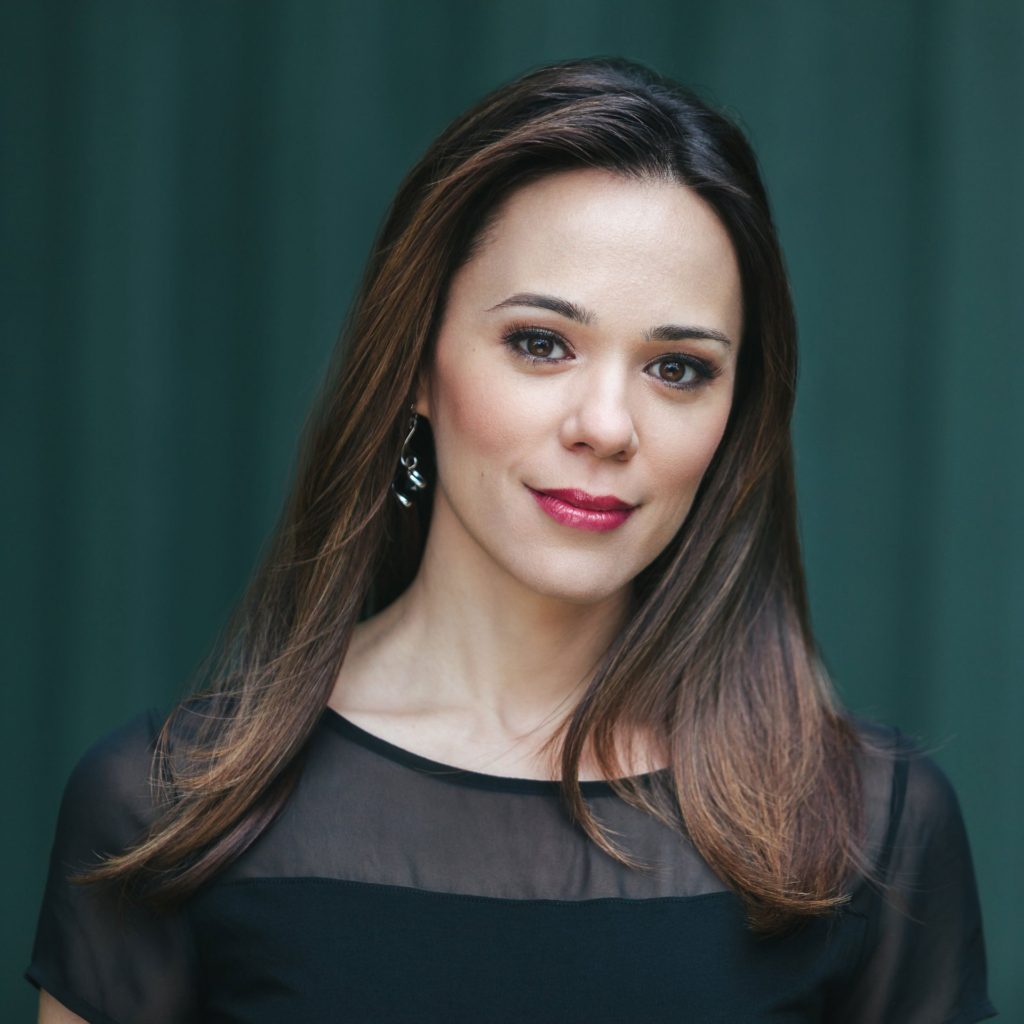 (Soprano Rachele Gilmore makes her Virginia debut)
By Montague Gammon III
Any contest for the maddest of all operatic mad scenes, the one that plants its flag on the whistling blue pointed peak of an art form that routinely trades in extreme emotions grandly expressed, usually features Act 3, Scene 2 of Gaetano Donizetti's Lucia di Lammermoor as the odds-on favorite.
Poor dagger-wielding, blood spattered Lucia – lied to, manipulated, tricked into believing herself betrayed by the man she loves, forced into an unwelcome marriage – stands in a direct line from the ancient Greek matricide Electra to Stephen King's Carrie, yet she still earns our sympathy while raising the hair on the back of our necks when she flies in fully ornamented bel canto style into delusion.
Shorn of musical technicalities, bel canto means that vocal showing off is OK and even encouraged.
Lucia di Lammermoor closes out the Virginia Opera's current season, which took as its theme – after Lucia had been set for inclusion – the idea that "Love that is not madness is not love."
The basic plot, about a star-crossed romance between members of feuding families (or warring tribes, enemy nations, competing street gangs and the like) probably harkens back to the first time a Neanderthal lass locked eyes with a Cro-Magnon lad across some uncrowded bee-loud glade.
Its basic version here is that Miss Lucia, who is perhaps not wrapped very tightly from the outset, loves Sir Edgardo di Ravenswood, but her brother Lord Enrico Ashton needs her to marry Lord Arturo Bucklaw. (The names are Italian, the setting Scotland, the houses of Lammermoor and Ravenwood are very much at odds.) When she finally unravels, she has a dirk in one hand and a bridegroom in the other.
Donizetti's opera ranks high on the list of the opera world's most produced and most favorite works; "one of the bel canto classics," says VO's Artistic Advisor Adam Turner, "an audience favorite" and, "long overdue [for] a welcome return." (Virginia Opera last did it in the Spring of 2009.)
This time the role of Lucia is played by coloratura soprano Rachele Gilmore, who is making her Virginia debut after compiling a globe-spanning resume that includes a highly praised performance in Tales of Hoffman at the Metropolitan Opera.
Tenor Joseph Dennis, as Edgardo along with baritone Tim Mix, in the role of Enrico and bass-baritone Richard Ollarsaba, who plays the chaplain Raimondo, are all also new to the Virginia Opera stage. Turner spotted each of them when he was talent searching across the country.
Turner was "blown away by the beauty of [Dennis'] voice," he says. He goes on to say that Mix will be "perfect – totally menacing. He's going to encapsulate that role!" and that Ollarsaba will bring a "really impressive booming voice [with a] robust range" to his character.
Audiences will also get their fourth look of the current season at Bille Bruley, who absolutely stole scenes in Midsummer Night's Dream as Flute and who is cast as the hapless Arturo. (Turner notes that Midsummer's amateur theatricals' efforts can be seen as a direct parody of Lucia.)
Turner touts this production's costumes, set against a stark background that will make them pop out, as what "people will go nuts over."
Lighting is by Driscoll Otto, who was responsible for the memorably magical projections of last February's Midsummer.
Kyle Lang is directing; his Virginia Opera Boheme of 2015 stands among the best staged and most clearly articulated Virginia Opera shows in recent memory.
In Lucia, Turner says, Donizetti "pulls out all the stops" for an "over the top" and "highly melodramatic" work that still has "accessible tunes…so many that you go whistling into the street," complete with songs that start with "The beautiful, lyrical side and then launch into vocal pyrotechnics."
Which is, perhaps, to say that "It's ain't over 'til the mad lady sings."
WANT TO GO?
Lucia di Lammermoor
Gaetano Donizetti
March 23, 25, 27
Virginia Opera
Harrison Opera House
160 W Virginia Beach Blvd.
Norfolk, Virginia 23510
www.vaopera.org
1-866-673-7282
(Additional performances in Richmond and Fairfax)