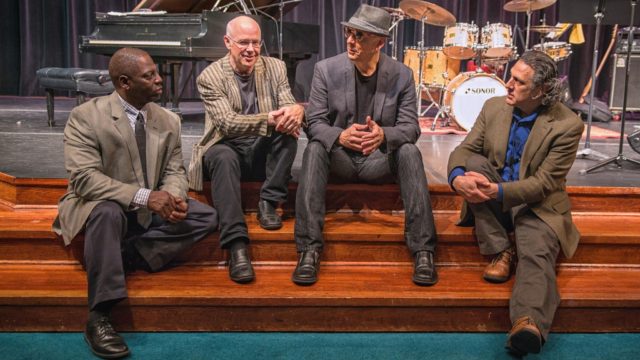 By Jim Morrison
When Jae Sinnett first was asked if he'd be interested in playing a Christmas show, he said sure. A day later, he thought, "What did I get myself into?"
He realized that if the straightforward jazz quartet from his latest disc, "Zero to 60," was going to do songs "that have been played a bazillion times," he would need to rethink those classics.
"I said, 'Ok, if I'm going to do this I can't go on stage and go bah, bah, bah," he says humming the first notes of "Little Drummer Boy." "I got really involved in reconceptualizing those classic songs in the style of the Zero to 60 Quartet. People think, oh, he's a drummer so, of course he's going to do "Little Drummer Boy," but it's not going to be like (what) they think."
For his show at the Attucks Theatre on Dec. 9, he chose holiday favorites that were malleable. "I wasn't' just thinking about songs I like, but I was thinking about songs we can manipulate and make conceptually fit how we play," he says. "In my head, I'm thinking how do these songs feel?"
"God Rest Ye Merry Gentlemen" offers a drummer a bounty of choices. A section of "Little Drummer Boy" will be played in a different time signature. "Have Yourself a Merry Little Christmas" is a jazz favorite because there's so much harmonic variation to it, he says. "Things like that. I just tried to break things up and make it interesting, "he adds.
To make it more interesting, he decided to bring in Grammy-nominated singer Denise Donatelli from the West Coast. She will join the band from his latest album that features saxophonist Ralph Bowen, pianist Allen Farnham and bassist Hans Glawischnig, who all work out of the New York City area.
"I've worked with Denise a few times," he says. "The most recent time was the San Jose Jazz Festival with her. She is an amazing singer. When I first worked with her, she was doing these arrangements by pianist Geoffrey Keezer. They were some of most challenging arrangements I ever played and I've played a lot of complicated music. Those arrangements were flat-out crazy and here she was singing over that stuff."
"She's a classy, beautiful singer," he adds. "One of the greats singing this music today."
Sinnett, who has hosted WHRV's "Sinnett in Session" for 25 years, prepared for the Christmas show with a rehearsal in August in New York with the quartet.
That they were together rehearsing winter songs in the hot summer is another story. Sinnett says he never intended to record and release the music that became "Zero to 60," his 14th album.
He writes all the time so the tunes were there when he decided to look for some new players to do a few gigs. Then one thing led to another and an album was born.
But, first, exactly how does a drummer write songs? Sinnett says it's a common question.
"I write from the piano," he explains. "I play a level of piano. I understand the harmony and theory behind it and I understand composition. Then I start to conceptualize all the instruments in my head."
When he first started writing, he would sit at the piano for hours and hours working on songs. But later when he was sitting at his drum kit to rehearse, he'd have no idea what to play.
He was at a rehearsal one day with sax player Steve Wilson and pianist Cyrus Chestnut just destroying the music on the drums, making one mistake after another. "Steve Wilson stopped and said sarcastically 'Are you sure you wrote this music,' "Sinnett recalls. "That was a revelatory moment for me."
He realized he needed to think about the bigger picture when he composed. "Now, the way I write, I will have a specific rhythmic foundation in mind, a rhythmic idea, a certain feel, tempo and I will develop the harmonic structure around that rhythmic foundation," he says. "A lot of times I hear the melody first.
"There's writing from top to bottom or bottom to top. Top down is melody to rhythm. Bottom is rhythm to melody. Lately, I'm mostly writing from the bottom to the top."
He feels like with his newest disc, he finally got beyond his insecurities about developing melodies, "I really wanted to write melodies, themes, memorable themes," he explains. "That's one aspect I think I've developed over the past couple of years."
Before "Zero to 60," he'd done a series of albums highlighting different genres. But jazz beckoned.
"I wanted to play some straight-up jazz with a really good tenor saxophone player. I was thinking about the tenor players I've worked with like Branford Marsalis," he says. "Ralph Bowen had always been at the top of that list. Since OTB, I've been a big fan of his. You kind of roll the dice and see what happens. I sent him the music and he got back with me, 'Man, I love this. Let's do it. Let's play. The connection with Ralph Bowen was really the spark that got this going."
The idea was to get together and play, not to record. "But the guys kept asking me are you planning to record this music? I was like, no. They said, 'You should. "
For their sessions, he wrote out the music, but left room for improvisation. "With this level of players, you've got to give them room," he says. "What they bring to the table is incredible. A lot of times they will play something I'd never have thought of."
It also helps that the four guys genuinely like each other. "There's an inter-activeness that is necessary on my bandstand and it starts with the personal relationships," he adds. "These guys are like brothers to me."
They recorded the album in two days at Bias Studios in Springfield. "I never thought they would record with me," he adds. "I thought they would come down and do a couple of gigs and that would be it. But one thing led to another and we ended up in the studio," he adds. "I'm glad we did. I think it's my best jazz record by far."
Now that he's returned to his jazz roots, he's not looking back. "Sometimes you feel like you need to do that and get it out," he says, "but now that I've done it, I have no desire to go back and do it anytime soon. I've written some new music and it's not jazz. It's rock and funk and soul, blues and R&B, light jazz fusion. It's a mixed bag of things, man."
For now, though, he's looking forward to playing his take on Christmas standards with Donatelli and the quartet, a group that's locked, not just local musicians backing the headliner. "I just love playing with these guys and playing live with the band," he says. "It's such a good band. We have really good arrangements. And it's a real band, which is rare in jazz these days."
WANT TO GO?
Jae Sinnett's Zero to 60 Quartet Christmas Show
With guest vocalist Denise Donatelli
December 9
Attucks Theatre