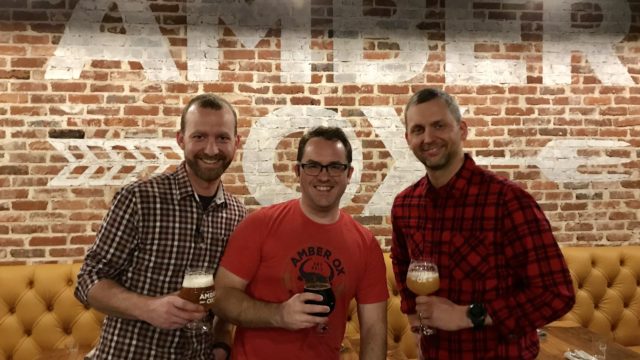 Words by Chris Jones & Diane Catanzaro
Photos by Diane Catanzaro
The Amber Ox Public House in Williamsburg is a new brewpub that is in many ways a game-changer in Hampton Roads.  Creative, seasonally-inspired cuisine, top-notch beers brewed on premises, guest beers from many of your local favorite breweries, craft cocktails and Virginia wines, all served with a heaping dose of hospitality in a warm inviting historic atmosphere. You and your friends are going to love this place.
Friends and business partners Chris Cook and Andrew Voss have tastefully renovated a 6,000-square-foot building on trendy Prince George Street, a five-minute walk from Colonial Williamsburg's Merchants Square.  They have installed a brand-new seven-barrel brewhouse adjacent to the bar dining area. And, most significantly, they have hired Greg Fleehart, formerly of Commonwealth Brewing in Virginia Beach, as brewmaster.  Greg brings instant credibility to this young brewpub and the beer is spectacular!
Amber Ox is not "just" another brewery. It's a brewpub, which is a brewery-restaurant. "Breweries" have tasting rooms where you can drink their beer, but do not have a license to serve food. The Amber Ox is a completely different animal.
The food is outstanding, well-prepared and attractively presented. The menu will vary with what is fresh and the chef's inspiration, so all we can do here is give examples of items that may be on the menu when you visit, like shrimp and grits, diver scallops with smoked paprika butter-sauce, stout-braised short-rib, smoked pork belly tostada, spent grain and beet salad with Eldorado hops vinaigrette, several "sharables" such as deviled eggs, and fried oysters with bacon jam. And, yes, there are wings, pecan-smoked and served with tarragon-buttermilk dressing, and a burger topped with pimento cheese and house bacon.  Entrees range from $14 to $19, and salads and shareable appetizers are mostly below $10. The building is warm and inviting, with exposed brick and reclaimed wood in the main dining room. Subway tile frames the open kitchen in the spacious bar area, with gorgeous wood high-top communal tables that seat up to ten. It's a great-looking place.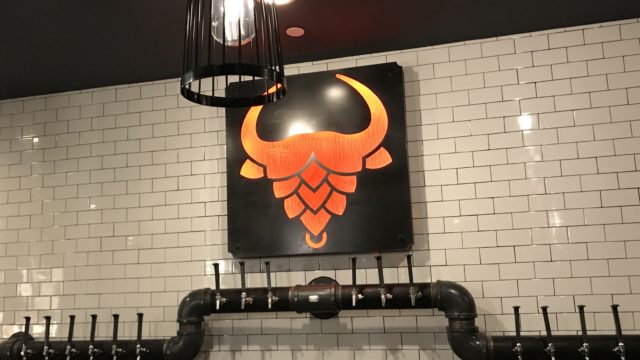 What is the relevance of the Ox, you may be wondering? (Actually, you were probably wondering about the beer, but one of the writers has a liberal arts degree and of course the story will lead to beer). The humble Ox has long benefited brewers by ploughing the barley and wheat fields and trampling the grain to crush it, and of course "draught" (British spelling of "draft") can refer to draft beer as well as the draft animals that pull the cart to deliver kegs of fresh draft beer to market. While perhaps not as handsome as Clydesdales, the noble Ox has a calmer temperament and greater strength, and this draught animal was an integral part of the agricultural economy in Williamsburg before Clydesdales existed as a breed. Of course, no brewer wants oxidation and so you never ever let the Ox wander unfettered in the brewhouse. Now that the draft history has been dispensed, what is the beer scene like at the Amber Ox? Glad you asked. Bet you were getting thirsty.
House beers on tap will vary but opening night featured Greg's delicious hazy New England-style IPA called Kung Fu Kittens, a session-worthy pilsner brewed with grits, an oatmeal stout brewed with hickory syrup, fennel, coffee and chilis, a double IPA called the Prophesy, and a beautifully-balanced amber ale. The brewhouse, located just off the main bar area, is nimble enough that Greg will continually offer new brews so expect something different every time you visit. The Amber Ox has eighteen draft lines, so in addition to their own beers there is a fantastic selection of guest beers brewed in the 757. Opening night featured guest beers from Virginia Beer Company, Alewerks, MoMac, Benchtop, Coelacanth, Big Ugly, Old Bust Head, Brothers Brewing, Lickinghole Creek, and two craft ciders. This will be one of the best places around to try the best of what the Hampton Roads craft beer scene has to offer, and you can purchase sampler flights to try a wide range of different beers.
In addition to the beer, the Amber Ox has a full liquor license, and the craft cocktails here are stellar.  Continuing the emphasis on local, the majority of the spirits are from Virginia, and the bar features homemade simple syrups and bitters. Diane enjoyed a Negroni made with Jamestown Gin, Silver Hand Mead, and house-made burnt orange bitters. Three of the four ingredients are from Williamsburg. Can't get much more local than that.
If you get the idea that this isn't Andrew and Chris' first restaurant rodeo, you would be correct. Andrew's bona fides include experience as Executive Chef and Director of Restaurant Operations for the Boston Renaissance Waterfront Hotel, and previous Executive Chef and Executive Sous Chef positions with JW Marriott (the luxury niche of the Marriott hotel chain).  His fine dining and Executive Chef experience are evident in the quality of food at the Amber Ox. Chris is a successful franchise owner of multiple units of a national chain restaurant and has a Bachelor's degree in Hospitality from Michigan State University's Eli Broad Business School.  Chris has lived in Hampton Roads for a while, and we first met him through a local homebrew club several years ago.  He has always had a love for beer and came over to our home several years ago to help brew a batch of beer.  He moved to Williamsburg and we lost touch, and were delighted to learn that his love of beer has led to this new venture. We are incredibly fortunate that he and Andrew have joined forces to bring their talents to our local food-and-beer scene with the Amber Ox.  Go check them out.
The Amber Ox is located at 521 Prince George Street in Williamsburg.  Phone: 757-790-2299. E-mail: theamberox.com