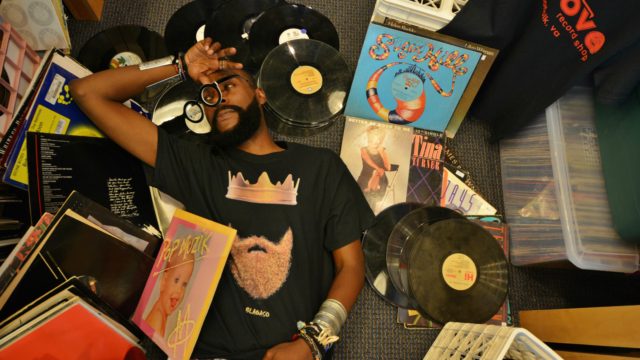 By Jerome Langston
It is quite fitting to find my friend, the multi-hyphenate himself―K'bana Blaq – preparing for his debut at VA Fashion Week, as a designer, during our scheduled time to talk about his big headlining concert at The NorVa. The man wears so many creative hats, it's hard to keep track. Yet what always amazes me is his natural proficiency in so many of these artistic disciplines.
K'bana is tiring of having to do so many things himself, though. "I really desire and want to be just an artist, but times have forced you to be—producer, writer, director, model, teacher, choreographer—and that's sad," he says. It is true that the current paradigm in music dictates that a music artist utilize all possible creative outlets in order to just survive these days, especially if you are an independent artist, as of course most are. Being able to solely focus on just making and performing music is a luxury that very few full-time music acts now have. That reality is one of the reasons why K'bana's NorVa show, where he headlines the nationally celebrated Norfolk music venue for the first time, is so very important.
The NorVa is the very same venue that Prince headlined the last time he performed in Hampton Roads. K'bana's show falls between dates by popular hip-hop acts, Tyler, The Creator and Bone Thugs-N-Harmony. In 2013, Rolling Stone readers chose the local favorite as the Best Music Venue in America. So it's quite a big deal for a locally based, homegrown artist to headline it. "It is surreal," he says, "to get to headline it as a solo artist."
Of course, that opportunity is not given to just any local act. K'bana Blaq has built an impressive following through years of performing as a lead singer of The Fuzz Band, racking up hundreds of thousands of YouTube views for his music related content, winning a couple of Veer Music awards, and performing on stages throughout the 757, as well as in plays and film. The NorVa date launches his Blaq Revival tour, which he expects to continue next summer, following the February release of his new album, BLAQASO Chapter 1: Colorfade.
"The whole purpose of Blaq Revival is that it's my last name first, representing who I am, and reviving what I love to do, which is entertainment," he explains. "My whole goal with the Blaq Revival, is not only showcasing myself, but also showcasing people that are really authentic in their art."
About a dozen or so artists will open for K'bana at the NorVa, including well-regarded local acts like Donald Hurdle, Alexis Jones and Skye Zentz. He promises that the show will run like a play or festival, with openers performing just one or two songs, and transitioning smoothly from artist to artist.  One of those artists is singer Carlos Armon, who earned a Best R&B nod at the Veer Music Awards, back in 2016. He's currently working on a follow-up to his successful 2015 debut EP.
"I like the fact that it is an all independent artists type of show," Carlos says by phone, prior to my interview with K'bana. He was happy to be chosen by K'bana to perform at the NorVa, and he's long been a fan and friend of our local musical chameleon. "He has the capability to be that superstar, once he's given that ultimate opportunity."
Besides the assortment of quality openers, attendees can expect a K'bana Blaq show with a full band, professional background singers, impressive lighting and even some noteworthy choreography. There will also be wardrobe changes. It almost goes without saying, that this is an ambitious show for a local musician. "I wake up every day wanting to be an entertainer that changes the world," he says, citing Michael Jackson and Prince as key inspirations.
The NorVa show also gives him the opportunity to showcase music from his upcoming album, which the artist is dedicating to his father, who is currently battling cancer. The concert date is actually the day before his father's birthday, which falls on Thanksgiving this year. "I believe in my heart that it's important for him to be celebrated," K'bana says.
The album will be previewed by the release of "Colorfade" as a single in January. Upon the project's release, scheduled for February 1, his memoir Before Success, as well as his designer tees will be available at his new website.
Singer Ashley Felder, who cites Ella Fitzgerald and Brandy as primary vocal influences, is one of the show openers. K'bana has long been a vocal supporter of her work as an emerging artist. "He has no problem with sharing his platform with anyone," she says, regarding what makes him unique as an artist.
"There's no other like him here. He's definitely made his mark. No one could ever replace or duplicate him at all."
WANT TO GO?
The Blaq Revival Tour
K'bana Blaq with special guests
November 22
The NorVa
TheNorVa.com