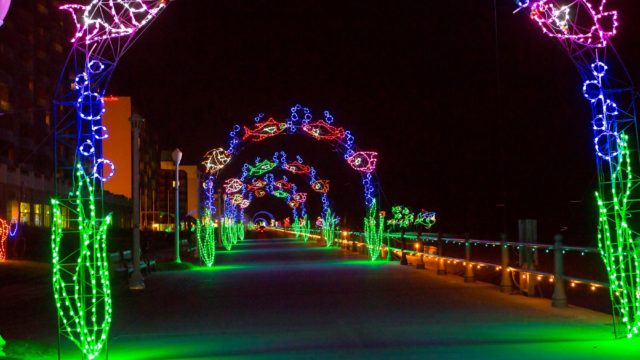 Holiday Lights, Ice Skating & Parades
Million Bulb Walk
November 10-30
Norfolk Botanical Garden
www.norfolkbotanicalgarden.org
Merry Lights Merry Mile
November 23 through December 31
2nd Street at the Oceanfront
Cruise in your car through holidays lights on the Boardwalk.
16th Annual Pagoda & Garden Light Fest
November 18-December 25
Norfolk Pagoda
33nd Annual Grand Illumination Parade
November 18
Downtown Norfolk
7 PM
Dominion Garden of Lights
December 1-31
Norfolk Botanical Garden
www.norfolkbotanicalgarden.org
MacArthur on Ice
November 18 through January 15
Ice skating
Polar Express
December 3-21
Norfolk Botanical Garden
Take a train ride through holiday lights
www.norfolkbotanicalgarden.org
Ghent Tree Lighting
December 1, 6:30 PM
Blair Middle School
Holiday Parade at the Beach
December 2, 5:30 PM
Atlantic Ave. between 15th & 25th Streets
Colonial Williamsburg Grand Illumination
December 3, 4:00 PM
Downtown Hampton Lighted Boat Parade
December 8, 7 PM
Downtown Hampton Waterfront
Yorktown Toyland Parade
December 9, 9:00 AM
Fifes & Drums and open to the public to join in the parade.
757-890-3500
16th Annual Olde Towne Scottish Walk
December 31, 3:30 PM
Contact Susan Cooke for more information (757) 650-3052
Last Night on the Town w/Smashmouth
December 31
Virginia Beach Town Center
Holiday Concerts
TRADOC Winds Holiday series
US Army Training & Doctrine Command Band
December 4, St. Bede Church, Williamsburg
December 7, Fort Monroe Theater
December 9, Regent University Chapel
Free Admission, Tickets at www.facebook.com/tradocband
The US Army band performs a lively repertoire of holiday tunes.
Ode to Hope
Symphonicity
November 19
Sandler Center
As a timeless message, every note of this concert leads to a resolution or description of Hope. Contemporary Markowski's uplifting joyRIDE hints at Beethoven's greatest musical gift while also setting the stage for the lyrical and soothing Haydn's Cello Concerto in D, performed by cellist Steven Honigberg, member of the National Symphony Orchestra and the Potomac String Quartet. The concert finale, Mendelssohn's iconic "Reformation" Symphony No. 5, serves to commemorate the 500 year anniversary of the Protestant Reformation when Martin Luther nailed the 95 Theses to the door of the Wittenberg Castle.
Manheim Steamroller Christmas
November 22
Chrysler Hall
Mannheim Steamroller Christmas by Chip Davis has been America's favorite holiday tradition for over 30 years! Grammy Award winner Chip Davis has created a show that features Mannheim Steamroller Christmas classics along with a selection of compositions from Chip's groundbreaking Fresh Aire series which introduced the distinctive Mannheim sound to all of America. The program celebrates the group's recent anniversary of 30 years since the first Christmas album and 40 years since the first Fresh Aire album and includes dazzling multimedia effects performed in an intimate setting. Experience the magic as the spirit of the season comes alive with the signature sound of Mannheim Steamroller.
Irish Tenors Christmas
November 30
Ferguson Center
The Irish Tenors—Finbar Wright, Anthony Kearns, and Ronan Tynan return to the Ferguson Center stage for a holiday concert like no other. This original trio, regarded as the godfathers of Irish repertoire, join voices to thrill audiences with their sweeping standards and dynamic holiday fare. Delight in the full-bodied sound of the symphonic backing of the Virginia Symphony Orchestra and pure tenor harmony, guaranteed to make this winter concert richly entertaining. The Irish Tenors have been the acknowledged Celtic music kings since 1998, and their Christmas album, "We Three Kings," is one of the best-selling holiday CDs ever recorded​.
Dave Koz: 20th annual Christmas Tour
December 1
Ferguson Center
Jazz saxophonist Dave Koz presents the 20th Anniversary of his Christmas Tour with special guests David Benoit, Rick Braun, Peter White and Selina Albright. Two decades ago, Grammy nominee Dave Koz – a nice Jewish boy – launched his first-ever Christmas tour. Now fans and families across the country await his arrival with the kind of anticipation formerly reserved for St. Nick himself, earning the saxophonist extraordinaire the nickname "Santa Koz." The concert will feature fresh renditions of Christmas classics as well as a Chanukah medley and hits from the artists' respective catalogs.
Tidewater Winds Holiday Concert
December 4
Sandler Center
The Tidewater Winds will be performing their traditional Holiday Concert.
Holiday Pops
Virginia Symphony Orchestra
December 8, Ferguson Center
December 9, Chrysler Hall
December 10, Sandler Center
Join us for the must-see holiday tradition of the season – Holiday Pops! There's no better way to lift your spirits than with seasonal songs and traditional carols delivered in full sound and spectacle by the Virginia Symphony, the inspirational voices of Virginia Symphony Orchestra Chorus and special guests. Led by conductor Robert Shoup, Holiday Pops and will have all the magical elements you've come to expect Holiday Pops—high energy, familiar carols and lots of holiday warmth.
A Darlene Love Christmas
December 9
American Theatre
No Christmas star shines quite as bright as the talent of the legendary Darlene Love. The Rock and Roll Hall of Fame inductee will bring holiday cheer to the American Theatre with songs that span her celebrated career in the music industry.
From her early days as part of Phil Spector's wall of sound hit factory to Broadway roles in Hairspray and Grease and a subject in the Academy Award-winning film, Twenty Feet From Stardom, Love will rock the house with her warm, gracious stage presence and superb performance. Love helped launch more than 100 hit songs, including the number one Billboard hit, "He's a Rebel," and her holiday anthem, "Christmas (Baby Please Come Home)."
Jae Sinnett's Zero to 60 Quartet Christmas Concert
Presented by Virginia Arts Festival
December 9
Attucks Theatre
Drummer, composer, arranger, educator and band leader Jae Sinnett has performed over the years with such musical icons as Branford and Ellis Marsalis, Joe Henderson, Freddie Hubbard, Chuck Mangione, Jon Hendricks, Jimmy Greene, and many more. A shining light in the Hampton Roads music scene, he is a frequent member of the Attucks Jazz Club Trio; his own Trio and Zero to 60 Quartet have drawn innumerable fans in both live performances and critically acclaimed recordings.
The Star & The Sleigh: Two sides of Christmas"
Presented by Virginia Beach Chorale
December 9
Sandler Center
Join the Virginia Beach Chorale as they celebrate the warmth of the season and the time honored traditions that make Christmas one of the most loved holidays in the world.
Olde Towne Holiday Music Festival
Portsmouth Art & Cultural Center and throughout Olde Towne
December 10
Noon to 6 pm
www.portsmouthartcenter.com, 757-393-8543
The sidewalks come alive with a wide variety of holiday music featuring gospel, jazz, folk and more.
Winter Classics & Holiday Favorites
Hampton Roads Philharmonic Orchestra
December 10, 2:30 PM
American Theatre
This December, join the Hampton Roads Philharmonic for a winter-themed classical program, with a pops-style twist.  Come hear how the coldest times have inspired some of the greatest composers.  Along the way, shake off some winter gloom with seasonal favorites such as The Skater's Waltz, Sleigh Ride, and a special guest narration of "A Visit from St. Nick."
Jingle Bell Jam
Virginia Symphony Orchestra
December 10
Sandler Center
Santa Claus is coming to town – and he's stopping by with your Virginia Symphony Orchestra for the ever-popular Jingle Bell Jam! Celebrate the magic of the season with an afternoon that showcases the music of the holidays performed by the best talent in Hampton Roads.
Holiday Brass
Virginia Symphony Orchestra
December 12, TCC Roper Center
December 13, Chesapeake Convention Center
December 15, St. Bede, Williamsburg
The bold sounds of the Virginia Symphony Brass section ring in the holidays with a blast! Experience the festive sounds of the season in a concert filled with wit, virtuosity, and the glorious music of the holidays—featuring the VSO brass and percussion sections.
Handel's Messiah
Virginia Symphony Orchestra & Chorus
December 14, Regent University
December 15, First Baptist Church, Newport News
December 16, Harrison Opera House
Adam Turner conducts the Virginia Symphony Orchestra for the time-honored Christmas tradition of George Frideric Handel's revered oratorio, Messiah. Get in the spirit of the season with this distinguished performance of Handel's sacred masterpiece that presents the austere and dramatic narrative of the Messiah. From Isaiah's prophecies to the Hallelujah Chorus, you will be brought to your feet in the Messiah performance of the season.
Martina McBride "Joy of Christmas"
December 20
Chrysler Hall
Multiple Grammy nominee Martina McBride has sold over 18 million albums to date, which includes 20 Top 10 singles and six #1 hits. In February 2016 she released her first single, "Reckless," the title track from her new album which is now available. McBride has earned more than 15 major music awards, including four wins for Female Vocalist of the Year from the Country Music Association and won three Academy of Country Music for Top Female Vocalist. Martina has been awarded 14 Gold Records.
Vienna Boys Choir
Presented by Virginia Arts Festival
December 20, St. Bede's Church, Williamsburg
December 21, Sandler Center
Beloved for its pure, heavenly sound, this internationally revered choir can trace its history as far back as the 13th century, and despite the youth of its singers, represents an art form steeped in tradition and history. Today, boys audition for the choir from around the world; many of them have fathers or even grandfathers who were choir members. The full choir is divided into four equally gifted touring groups, each led by its own conductor and accompanied by tutors. The group who will be presented by the Virginia Arts Festival includes boys from Austria, Cambodia, China, France, Germany, Iceland, Italy, Japan, Korea, New Zealand and the Philippines. They will be led by their spirited Italian choirmaster Manolo Cagnin, who has traveled with the group throughout Europe, North and South America, and Asia. He chooses repertoire to match the boys' voices and personalities—including, in the case of these December performances, some of the best-loved holiday music ever written.
Jim Brickman: A Joyous Christmas
December 21
Ferguson Center
Grammy nominated songwriter and piano sensation Jim Brickman celebrates "A Joyful Christmas," delivering the sound and spirit of the season with carols, classics and original songs during his 21st holiday tour. Holiday music brings yuletide memories to life as he helps audiences escape from the holiday hustle-and-bustle, keeping days merry and bright. Bring your family, friends or that special someone and make Jim Brickman your new holiday tradition!
Holiday Theater & Dance
"A Christmas Story: The Musical"
November 21-22
Ferguson Center
Based on the classic 1983 movie, "A Christmas Story, The Musical," nominated for three 2013 Tony Awards including Best Musical, comes to hilarious life on stage! In 1940s Indiana, a young and bespectacled Ralphie Parker schemes his way toward the holiday gift of his dreams, an official Red Ryder Carbine-Action 200-Shot Range Model Air Rifle. An infamous leg lamp, outrageous pink bunny pajamas, a maniacal department-store Santa and a triple-dog-dare to lick a freezing flagpole are just a few of the distractions that stand between Ralphie and his Christmas wish. The Associated Press calls "A Christmas Story, The Musical" "a joyous Christmas miracle," while The New York Times writes "I was dazzled. You'd have to have a Grinchsized heart not to feel a smile spreading across your face."
The Great Russian Nutcracker
Moscow Ballet
November 24
Sandler Center
All ages are invited to celebrate Christmas with the Moscow Ballet company of almost 40 ballerinas and danseurs on their 25th Anniversary Tour of North America in 2017. Moscow Ballet's Great Russian Nutcracker is known for its award-winning Principal Dancers, lavish costumes in the style of the Victorian era, many backdrops created by "La La Land' Set Concept designer Carl Sprague, and its Russian focus including life-sized Matryoshka Dolls, Russian folk legends Ded Moroz (Father Christmas) and Snegurochka (Snow Maiden) and Troika Sleigh. Adults and children enjoy the special effects of the flapping winged owl on the Grandfather clock, the growing 50 ft tall Christmas Tree, the Dove of Peace with a 20ft wingspan, and of course, the leaps, spins, and extraordinary moves of the company all performed to Tchaikovsky's complete and incomparable score.
The Nutcracker
Presented by Richmond Ballet
December 1-3
Chrysler Hall
Tchaikovsky's brilliant ballet score comes to life for this magical collaboration between the Virginia Symphony Orchestra and The State Ballet of Virginia, Richmond Ballet! Heralded as "perfect" by the New York Times, Stoner Winslett's production of The Nutcracker returns for the 5th consecutive year to Chrysler Hall as one of the highlights of the 2017 holiday season.
Searching for Santa: A Holiday Musical Show on the Plaza
December 1-2, 5:30 PM
Virginia Beach Town Center
Free
"Searching for Santa: A Holiday Musical Show in the Plaza" will be a delightful outdoor stage production featuring music, festive costumes, and a story that will warm your heart! Taking place around the Fountain Plaza in the heart of Virginia Beach's Town Center, "Searching for Santa" will be the quintessential holiday experience for the entire family. Delight to the magical appearance of Santa Claus and the countdown at Fountain Plaza for the magnificent lighting of the giant holiday tree!
Hurrah for the Holidays
Presented by Hurrah Players
December 1, Kimball Theatre, Williamsburg
December 8-10, TCC Roper Center
Guaranteed to get you in the holiday spirit is the annual production of HURRAH FOR THE HOLIDAYS; a joyful celebration featuring all the best music of the season – from your favorite classic standards to popular modern day hits. With the renowned precision kick-line dancers, a 6-foot dancing snowman, and a few festive surprises – it's an event for the entire family.
Lightwire Theater: A Very Electric Christmas
December 2
American Theatre
Audiences of all ages will be captivated by Lightwire Theater's dazzling visuals and unique menagerie of characters that magically appear out of the darkness. Combining the arts of puppetry, theater and dance with the music of timeless holiday hits, this magical and captivating tale of family, friendship and hope creates a truly one-of-a-kind, inspired and exhilarating holiday experience that will be a treasured memory for years to come.
Christmas Wonderland
December 6
Ferguson Center
Christmas Wonderland Holiday Spectacular is a delightful and enchanting show featuring glittering costumes, a dazzling cast and the highest-kicking chorus girls this side of the North Pole! Start Christmas in style as Santa and his merry helpers take you on an unforgettable nostalgic journey, as 24 singers and dancers hand selected from London, New York, Las Vegas and Los Angeles transform the stage into pure winter wonderland magic. With more than 1,000 glittering costumes and spectacular sets and scenery, the show parades its way through the wonder of Christmas and the excitement of the holiday season.
A Christmas Carol
Presented by Virginia Stage Company
December 6-24
Wells Theatre
It wouldn't be the holidays without Dickens' A Christmas Carol at the Wells Theatre. Experience the childlike wonder of this heartwarming story that follows the Ghosts of Christmas Past, Present, and Future as they take Ebenezer Scrooge on a journey of redemption where he learns the power of kindness and compassion. This play is recommended for all ages and, in our opinion, is better the more kids you bring.
Best Christmas Pageant Ever
Presented by Hurrah Players
December 9, TCC Roper Center
Based on the popular book by Barbara Robinson, The Best Christmas Pageant Ever is the funny, heartwarming, and mildly irreverent story of what happens when a church play is hijacked by six of the 'absolutely worst kids in the history of the world'. A holiday tradition in Hampton Roads, this one night only event is presented with Happy Hanukkah, My Friend; a short program celebrating the Festival of Lights.
A Christmas Extravaganza
Presented by The Academy of Dance
December 9
Ferguson Center
The Christmas Extravaganza is a delightful holiday performance for the entire family, featuring more than 300 dancers including Elves, Dancing Dolls and Angels. Award-winning dancers perform to excerpts from The Nutcracker and appear as Wooden Soldiers and Raggedy Ann Dolls. This is the complete "Christmas Extravaganza" featuring a nativity scene, snow, Santa, Christmas carol soloists and more than 50 Elves in sleighs!
The Nutcracker
Presented by Ballet Virginia International
December 15-17
Sandler Center
Join us for BVI's Nutcracker 2017 with live orchestra by Symphonicity and experience the beauty and athleticism of this timeless classic. Enjoy nationally recognized guest artists and our region's finest dancers.
Escape with Clara and her Nutcracker as he comes to life and saves her from the evil Rat King and his minions. Witness Dr. Drosselmeyer's magical snow as it transforms Clara and her beloved Nutcracker into a beautiful princess and a handsome prince. Waltzing flowers, tiny mice and a delightful Sugar Plum Fairy will make a treasured memory and put the entire family in a warm holiday mood.
This talented cast along with directors, Janina Michalski Bove and Suzanne Lownsbury, will bring an exciting and professional quality ballet to the Sandler Center for the Performing Arts.
Holiday Events
Dickens Christmas Towne
November 18 through December 31
Nauticus/Half Moone Cruise Terminal
Winter Wonderland: The Coleman Collection
November 24 – December 31
Courthouse Galleries, Portsmouth
Holiday Farmers Market
November 25, December 2, 9, 16, 23
Olde Town Portsmouth
43rd Annual ODU Madrigal Banquets
December 1 & 2
6:30 PM
Featuring food and music from Italy and the British Isles. Madrigal Banquets include full-course Renaissance meals and music provided by the ODU Madrigal Singers, Collegium Musicum, and Sacbut Consort. Directed by Bianca Hall. Atrium, Diehn Center for the Performing Arts. Tickets $20-$ 40 at ODUArtsTix.com and (757) 683-5305.
4th Annual Holiday Yule Log & Christmas Market Place
December 2
Town Point Park
NEON Holiday Market
December 9, Noon to 5 PM
The Plot
Last Night on the Town w/10,000 Maniacs
December 31
Virginia Beach Town Center
Holiday Open Houses & More
Ghent Open House Weekend
December 1 – 3
Visit your favorite Ghent businesses, take advantage of special promotions, and start your holiday shopping.  www.ghentnorfolk.org
7th Annual Chelsea Holiday Open House,
December 8, 5-9pm
Radiating from the corner of Orapax Street and Redgate Avenue. Refreshments and drinks everywhere you go! Pony rides at the New Leaf!
Naughty Brunch with Santa
December 16, 11am-2pm
Decorum Furniture
Have you been naughty or nice this year? If you've been naughty, come see us! Join us for nosh and drink.  Get your picture taken with our naughty Santa. Enjoy 30% off Holiday merchandise!