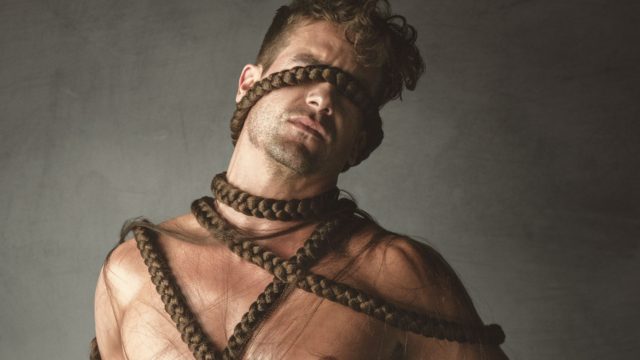 By Montague Gammon III
The incandescent fury of a seductress scorned, fueled by ethnic hate, lights up the Harrison Opera House stage when Camille Saint-Saens' Samson and Delilah opens Virginia Opera's 2017-18 Season.
Principal Conductor & Artistic Advisor Adam Turner describes a visually lush, thematically challenging show that moves the familiar Biblical tale of Hebrew strong man Samson and his fatal attraction with his Philistine femme fatale to an unspecified "location in the 1930s," in which "the Philistines are a ruling fascist party whose symbol permeates the production."
That symbol is not a swastika, Turner explained in response to a specific question, but rather an emblem that represents the Philistine god Dagon, though the use of it on armbands, which he mentioned, is bound to link the Virginia Opera Philistines to the real fascists of the 20th Century.
If this production sparks controversy, it won't be the first time this opera has done so. (Turner is pleased that productions like this one can get audiences "engaged," and sounds unworried about conflict.)
Parisian audiences initially reacted badly to the idea of Biblical characters on a theatrical stage, so the true premiere of the piece, the libretto of which was written in French, was not staged until some 6 or 7 years after a French preview performance of sorts, and about 4 years after the piece was truly finished.
It was only after the celebrity pianist-conductor-composer and man of many musical parts Franz Liszt threw his support behind the French Jewish composer's work that a true premiere took place in the German city of Weimar in 1877, with the libretto translated into German.
French audiences did not see it until 1890, and it supposedly took the intervention of King Edward VII to get the opera its first fully staged production in England in 1909. A planned London staging in 1893 had to be reduced to a concert performance, because of official objections to the intersection of the Bible and the Stage.
(The VO version will be sung in French, with supertitles.)
Samson and Delilah is one of those shows usually associated with grandiose spectacles and huge casts. (Apparently Cecile B. DeMille, that groundbreaking film pioneer and showman, whose epic movies are still a watchword for the spectacular, was influenced by seeing the Saint-Saens' opera when he was a youth.)
Virginia Opera, says Turner, "brings an intimacy to these grand scale pieces," with the company's "eye for efficiency" which "brings a laser like focus to the five principals."
He still describes an impressive show, with a 'beautiful set" and "gorgeous costumes" designed by Court Watson, whose international design credits stretch from Beijing to off-Broadway to Berlin. Watson just happens to be a Chesapeake native and graduate of our own Governor's School for the Arts, with an undergrad degree from VCU, and an MFA from New York University. This is his first show for Virginia Opera, but Turner adds "I hope it will be the first of many."
Stage director Paul Curran comes to Norfolk with a resume rich in credits from the Met, La Scala, Covent Garden, the Bolshoi Theatre and a host of other such venues.
The Harrison Opera House welcomes a trio of familiar performers among the principals in this season opener. Katharine Goeldner's Delilah follows up on her Herodias in Salome here. Derek Taylor, who plays Samson, was last on the Harrison stage as the death defying romantic lead of Calaf in Turandot. Michael Chioldi, the High Priest of Dagon and hence Samson's prime opponent, played the vengeful clown Tonio in Virginia Opera's recent Pagliacci.
The other two, Stefan Szkafarowsky as the Old Hebrew who warns Samson against Delilah, and Ruben Casas as Samson's victim Abimélech, boast world spanning credentials with the names of the Met, New York City Opera, Chicago Lyric and the like prominent.
Samson and Delilah is best known for two of deceptive Delilah's seductive arias, "Printemps qui commence" and "Mon cœur s'ouvre à ta voix," and for the frankly sensuous pagan Bacchanale danced in notably premature celebration by the Philistines. (That's probably the bit that struck DeMille's fancy.)
With what Turner calls its "sumptuous music" as well as its visual appeal and even its "political references," he promises that "People will be swept away!"
Samson and Delilah
Camille Saint-Saens, libretto by Ferdinand Lemaire
Sept. 29, Oct 1 & 3
Virginia Opera
Harrison Opera House
160 W Virginia Beach Blvd.
Norfolk, Virginia 23510
www.vaopera.org
1-866-673-7282
(Additional performances in Richmond and Fairfax)