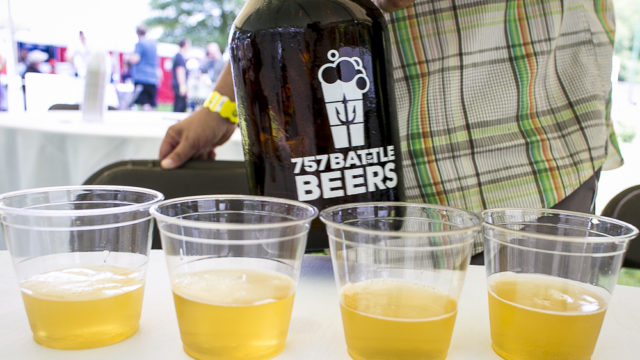 By Jeff Maisey
Shawn Fischer is the official "Ambassador of Beer" for Beach Ambassadors, a dedicated group of community-minded people in Virginia Beach who donate time and effort it raise money and awareness for those in need.
Like these goodwill ambassadors, local craft breweries have always been keen to help non-profit organizations. A pairing of the two presented a fun, common cause from which the Battle of the Beers event was born.
I recently reached out to Shawn Fischer to get the latest on the event. Here's what he had to say.
What's new for the 2017 Battle of the Beers? 
It's hard to believe but we now have 27 local brewers competing for their chosen local charities.  We started in 2013 with 7 brewers.  Being that this is our 5th anniversary, we are celebrating by adding a new battle category appropriately called "The Battle of the Brewers".  It's a fun, beer-themed take on American Ninja Warrior and our friends at Backyard Sports Club (http://www.backyardsportsclub.com) are designing and coordinating the challenge during our event.  Two-person teams from most of our attending breweries will be competing for a chunk of the event's total proceeds to donate to their chosen charity.  We are also continuing the popular People's Choice & Brewer's Choice Categories and winners in those categories will also get a chunk of the event's total proceeds.
We are fortunate to have 6 local food trucks on-site and food is again included with each and every ticket.  The event also comes with additional vendors, outdoor games, and live music courtesy of Vinyl Headlights and The Fighting Jamesons.
From attendees, what is the feedback you've gotten in the past regarding their experience at the event?
Well the event has grown year after year…..so feedback is good.  Last year we moved it back to August to get away from a crowded local fall festival calendar, however the heat was almost unbearable.  It was a fun day and we had what was easily a record crowd…but let's just say we won't be doing anything again outside in August that doesn't involve a beach or a pool.  Even in last year's heat, we received note after note thanking us for a great event.  Most really appreciate the value we provide for the $ spent…which is very hard to do at a 100% charity event.
Attendees also love the fact that all of the money raised stays local and supports real organizations with real needs.  Most festivals now have a charity component but I think we are still the only one that doesn't profit by a penny or even pay any of the event staff.  We are very proud of that.
From participating brewers, what do they generally enjoy about this fun, friendly competition?
To be honest I think the local brewer is "festivaled-out," but it's still the best way for them to introduce their beer quickly to a broad audience.
For us, maintaining good relationships with local brewers is easily the key to keeping this event growing.  We'd be nowhere without them.  With 757 Battle of the Beers, they get to come out and try something from every brewer in Hampton Roads.  Most beer events are also tilted heavily toward one distributor.  We bring them all.  Additionally, the brewers get to talk with attendees about their chosen charity.  When the public sees that passion and heart…it only strengthens the local craft beer scene.   I also think that the brewers appreciate that we assemble a Brewer Advisory Panel each year in the winter.  We gather them and ask what we did right and what we did wrong from the previous year's event.  They truly have a say in how we do this year to year.
Can you share how this event raises both funds and awareness for your charity of choice?  
We have partnered with St. Mary's Home for Disabled Children for the past 4 years.  50% of the event's proceeds go directly to them.  We have visited with the kids at St. Mary's several times and one year our donation check allowed them to buy a second bus so they could go on field trips in larger numbers.  The other 50% of the proceeds go to the winning brewer's charities.  The dollar amounts have grown each year and last year we raised over $20,000.  To get us going, we lean on local businesses for sponsorship money starting early in the year.  This money allows us to get the ball rolling on advertising, marketing, rentals, and deposits. We are proud to say that most of our sponsors return year after year.  This year our Presenting Sponsor is The Whiskey Kitchen in Virginia Beach and we are thrilled to have them.  They aren't too far from Hunt Club Farm.
From an event organizer perspective, what goes into producing a successful fundraiser of this nature?
First of all, having an understanding wife and forgiving office team really helps!  (I'm a State Farm Agent in Chesapeake in real life).  In all seriousness, you have to have passion for all aspects of the event in order to coordinate it correctly.  I have a craft beer background and am a self-admitted beer geek.  I also had always been looking for a unique charitable organization who could create something unique, do it well, and make a difference locally.  Beach Ambassadors is known for motivating a slightly younger crowd than some of the other charitable organizations in our area and I think that's great.  It's the future!
Other things that help include asking for feedback like we do with the Brewer Advisory Panel.  It takes a thick skin but is invaluable. My Beach Ambassadors team is nothing short of amazing.  We have a world class graphic artist in Hollis Murphy who designs everything for the event and has really taken us to the next level on social media.  We also have some amazing fundraiser stars on the team and their relationships really help us.  Volunteers also play a huge part in making this event run smoothly and our volunteer coordinator Malina Medieros gets it done year after year.
Outside of that its' really the 757 craft beer community that comes together to produce this event and support local charities.  I'm excited to see what the next 5 years brings.
WANT TO GO?
5th Annual 757 Battle of the Beers
Presented by Beach Ambassadors
September 9
Hunt Club Farm