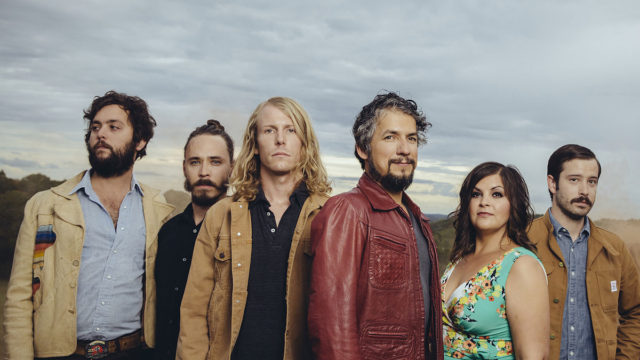 By Ron Wray
Cruz and Sam, it felt like we could go on for hours, and we almost did. I had a great talk with these guys who are in great part the centerpiece of the salty-sweet band, The Black Lillies. They're coming to Jim Morrison's North Shore Point House Concert Series, in conjunction with the Virginia Arts Festival, with Morrison's "Mary's Place" tent pitched on the back patio of the Virginia Arts Festival's Bank Street building in downtown Norfolk on September 9.  We're getting the Black Lillies at a good time. According to both artists, this is a heady, creative time for the band, a period of change, with both personnel and artistic direction in flux and collaborative songwriting flying through the van on their way from gig to gig.
The lads, I say that advisedly, as they've been around, though Sam Quinn doesn't really even show signs of it, are hot. They've been gaining numerous accolades and high Billboard rankings since their 2015 album, Hard to Please with the title song selling many copies and getting lots of airplay. As I say, they appear young to me, though Cruz Contreras explained that there's a thing called age; it's not just the beard that makes him look so different between the videos seven or eight years apart. You'd think I'd know. However, they speak with such young energy and enthusiasm, you'd be forgiven for subtracting years.
The Black Lillies played the North Shore Point series some years ago in Morrison's backyard, a concert my wife and I were at. Sam wasn't with them then. I jogged Cruz's memory, and he said, "oh, yes, I remember that vividly, a great night of music, great music community!" I couldn't remember, but Cruz said they were under a tent that night as well. It may have been the same Mary's Tent; Mary Wasteneys, a wonderful friend of the series and all of us, an erstwhile, long-time, dedicated volunteer there, donated the tent to Jim on her passing at a, sadly, young age some years ago. The only other time Cruz lit down here was playing at the NorVa as part of Robinella & the CC String Band, appearing with Susan Tedeschi quite a few years ago.
I tried to remind Sam of the time he played Norfolk, but he couldn't remember. He had appeared as one-half of the super duo, The Everybody Fields, along with Jill Andrews. They played in the excellent Discovery Series at The Attucks Theater in Norfolk, a show Gayle and I saw also. Andrews has played sometimes in The Black Lillies. And, Sam says he's played and sung parts of songs that Jill did when she has guested with the Lillies. "So, it's sort of like ping-pong," Sam said. They all came out of Knoxville, and Sam and Cruz are still there, as well as Jill, who now is a solo act.
When Cruz and his talented partner at the time, Robinella, were together, they produced a son, who now joins Contreras on tour at times and recently played trumpet with the band. Son of such musically-gifted parents, his son plays trumpet in the school band, and also plays piano and is a multi-instrumentalist, like both of his folks.
Quinn joined the band in spring of 2015, though the two, Cruz and Sam, look like they'd been glued at the hip, their work on stage seems so seamless and comfortable. Talking with them on the road, you get that impression as well. We pulled-off a three-way interview on two phones, while the band was en route, with Cruz at one time talking to me while he pumped ethel, and Sam chatting while jumping the rail in a Thai restaurant, where they'd just had lunch, to get his charge card that he'd left there.
But, it is a new time for the band. Several personnel have moved on to other pursuits. Their long-time female vocalist, Trisha Gene Brady, left for other horizons. Haley Cole, a lively, expressive newcomer joined them on their recent European tour and may tour again in the future. However, now the band is seriously contemplating going female-less, and concentrating instead on three-way harmonies and shared-playing, -singing, and -songwriting on the part of Contreras, Quinn, and drummer Bowman Townsend
"In August, we're going to be mostly home, writing, arranging, solidifying things for the new record. We're at a pretty cool spot. You can expect something new. We're learning to collaborate at a higher level. We are competing in a collaborative, lively way. And, every week, we're trying out a new song on our Facebook page, something our fans appreciate."
Contreras was very high on the new Lillies, "It'll be a different twist, a higher level, fresh, new. Right now, around me in the van are yellow legal-size papers taped to the windows and walls, working on our songs as a band, with a fine-tooth comb, pointing-out clichés, or finding ways to say something a better way, open heart surgery."
Because of the song focus, the band's taken a couple of years break from most festivals, spending more time traveling and getting the music down along the way. Whatever they come up with, it will still party.  Cruz has always had the intention to entertain, to make music that people will want to boogie to. Growing up learning classical piano, as well as bluegrass and jazz, his ambition as he began performing was to have a "bar band that would travel the country. I'd play so loud that I don't care if people are talking, talking loud."  I said that sometimes he looked like Jerry Lee Lewis behind his keyboard, lifting his legs and ass into the air as he played. I felt like I could see him smile as he responded, "yes, communication in the moment, if you feel like dancing, dance!" I told him that bands sometimes, I found, took note of me because I got to my feet in spite of my rollater walker-type device I sit in at some performances, moved by the music. He said that there were twins at a recent performance, both in chemo, but still at the show. "It breaks my heart," he said, "but, they were there to celebrate, to make the most of the moment."
"We're not about the hype. It's about the music. I hope it's not ego. My goal is to bring the hippies and the cowboys together, all of them enjoying themselves." What are they, the band, listening to, I asked him.  "Jason Isbell. We've been listening to the new album. And, Guns and Roses," and I think he chuckled as he said that. He studies some of the masters he said, had been listening to a lot of Jimmy Martin. "We all like Chris Stapleton," he added. Somewhat surprisingly, he added, "an Eagles documentary, Fleetwood Mac."
As I say, Sam Quinn, whom I loved in Everybody Fields, a very unique band, talked while he hopped a rail to get his card, "to have money to use in this earth life!" he said. He echoed his partner's optimism and spirit. "We've been writing songs involving the van, we're always working on songs there, passing turns around, critiquing and offering ideas. It's healthy and positive. A good, working environment.
"We're doing something new every week. It's time to get off the laurels! Not really a competition, more of a round-robin, it works because we travel all of the time." How did he get there, I asked, in the band. He said personnel were leaving and "it was more of a need to replace a missing part with something else." Then they got experimenting with harmonies, and things kinds of worked out, he said, especially now, when the three players are doing harmony central to their aesthetic, finding that Bowman can "sing like a bird, really hit the higher notes." It makes sense that Quinn would find his way into the band since he and Cruz have known each other for "12 or 15 years or so."
"We're getting ready to take some time and go down by the river and record. I'd rather have had it farther removed, away from everything, where people couldn't be coming and going. It's going to be more palatial than I wanted also. But, I've very excited. There are two things I get excited about, and that's one of them," he said. Somewhat cautiously, I asked, "What is the other (pause), can I ask?" And, Sam answered, "That's not what this is about!" So, let's move on, I said, and he mentioned how he had a way he likes things.  "Like gig shirts," he said, "I have gig shirts, I don't wear them at home. Just like a guitar for home. I play a guitar at shows. With another guitar at home, I could play all the time. We have to take care of things traveling. We have all really good players now. We can be free and open. Somebody's having a day, often, but we're all into the work and excited.
"Now, we're headed to a house on the river, we're gonna' create some new songs, bang one out with the dude band!!!"
And, soon the dude band will be here, full of enthusiasm and spirit, some new blood and some long-time friends and song-ers, singing songs as they come along a road full with creative adventure. Coming to land in downtown Norfolk at a "house concert" in the heart of the big city, playing new tunes and some old, a good time for all.
The show will be at 8 p.m., Sept. 9 on the patio of the Virginia Arts Festival, 440 Bank St,. in Norfolk. Others in the North Shore Point House Concerts series in the near future are Mipso, one of my favorites, on August 26 at Jim's, Karla Bonoff on Sept. 16 at the Virginia Arts Festival 440 Bank St., and Dave Alvin and Jimmie Dale Gilmore, one of my all-time favorites, these two icons also at Jim Morrison's home, on Oct. 20. For details and locations, check the Facebook page at: https://www.facebook.com/northshorepoint/.